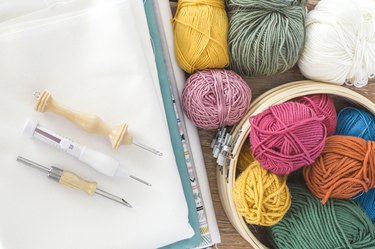 Many crafting methods are beautiful in their timelessness. Crafts such as sewing, simple embroidery, painting, woodworking and pottery-making have been passed down through generations—but their applications and innovations are ever-changing, offering plenty of room for crafters to stretch their creative wings.
Ready to hop on the trend train and learn about what's new (or back again!) in the world of making and creating? If you're all about staying on top of trends while embracing your love for DIY projects, we've got you covered with an overview of the latest, greatest crafting trends. You'll find yourself inspired, enamored and ready to discover a new favorite hobby.
Remember when we said that some of the hottest crafting trends are actually throwbacks? Perler beads are one such nostalgic craft. If you grew up in the 1980s, '90s or even the early 2000s, you might recall condensing sections of beads to form fun designs, fusing them together with an iron into solid creations. Perler beads are back today in the most wonderful way possible—we even made a Perler bead purse to show off the medium's versatility!
Maybe it's because we're all obsessed with Italianate vibes after the second season of ‌The White Lotus,‌ or perhaps we're all just enjoying the look of speckled chips mixed in with a base material, regardless of the reason, but terrazzo is all the rage. Across the crafting world, you'll spot everything from terrazzo jewelry trays to earrings and necklaces to full-blown flooring projects. TikTok artisan @emma_elsborg demonstrates the process of making terrazzo plant pots, another genius use of this style.
In recent years, embroidery has shifted from "that thing your grandma does" to a bona fide cool craft—and with good reason. From cheeky phrases on T-shirts and other garments to fabric hoops with pop culture–inspired embellishments or cottagecore elements, embroidery is definitely here to stay. To get started, you'll need nothing more than a needle, thread and base fabric. Draw some inspo from @littlestitchybee on TikTok, who offers a versatile tutorial for embroidered flowers.
4. Tufting with '70s Vibes
If you've spent any time on the crafty side of social media in recent months, you've undoubtedly spotted a few tufted rugs or coasters that have a decidedly groovy, 1970s look. Tufters use yarn and fabric, along with tufting guns, to create tassels and loops that ultimately form rugs or other soft products. Some of the most inspiring tufting projects can be explored via Tuft the World, an organization at the forefront of this trendy (and downright fascinating) craft. Need a visual? TikToker @crater_moon shows off the tufting process, highlighting original rug designs.
5. Fairy-Tale Clay Creations
Polymer clay has been part of the DIY world for some time, but its popularity as a crafting trend has only grown as artisans and amateurs alike have discovered the medium's versatility and beauty, especially in creating otherworldly pieces. Etsy artisans and social media crafters mold colorful clay into all sorts of shapes and creations before baking it to harden. The result? Delicate yet bold earrings, necklaces, trays, home decor and more. TikToker @karolitarte shows off just how whimsical and intricate polymer clay creations can be with an earring tutorial.
Punch needling is similar to tufting but is completed by hand instead of with a tufting gun. To begin, you'll need—you guessed it—punch needles and plenty of patience, but the results of this technique are simply breathtaking. Punch needle might be preferable for large-scale projects or those requiring more attention to detail, though both tufting and punch needle crafts are capable of truly stunning results. Just take a look at @theurbanacres' TikTok, which demonstrates the basics of punch needling in just 30 seconds. Talk about beginner-friendly!
7. Building-Block Flowers
Unusual faux flowers (see our non-flower flowers TikTok roundup for fun examples!) have taken center stage in the last year. Perhaps it's because folks are seeking sustainable home decor options, or perhaps we're all just realizing how fun it is to create beautiful things with unconventional materials. No matter the reason, building block flowers like these from LEGO (check out @leaningtowerofpizza's TikTok to see for yourself) have become especially popular. Crafters can piece together eye-catching wildflower bouquets and other floral creations—no watering required!
If you love tiny, adorable things, you'll be happy to learn that micro crochet exists. This crafting trend is exactly what it sounds like: DIYers use standard crochet techniques and downsized tools to create miniature animals, nature scenes and just about anything else you can imagine. The best part? Micro crochet is a low-cost crafting trend, since you can use tiny amounts of yarn and even upcycle thrifted pieces by taking them apart and using materials to make miniatures. TikToker @knotmoth shows off an especially cute mini crochet hermit crab. We're obsessed.
Macramé is certainly having a moment...and we're not mad about it. From hanging planters to key chains to wall hangings, this form of decorative knotting has popped up across Etsy, TikTok (we're looking at you, #CraftTok) and just about everywhere in between. If you're a macramé newbie, TikToker @missknottiemacrame shows off a technique for creating coasters using hemp or cotton rope of your choice.
Whether you're seeking new craft ideas, plotting your next piece of DIY home decor or searching for ideas as you kick off a crafting side hustle, we hope our rundown of trending crafts has provided plenty of inspiration. Now what are you waiting for? Pick your favorite trend, and start creating!