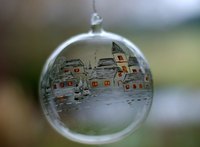 Turn plain glass ball ornaments into customized decorations for your holiday tree with embellishments sold at scrapbooking, craft and dollar stores. Apply dimensional and flat accents to create patterns, monograms and seasonal motifs that complement your decorating style or the existing adornments on your tree. Use the simple techniques to design holiday ornaments to give as gifts to teachers, neighbors and family members or to present as hostess gifts when you attend Christmas dinner parties.
Things You'll Need
Glass ball ornament
Soft cloth
Rubbing alcohol
Towel
Holiday-themed rub-on transfer decals
Scissors
Wood craft stick
White glue
Glitter
Ribbon
Clean the glass ornament by wiping it with a soft cloth dampened with rubbing alcohol. Let the ornament dry. This will help embellishments adhere to the surface
Prepare the work surface by placing a towel on the table to keep the ornament from rolling away. The towel also will protect the table from adhesive residue and simplify clean-up.
Cut out the holiday-themed rub-on transfer decal you want to affix to the ornament if the decal came packaged as part of a sheet with assorted designs. This will prevent the other rub-on transfers from accidentally sticking to the glass ornament.
Place the rub-on image face down on top of the ornament in the desired spot. Use a blunt stick such as a wood craft stick to rub over the design until it transfers from the paper to the ornament. Peel away from the ornament the paper that the rub-on transfer used to "sit" on.
Create a sparkling border around the rub-on transfer design or around the top or bottom of the ornament by "drawing" the design onto the glass with white glue. On top of the glue, sprinkle glitter in a shade that coordinates with the rub-on design and tap the ornament to remove the excess glitter.
Let the embellished ornament dry overnight. Rest the decoration atop a cup to keep it from rolling as the glue dries.
Cut a 6-inch piece of ribbon with scissors. Push one end of the ribbon through the metal loop at the top of the ornament and pull the ribbon halfway through. Tie the ends of the ribbon in a knot to make a loop to hang the decoration on the tree.