Things You'll Need
Prepared meatloaf from recipe, uncooked

Loaf pan

Gas grill with grill thermometer attached

Meat thermometer

Aluminum foil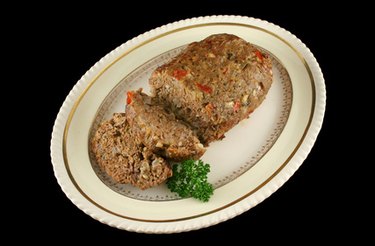 Meatloaf does not need a kitchen for cooking. A gas grill has similar heat controls to a home conventional oven, letting you to cook anything on the grill as you would indoors. Unless using wood chips in a smoker box on your grill, cooking your meatloaf on a gas grill will not result in a different flavor from cooking it in the oven. The main reason to prepare it with a gas grill lies in the convenience of avoiding heating the kitchen. Opt for your favorite meatloaf recipe to make or use one found on the Internet.
Step 1
Place the prepared meatloaf mixture into the loaf pan and refrigerate for one hour to firm the loaf.
Step 2
Heat the two outer burners of a gas grill on a three-burner grill or one side of a two-burner grill to medium heat until the grill thermometer reads 350 degrees Fahrenheit.
Step 3
Place the loaf pan with the meatloaf mixture in it over indirect heat, on the portion of the grill over the unlit gas burner.
Step 4
Close the lid and cook the meatloaf for 60 to 70 minutes or until a meat thermometer inserted into the center of the loaf registers 155 degrees Fahrenheit.
Step 5
Remove the meatloaf from the grill and cover with aluminum foil for 10 to 15 minutes or until the temperature creeps up to the safe level of 160 degrees Fahrenheit according to the meat thermometer.
Step 6
Let the meatloaf cool and rest in the pan for 15 to 20 minutes before slicing and serving.
Tip
Optionally, you can add a smoky flavor to your meatloaf with a smoking packet. Soak one cup of wood chips in water for an hour and place them into the center of a 12-inch square of foil. Fold the edges of the foil over the wood chips and stab the foil with a knife to create holes for the smoke to escape. Place this smoking packet in the bottom of the gas grill over the unlit burner before placing the meatloaf on the grill. Remove the packet and discard after cooking.