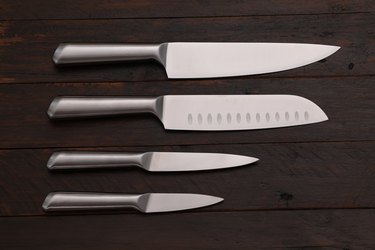 You don't have to be a professional chef to use knife blade guards. If you don't use a knife block or other storage solution besides a drawer, they're a smart buy. Whether or not you invest in pricier high-quality knives, these accessories help protect your blades against wear while not in use, keeping any cutlery sharper longer. They're also great if you ever carry your knives around in a knife bag.
But just as importantly, they also protect you. Reaching into a drawer of sharp edges and pointy stainless steel can be hazardous—especially if you're rushing around the kitchen as you prep and cook a big meal. So, knife blade guards are doubly a good idea.
What to Consider When Purchasing Knife Blade Guards
‌Fit:‌ Most knife blade guards are designed to be universal fits no matter what brand of knives you have. Of course, it still matters whether you're protecting a steak knife, paring knife, peeling knife, boning knife, bread knife, chef knife, cleaver, etc. You want a snug fit that prevents the blade from sliding or bouncing around, as this dulls a sharp blade over time and defeats the purpose. If a knife handle angles away from the blade, look for an edge guard with an angled end that will fully cover the blade. And if you have a santoku knife or similar Japanese-style blade, you'll want a saya, which is a knife blade guard made specifically for them.
‌Material:‌ The vast majority of knife guards are made from PVC or a similar durable plastic, as it's lightweight, low-cost and effective. Some guards are felt-lined inside to help prevent blades from getting scratched when you insert or remove them, or if they happen to slide around a little. Some plastic pieces are dishwasher-safe, but some are not. Sayas are most often made of wood. These aren't dishwasher-safe, and you should be careful to dry them thoroughly and promptly after hand-washing them.
‌Style:‌ There are some style considerations, too. With many blade guards, the knife simply slides in and out. These are quick and easy to use, and they're fine for knives that sit in a drawer. But if you ever travel with your knives or otherwise need something a little more secure, you can get guards with ties or locks, including full-hinged knife cases with locking mechanisms. Also, if you have lots of knives in a crowded drawer, consider a set of multicolored covers for quick and easy knife identification.
‌Cost:‌ You can buy individual knife guards, but if you have an assortment of different knives to protect, it's much more cost-effective to purchase a set—many of which come in pieces of five or 10. Whether you're buying one or a set, consider the cost per piece; you can spend around a dollar or two on a knife edge guard (especially in a set), or you can spend $10 or more on one. And a quality saya will easily run you $30 to $40.
These considerations will help you pick out the best knife blade guards for your needs and preferences.
The Best Overall Knife Blade Guard
This is a top pick if you need a blade protector for a chef's knife or other larger, wider-blade knives (it's available in some other sizes, too). The blade cover is made from durable, hard PVC plastic for reliable protection. It easily slides on and off the knife, with entry notches conveniently built into both sides. The universal design will work with most knife brands and styles. And, if you like supporting family-owned and woman-owned businesses, that's what you do when you buy Messermeister products. Just remember that it's hand-wash only.
The Best Select-a-Size Knife Blade Guards
If you're looking for affordable, high-quality universal knife edge guards available in a wide range of different sizes, the selection of Mercer products will make your life much easier. The sleek black polystyrene protectors come in more than a dozen sizes, in various configurations from 4 to 12 inches long and 1 to 2-1/2 inches wide. And they have a slanted end to properly accommodate knives with handles that angle out from the blade. These knife guards are dishwasher-safe, though the manufacturer does recommend hand-washing them to maximize their life.
The Best Locking Knife Blade Guard
For a securely locking blade guard, this is a great choice. It's especially practical if you ever take your knives with you anywhere. It fits most larger 8- to 10-inch knives of any brand, and it's made from heavy-duty polypropylene. But it's still a lightweight product that doesn't add bulk during transport. You can put it right into the dishwasher when it's time for cleaning, too.
Looking for a full knife case? Look no further. If you want serious protection, even when transporting your knives, this strong, durable, BPA-free polypropylene and thermoplastic rubber does the trick. It's perfect if you also ever want to protect camping, hunting or utility knife blades. It has a patented hinge with locking clasps and "hold fast bumpers" that keep the knife inside from slipping around. This product is made in the U.S. and is dishwasher-safe.
Here's a worthwhile investment if you own Japanese-style knives. This universal saya is a perfect fit for 7-inch and 8-inch Shun chef's knives and santoku knives. Crafted from beechwood, it's an attractive accessory. It closes securely with a locking pin and decorative but practical traditional red thread while providing just a tiny amount of extra space for breathability—which is nice if you accidentally put your knife in while it still has a little moisture on it. Remember, like any wood kitchenware, you shouldn't put this in the dishwasher; hand-wash it and dry it promptly.
If you have a butcher knife that needs protecting, this cleaver edge guard is the one you want. It's designed to fit any brand of standard 7-inch cleaver, including Chinese cleavers, nakiri knives and other larger chopping blades. Made from heavy-duty, abrasion-resistant, BPA-free ABS plastic, it also has an interior lining for further blade protection against scratches, including while you smoothly slide the cleaver blade in and out.
The Best Knife Blade Guard Set
To protect an assortment of up to 10 different types of knives, this budget-friendly set of elegant-looking universal knife sleeves is a must-own. They're made from durable, abrasion-resistant, BPA-free ABS plastic and felt-lined for additional blade protection against scratches. The set includes two 5-inch by 1-inch pieces, two 6-inch by 1-1/4-inch pieces, two 8-1/2-inch by 2-inch pieces, two 10-1/2-inch by 2-1/4-inch pieces, one 12-inch by 1-1/4-inch piece and one 12-inch by 2-1/4-inch piece.
The Best Budget Knife Blade Guard Set
If you want a low-cost set of knife blade covers, this is a great buy. Choose from a set of five or 10 pieces. These universal knife sleeves are constructed from durable, waterproof, abrasion-resistant, impact-resistant, BPA-free ABS plastic and lined with felt on the inside to protect the surface and finish of your knife blades. They hold knives snugly and, at only about $1.50 per piece, they're sold at a great price point for the quality.
The Best Color-Coded Knife Blade Guard Set
Here's a perfect pick if you want a multicolored knife blade guard set. It comes with five durable pieces that are different colors so you can easily spot the knife you're looking for in a crowded drawer. The set includes a 4.2-inch by 1-inch pink piece, a 6-inch by 1-1/2-inch green piece, a 7-1/2-inch by 1-inch red piece, an 8-inch by 1-inch orange piece, and an 8-inch by 1-1/2-inch blue piece. This equips you to cover just about any knives, from paring to bread to chef's to santoku knives and more.