You don't have to be a genealogy buff to get excited about a fleshed-out family tree. Family trees help us connect with ancestors, celebrate living family members and appreciate visual representations of our unique heritage. And while traditional family trees have their place, we're all about creativity and inventiveness, so we've rounded up some of the most unique family tree project ideas from across the web for your consideration.
Whether you're trying your hand at a DIY family tree or ordering a handmade artisan piece from Etsy, these gift and craft ideas will help you embrace the branches of your family in meaningful and creative ways.
1. Simple painted family tree
We'll kick things off with a simple but stunning project from TikToker @deborahkinikini, who shows a hand-drawn and painted family tree design that's perfect for anyone seeking a more traditional interpretation. Tape is used to keep leaf and branch sections free of paint so names can be added later, and a thin calligraphy pen creates the perfect handwritten touch.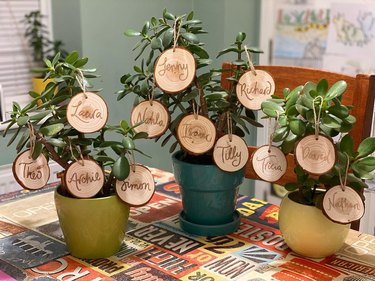 This just might be one of the cutest, most creative family tree ideas on social media. Instagrammer @judeetreeart creates literal living family trees using jade trees and wooden ornaments with family members' names. Judee explains that these fresh creations are perfect for housewarming gifts, and we're inclined to agree.
3. Vintage family tree cross-stitch
Embrace the vintage vibes while paying homage to your family with a cross stitch kit from HistoricalSampler on Etsy. Each kit comes with the thread, needles and instructions you'll need to create a personalized family tree craft with a timeless feel. Pop your completed cross-stitch into a photo frame and gift it to a parent or grandparent for a sentimental surprise.
4. Family tree photo mural
Looking for something larger? Opt for a family tree mural complete with framed photos like TikToker @bakemydaymimo's design. The process is straightforward: Adorn a blank wall in your home with a large tree mural (we've even seen similar DIY projects that use plain black paint for a more minimalist look) and add framed family photos. Talk about a conversation piece!
5. Engraved wood family tree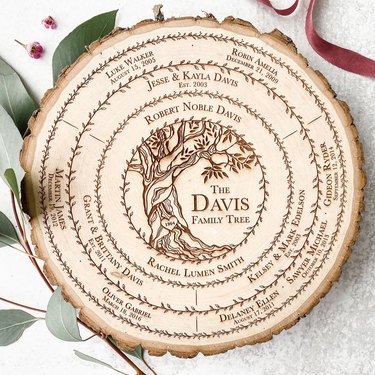 Made using real tree trunk slices from a sustainable forest, these wood-burned family tree circles from Etsy maker Foxbairn are tough to beat when it comes to aesthetic and quality. There's room for up to six generations on each wood slice, so you can expand beyond your parents, grandparents and great-grandparents to include multiple generations. Each creation even comes with hanging hardware, so you've got instant wall art!
6. Embroidered family tree
TikToker @babyscanembroidery offers more family tree inspo with a pop of bright green color to set it apart. This design features first names lovingly embroidered among tree branches and leaves. What a beautiful DIY option for representing your own family tree! Of course, you could take a cue from this piece and craft an expanded version, but we're loving the simplicity.
7. Sparkly family tree tumbler
Next up is a totally creative (and functional) idea for honoring loved ones: a glittery family tree tumbler! TikToker @brancesocraftee takes an ordinary 20-ounce drink tumbler from mundane to meaningful with the addition of a family tree template, tiny family photos and, of course, plenty of sparkles. A family name cut-out makes a perfect addition to the bottom of this photocentric piece, which was created using a Cricut machine.
8. Personalized family tree necklace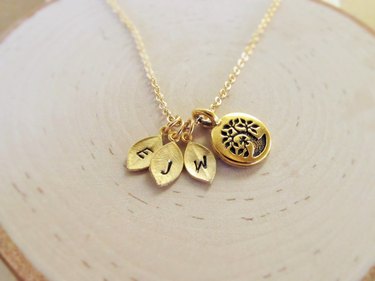 If you'd prefer to honor your family tree in a more subtle way, consider a piece of handmade jewelry from Etsy artisan IrinSkye. Each pewter tree of life pendant features gold plating and is accompanied by miniature charms engraved with loved ones' initials—you can add up to 15 leaves. If you're eager to pay homage to your family members but don't have the time to paint a tree wall or tackle a full-blown art project, this is a fantastic (and beautiful!) alternative.
This family tree quilt is a true work of art, featuring individual "leaves" with each family member's handwritten name. Instagrammer @alissalapinsky (the quilter behind Oceans of Thread quilt shop) created this piece for her grandmother's 80th birthday, carefully sewing each leaf to the tree branches for a truly stunning finished product. You'll need real sewing skills to pull off this family tree art project, but the result is worth all that extra effort!
Whether you're diving into your own family history, looking for DIY craft projects to tackle with your kids or dreaming up a unique gift for a loved one, these family tree project ideas are loaded with heart and creative flair. As you explore your roots and trace your family tree chart (whether it's on wood, fabric, scrapbook paper or even your own living room wall), we hope you feel closer to your past as you craft.
Seeking even more sentimentality? Be sure to explore our roundup of the best handwriting gifts from Etsy and beyond.