The easiest DIY crochet creations are often born out of projects you've already completed. Bits of scrap yarn from the ends of a crochet blanket or the last remnants of a skein can come together to build something entirely new! DIY coasters are one wonderful way to breathe new life into leftover yarn. Crochet beginners can practice new stitches while using scraps of yarn sustainably—what's not to love?
One perk of this tutorial is that it doesn't require a specific yarn type. I worked with Red Heart and Big Twist worsted weight yarn, but if you have something chunky or sparkly on hand, don't hold back—it will really add to the "scrappy" effect! It's advisable to use a consistent yarn size throughout, as you'll want your finished coasters to be balanced and usable.
This is a great project for anyone who values sustainability and doesn't want to see those residual bits of yarn tossed in the trash. Put your leftovers to good use and get crafting!
Things You'll Need
Scrap yarn in colors of your choice

Crochet hook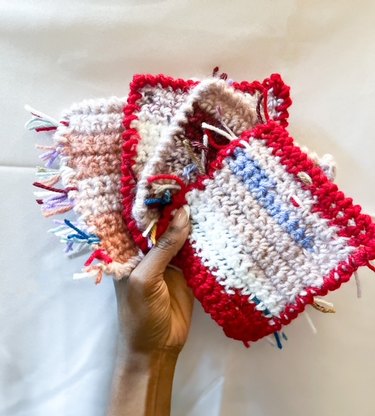 How to make Scrap Yarn Coasters:
Start by deciding whether you want a completely random look or if you prefer to organize your scrap yarn by color. If some pieces are tiny but you really want to include them, try tying ends of leftover yarn to longer scraps. Otherwise, go back to weave in ends when you've completed the coaster bases and put those shorter bits to use.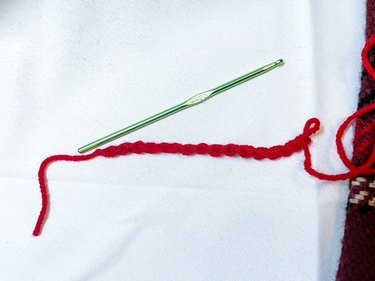 Chain 15 and turn your work. Skip the first chain on your hook and then single crochet 14 stitches across. This will complete the first row.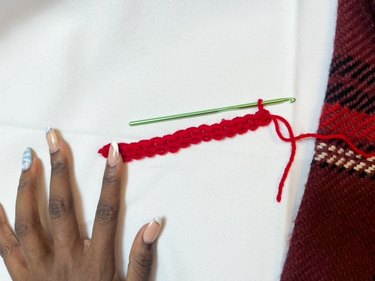 For rows three through 16, repeat the previous step, making sure your crochet stitches maintain 14 single crochet in each row. You should start to see the shape of a square; this will make up the body of each coaster.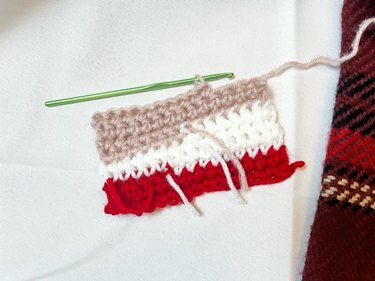 Other Scrap Yarn Projects to Try
Crochet coasters are the perfect project if you're looking for a quick stash-buster. But if you have extra time or more leftover yarn, here are some other options to consider:
‌Kitchen accessories:‌ Leftover cotton yarn works well for crocheting reusable scrubbies, dishcloths or potholders.

‌Plushie toys: ‌If you're comfortable with amigurumi (a crochetlike process for making 3D items), a scrappy crochet plushie makes a fun homemade gift.

‌Plarn weavings: ‌Reuse your plastic bag stash by cutting a few plastic bags into strips and tying them together to make plastic yarn, aka "plarn." Then, use these pieces to make crochet plarn baskets. How's that for reducing, reusing and recycling?
To create a border around the coaster, you will need to reverse single crochet (RSC). If you're a beginner, don't let the name scare you; this stitch is exactly what it sounds like, and you can certainly tackle it.
Insert the hook in the previous single crochet stitch.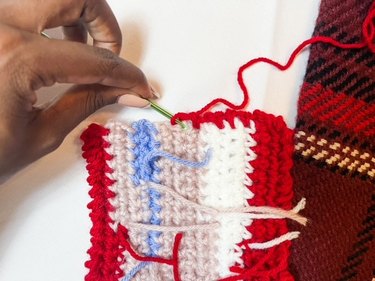 Yarn over and pull a loop like you would for a regular single crochet stitch. Yarn over again and pull through both remaining loops on your hook. When you reach the corners, be sure to include two reverse single crochet stitches instead of one to maintain the corners' shape.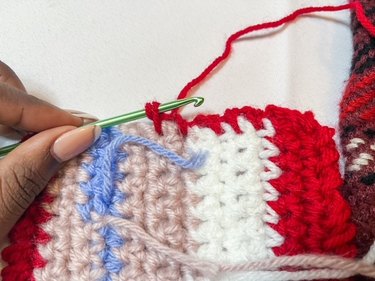 A Note for "Righties"
I am left-handed, so to right-handed crafters, this section might look like I'm crocheting in the "normal" direction. Regardless of whether you're right- or left-handed, crocheting with reverse stitches always proves to take a bit longer!
Continue in the opposite direction than you would normally crochet until you've created a full border.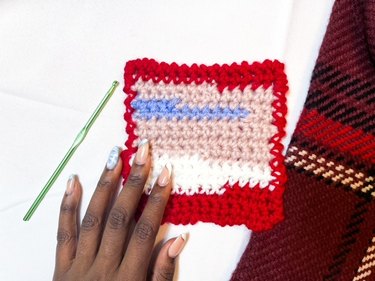 I love scrap yarn crochet projects because they open the door to endless possibilities. No two coasters will ever look precisely the same! You can add stripes to create a pattern or simply let the scrap yarn create the pattern for you. Let creativity be your guide.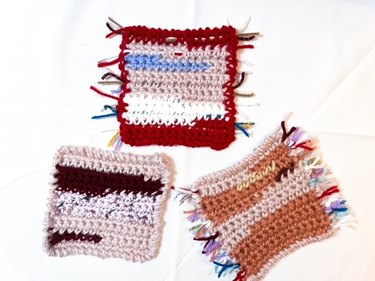 Looking for another fun project to tackle next? Ehow has plenty of other free crochet patterns to peruse, from a colorful pom pom beanie to a granny square pillow to an easy, adorable crochet dishcloth. Call me biased, but I think crochet gifts are the best gifts even if you're presenting them to yourself.
Happy crocheting and creating!