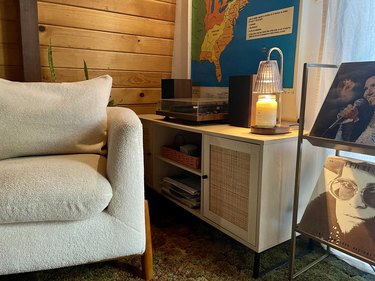 I live in the middle of a national forest, which means I also live with the fear of being solely responsible for burning it down. Scented candles are a home decor staple in my household (it really adds to the cozy cabin atmosphere) but I never, ever leave them unattended. I also have three dogs whose wagging tails and boisterous ways could potentially cause an accident if a lit candle were left on the coffee table, for example.
So when I came across this TikTok by user @reserve_home setting up a candle warmer lamp, I knew I needed to secure one for myself.
What Is an Electric Candle Warmer?
There are three main styles of candle warmers. The first is a warming pad that plugs into an electrical outlet. You place the candle on the pad, which resembles a coaster, and it heats the candle from the bottom up. These models aren't very aesthetically pleasing but they're inexpensive and double as a mug warmer.
The second is an electric wax warmer, which also utilizes a warming pad to slowly heat wax melts in a removable dish. The aromas are released without the use of a flame and pollutants like smoke or soot. In addition to scented wax, you can add drops of essential oils to the dish for some aromatherapy.
When the wax melts are liquified and you're all done using the wax warmer, you simply pour the melted wax back into the mold it came in so it can be reused. Most wax warmers can also function as a candle melter—no flame required.
The third style is the topic at hand, a candle warmer lamp, which looks like a desk lamp and uses a halogen light bulb to gradually melt the wax and release the candle's fragrance. These products are sold in a variety of design aesthetics including modern, glam, farmhouse and novelty. A candle warmer lamp is a safer alternative to an open flame; it heats the candle from the top down and is usually controlled by a dimmer switch.
Candle Warmer Lamp Review:
The candle warmer lamp that I first came across on TikTok currently retails for $49.99 on Amazon. I opted for a less expensive version by Aimanni for only $36.99. It's currently unavailable, but here's hoping the budget-friendly lamp is restocked soon.
The candle warmer lamp I bought had zero reviews pertaining to that product, which is usually a red flag for me, but I added it to my online shopping cart anyway. The colorway I chose features a smokey gray lampshade (the fluted glass is an elegant touch) with a mahogany-colored base and a rose gold metal arm. However, you can also purchase it with a gold or pink lampshade that's paired with a light wood base.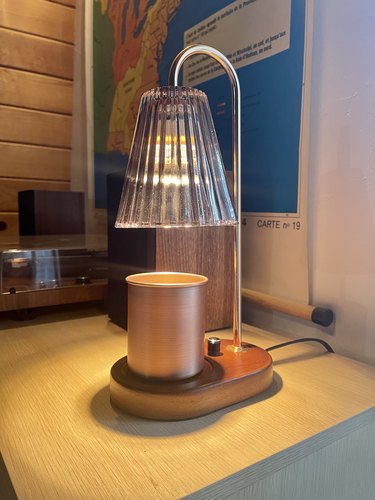 The Aimanni lamp came with a 50-watt GU10 halogen light bulb that slowly heats the candle wax to release the fragrance. There's also an adjustable knob on the base so you can control how much light (and therefore heat) the lamp gives off. I first tried it with a brand new soy wax candle in a Mason jar, specifically, Cozy Cabin by Antique Candle. Co., the perfect woodsy, autumn scent.
Smells of fir and sandalwood quickly filled the room and the lamp itself gave off a warm glow. The wax didn't evaporate as quickly as it typically does when the wick is lit, but I did notice that once it dried, the surface of the wax had a bumpy, uneven texture.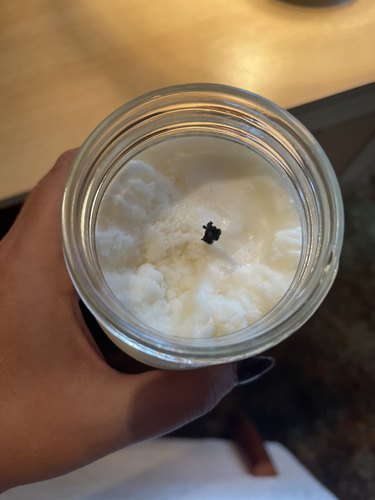 The next day I tested another one of my favorite candles (described as a soy blend) in a shorter copper vessel that had about an inch and a half of wax left in it. The wax took longer to melt, likely because it was farther away from the warming bulb. It still got the job done and dispersed the evergreen scent throughout my living room without overheating the metal vessel. The wax also dried evenly this time with no unsightly bumps. The lamp shade and metal arm do get somewhat hot to the touch, so it's best to keep this candle warmer out of reach of young children.
Overall, I'm really happy with this purchase—as the days start getting shorter, I'll be powering up my candle warmer lamp to create coziness and rid my house of dog smells.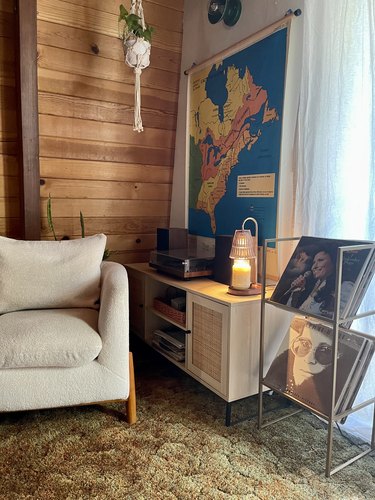 Where to Buy a Candle Warmer Lamp:
Amazon offers dozens of in-stock options, but you can also purchase candle warmer lamps at Etsy, Michaels, Walmart, Hobby Lobby or Wayfair. Here we've rounded up seven of our favorites in a range of design styles and price points that are sure to add ambiance to your living space.
1. Luzdiosa Candle Warmer Lamp
This is the 'TikTok made me buy it' lamp that inspired this article. It comes with two 50-watt, GU10 halogen light bulbs so you have a replacement bulb in case the first one burns out from using your candle warmer lamp all the dang time (trust me, you'll want to).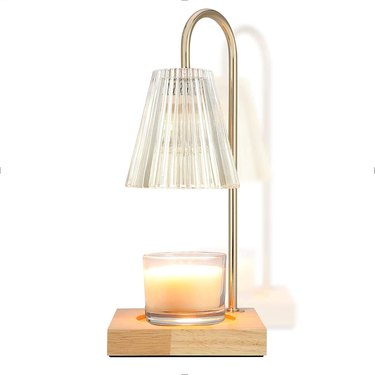 2. MCAStudioOfficial Candle Warmer Lamp Inspired by "The School of Athens"
How gorgeous is this handmade table lamp that also functions as a top-down candle warmer? Made of hand-polished concrete, the lamp is inspired by "The School of Athens," the famous fresco by Italian Renaissance artist Raphael. It requires a 35-watt bulb, so it's not as powerful as some of the other fragrance warmers on this list.
3. CozyBerry Querencia Candle Warmer Lamp
Stylish and affordable, this plug-in candle warmer lamp comes in a black or white finish. It can accommodate large candles like the lidded jar candles from Yankee Candle or the three-wick style candles from Bath & Body Works. A 50-watt halogen light bulb is included and it has an adjustable temperature dimmer on the cord.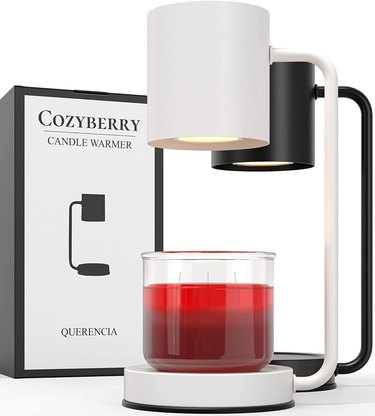 4. Novamer Dimmable Candle Warmer Lamp
For a luxe look, opt for this flower-inspired design with a wood base. It comes with two 35-watt halogen bulbs and a control panel that lets you adjust the lighting (and therefore, the temperature). You can also set a timer for 2 hours, 4 hours or 8 hours. The distance between the lamp head and the base is 6.5 inches, so it can fit large jar candles with ease.
5. Hudson 43 Black Aurora Candle Warmer Lamp
This budget option allows you to test the waters without investing a lot of money in a candle warmer lamp. It heats from the top down and uses a 25-watt bulb. The contemporary-style lamp has a semi-matte black finish and a frosted white shade.
6. Rosdorf Park Candle Warmer Lamp
Featuring a crystal shade and a rose gold arm, this candle-warming lamp would look pretty in a home office, bedroom or bathroom. The arm is adjustable so it works with many different candle sizes. A 50-watt halogen bulb is included and the base touts a USB charging port and dimmer switch.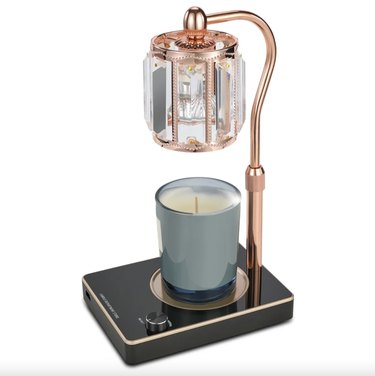 7. Flowyclouds Candle Warmer Lamp
Sleek and sophisticated, this candle melting lamp is available in four colors: white, black, gold and red. A 35-watt light bulb is included (some reviewers say the seller gave them an extra, which is always appreciated). Since the wax burns slowly, you'll be able to savor candles longer. The lamp features iron plating and the temperature is dimmable.