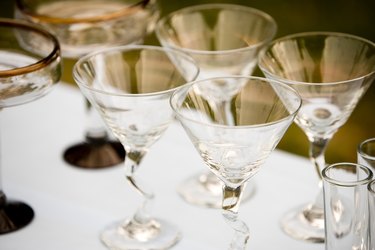 Wine glass candles are a great choice when you need a simple, elegant centerpiece or gift, and they are easy to make at home, giving them that extra touch that comes from something handmade. If you don't want to pour candles into the glasses themselves, you can use pillar candles or tea lights to embellish your stemware as well.
Gather Supplies for Poured Candles
For candles poured into the wine glasses, you will need goblets or flutes, a liquid measuring cup, rubbing alcohol, a lint-free cloth, candle-making wax, cotton wicking, wick tabs, a pencil or dowel, a double boiler and a wooden spoon or stick for stirring the wax. Be sure that your glassware is heat resistant to 190 degrees or more.
Prepare Your Materials
To determine how much wax you'll need, fill the glass with water to the level you want for the candle, then pour the water into a measuring cup. Dry the glass and wipe it with rubbing alcohol and a soft cloth to remove any oils on the surface.
Melt the wax in the double boiler over low heat, stirring it often and watching it carefully. While you wait for it to melt, fix a wick tab on one end of your cotton wicking that you've cut 1 inch longer than the full depth of the bowl of the glass. Wrap the other end of the wick around a pencil. When the wax is melted, stir in any color or fragrance you desire.
Assemble Your Candles
Pour a small amount of wax into the bowl of the glass to cover about 1/4 inch of the bottom. Allow it to set, then place the wick tab on top. Pull the wick taut, adjusting the wrapping around the pencil as needed. Tilt the glass slightly as you slowly pour in the wax. This helps prevent unsightly bubbles from forming in your candle. As you get to the top of the candle, hold the glass upright. Allow the wax to cool and set up, then use your hair dryer to smooth the top surface. Clip the wick to 1/4 inch above the wax surface.
Use Wine Glasses Without Adding Wax
One way to use your wine glasses for candles that can easily change with the season or the event is to fill the bowl of the glass with ornaments, beads, buttons or other decorations. Turn the glass upside down on the table, keeping the items inside the bowl by covering it with a thin piece of cardboard that you can slip out when the glass is on the table surface. Place a pillar candle on the upturned foot of the stem.
Another option is to fill the glass bowl about halfway with sand or pebbles and then add decorations such as shells or flowers around a tea light. You can also glue curled wire to the bottom of the tea light cup to hang them from the rim of the glass.