Things You'll Need
Fabric

Pushpins

Flowers

Vases

Rose petals

Candelabras

Candlesticks

Taper candles

Pillar candles

Tea lights

Decorative trays

Satin or velvet bedding

Velvet or chenille blanket

Satin tablecloth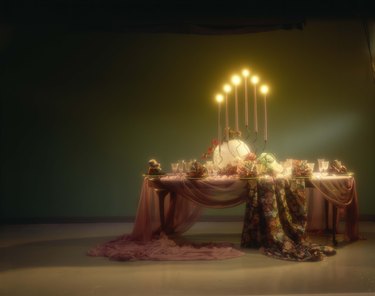 Asking for your girlfriend's hand in marriage is perhaps one of the most important questions you'll ever ask. Set the stage for a perfect proposal by decorating the room you plan on popping the question in with romantic decor. A room that exudes romance will create the backdrop and mood for this exciting and memorable occasion. Your girlfriend will be delighted, not only by your proposal, but by how much thought you put into the entire event.
Step 1
Drape fabric along the walls of the room. Suspend lengths of flowing fabric, such as organza or tulle, from the ceiling to the floor using pushpins to secure it in place. The color red exudes romance, but you can choose any color fabric you like.
Step 2
Fill the room with flowers. Whether you are proposing in a dining room or bedroom, flowers will instantly add a romantic touch to the room. Fill vases with bouquets and set them on ledges, tabletops and shelves; go for a classic romantic look with roses or your girlfriend's favorite flowers. Scatter rose petals throughout the space, along the bed, on top of a dining table and on the floor.
Step 3
Illuminate the room with the soft glow of candles. Fill candelabras and candlesticks with taper candles and place them on tables, shelves and any ledges in the room. Create arrangements of pillar candles on decorative trays and set them out throughout the room. Place tea lights on any small surfaces or between the candelabras and candlesticks.
Step 4
Bring lush linens into the space. If you're proposing in a bedroom, cover the bed with satin or velvet. If the proposal will take place in a living room, spread a velvet or chenille blanket out on the floor or across the sofa. For a proposal in a dining room, cover the table with a satin tablecloth. These linens add a softness to the room that plays into the romantic look.