Rule number one of being a good guest: Never, ever show up empty-handed. Whether you're attending a dinner party, game night, holiday soirée or otherwise, show your host or hostess how appreciative you are for the invite (and the free food, drinks and all-around good time) with a little gift. Sure, you could always bring a bottle of wine. But for a host gift that truly stands out amongst a tabletop of bottles of Pinot Noir, get a little creative. What about a serving tray, luxe hand wash or a succulent instead?
Think about what kind of hostess they are, what could be the finishing touch to their tablescape, what staple could elevate their condiments game, what they'll get real use out of, and, perhaps most important, what shows them that you truly know and love them. When in doubt, a thank you note never hurts either.
You don't have to splurge though. Your host can feel perfectly appreciated without you blowing your budget. Need proof? We've rounded up 10 of the best host and hostess gift ideas—and they all cost under $30. Our advice: Stock up on a few of the gift ideas below, and store them away already wrapped before the invite for the next party rolls in. You never know when you'll be asked to join an impromptu dinner party when, heaven forbid, your stash of wine is dried up.
What To Consider When Purchasing a Gift For Your Host
‌The Personality of the Gift Recipient:‌ Chances are, you know the host better than most, and certainly better than we do. Before clicking "add to cart," give some thought as to what they would truly be touched by, gift-wise. What do they already own too many of? What is something that would take their dishes, tablescape or ambiance to the next level of welcoming? Perhaps you've talked extensively about so-and-so's new cookbook, or know about their undying appreciation for novelty tea towels. Only you would know what they will love.
‌The Types of Gatherings They Throw:‌ Keep your gift in line with the types of parties the host tends to throw. No need for a silly gadget that they'll never use, like a pair of ridiculously long tongs if you've never seen your hostess grill. No need for the nicest bottle of Châteauneuf-du-Pape your local wine shop has to offer if they tend to host casual backyard happy hours either. Your gift should be an appropriate fit for the type of gatherings they host.
‌Their Design Style:‌ Buying home decor for someone is inherently a risk. There's always a chance it simply might not groove with their style. Before you buy a hostess gift because ‌you‌ like it, consider if it will complement their existing home style. A colorful centerpiece might be too loud for your minimalist friends, while a book about prohibition might be just the fit for your bookish friends with a well-rounded bar cart.
As the holiday party season approaches, now more than ever you need a few clever host and hostess gifts in your back pocket—or your spare closet. Scroll on for 10 of the best host and hostess gifts that, costing $30 or less, won't break your budget.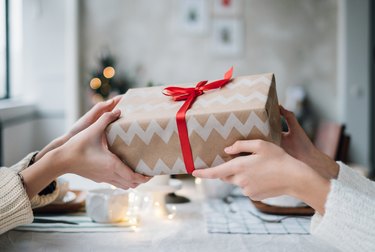 For the host who loves to create ambiance
Anecdote Candles Comfort Zone Glass Jar Candle
Candles, candles and more candles—a must for any host. This one from Anecdote Candles is one of our favorite scented candles, as it produces a subtle, and definitely not overpowering, scent throughout a room. Not only that, but the glass jars themselves include a cheeky touch of typography, which will encourage guests to both take a whiff and have a chuckle. This Comfort Zone candle "smells like the joy of missing out, coffee and cedarwood."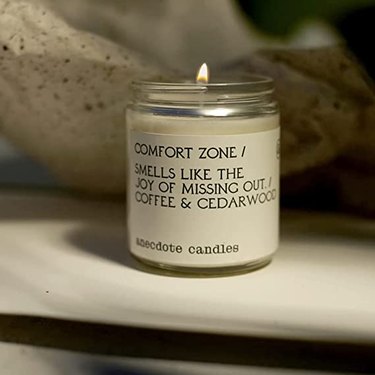 For the hostess who arranges impeccable place settings
Fallbrook Oranges Dinner Napkin Set
A fresh set of dinner napkins is the perfect gift for the host who takes his or her place settings seriously. Geometry has no shortage of napkin sets, whether you're looking for a playful set, an elegant one or a festive batch. This pattern featuring oranges would be a forever favorite of your gift recipient, as they're equally whimsical, classy and practical. Not only will they keep the guests' hands clean, but they're fast-drying, durable and highly absorbent too.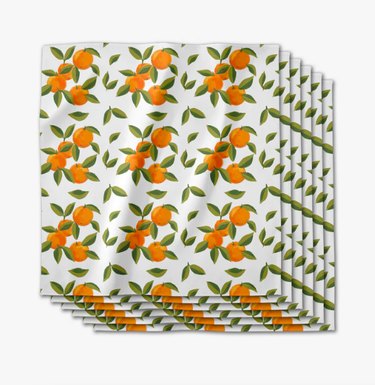 For the hostess who has a precious coffee table
LIFVER Set of Six Terrazzo Coasters With Holder
No guest wants to be the one who accidentally leaves behind a water ring on the host's furniture. For that same reason, and for the health of their coffee table and dining room table, no party host wants to be lacking coasters. So, for everyone's sake, expand your friend's coaster collection with this set of six terrazzo-patterned coasters that nestle into a metal holder. The set includes three warm-toned coasters and three cool-toned coasters. You'll be able to rest easy knowing you can set your Negroni down with confidence.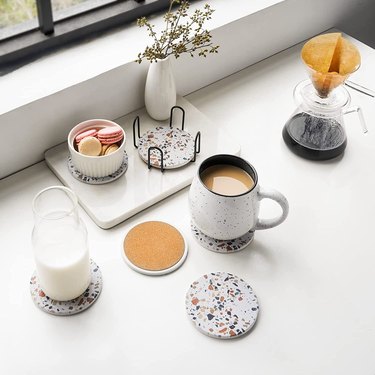 For the host who is always trying a new recipe
Graza "Drizzle" Extra Virgin Olive Oil
There's no such thing as having too much olive oil in your kitchen cabinet—especially when it's the good stuff, like this 17-ounce bottle of Graza finishing olive oil that's perfect for dipping bread into or drizzling over a bed of greens. The product is made from 100% Picual olives sourced from Jaen, Spain. The olives are picked by hand when they're young and rich in antioxidants to ensure bold, delicious flavor.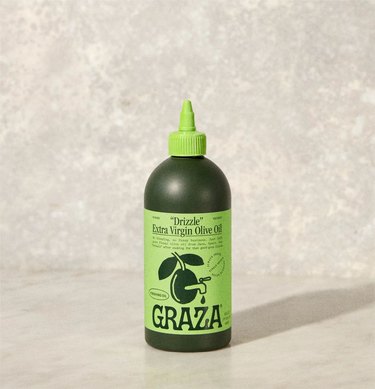 For the hostess with a not-so-green thumb
Flowers always elicit "awws" from your recipient. There are times though that a fresh bouquet simply isn't practical, whether blossoms are out of season or your hostess isn't particularly known for her ability to keep fresh things alive. In those cases, opt for a dried flower bouquet instead, like this farmhouse-style arrangement of gros bleu French lavender, roses, ammobium and oats. It's just as beautiful as fresh flowers but requires less of your gift recipient. They require no water and no maintenance, yet they brighten a space for years to come.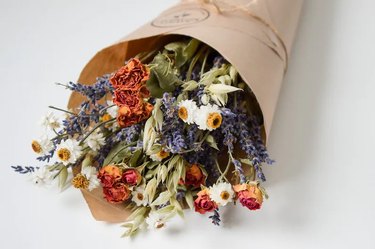 For the hostess who loves finishing touches
A no-fail gift for any foodie in your life: high-quality sea salt. The best gifts are something your recipient will use, and here's betting this container will be half-gone by the time you come over for dinner again. It's affordable, it's useful and it looks chic on any kitchen counter.
For the host who always has leftovers
Bee Kitchen Reusable Beeswax Food Wraps
If your host tends to make way, way, ‌way‌ too much food—a good problem!—these beeswax food wraps would not only be a beautiful and unique gift, but a useful one too. These wraps are made out of 100% cotton, then coated in water-resistant beeswax. Each bundle includes three reusable sizes, great for wrapping cheese, lemon halves and leftovers of all kinds. But how does it seal, you're asking? With a little bit of science and magic, the wrap naturally seals with the warmth of your hand. So cool.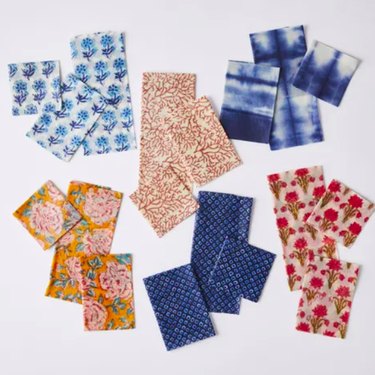 For the hostess who needs to unwind
After a long night of hosting (and not to mention the days leading up to the event prepping), your gift recipient deserves to put their feet up and unwind in a relaxing bath. To encourage this, a thoughtful gift could be a refreshing bath soak, like this lemon verbena mix. It's plant-based and free from all the yucky stuff like parabens, artificial fragrances and synthetic dyes. Its stress-reducing ingredients will leave your hostess feeling refreshed and ready to take on the next dinner party.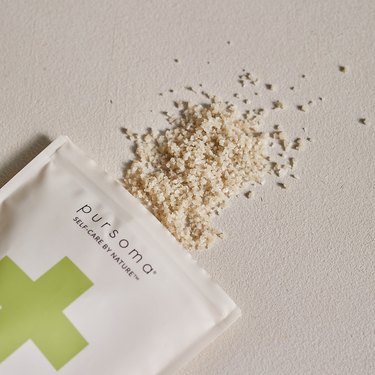 Wooden Framed Standing Chalkboard Sign
A chalkboard sign is a great gift for the host or hostess who likes to present a menu. (How else will guests remember what's on the cheese board?) This one comes with a chalk marker, is affordable and is free-standing, so your host won't have to put a nail into the wall. Plus, as a guest, now you'll always know what the appetizers will be.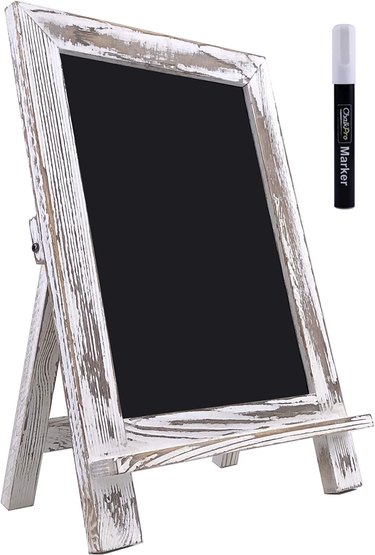 For the hostess with the absolute mostess
"Host: A Modern Guide to Eating, Drinking, and Feeding Your Friends"
The best hostess gifts acknowledge that your hostess is, well, the best. Like this beautiful coffee table book, simply called "Host." A modern-day guide to all things eating, drinking and entertaining, this book would be a beautiful addition to any hostess's kitchen or coffee table. Best yet, it just might encourage them to invite you over more often.