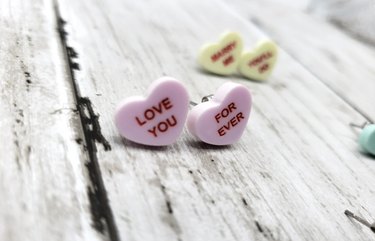 If you're hoping to buy your loved ones a Valentine's Day gift that proves to them that you're the sweetest, most thoughtful person they know, you've come to the right spot. OK fine, we can't make that grand promise, but we ‌can‌ promise that our list of handmade Valentine's gifts is packed full of various thoughtful gifts for all types of people in your life.
Valentine's Day isn't just for lovers, it's a day to celebrate all the love in your life, from your kids to your parents or siblings to your best friends. Of course, if you have a romantic partner, it's a day to shower them with love too. To add a little extra thoughtfulness to your Valentine's Day gifts this year, check out our list of handmade gifts made by small business owners on Etsy. We've included gifts for her, for him, for kids and for besties. Of course, gifts don't have to be gender specific—they can work for everyone!
What to Consider When Purchasing Handmade Valentine's Day Gifts
‌Who It's For:‌ Designers on Etsy offer gifts for all age groups. You can buy personalized gifts (or non-personalized gifts) for everyone, including babies, toddlers, kids, teens, grown-ups and beyond.
‌Type of Gift:‌ Etsy has a gigantic, diverse selection of gifts. You can find everything from puzzles to apparel and sensory kits for kids to jewelry to gift baskets to artwork. If you haven't pinpointed the type of gift you want to get your loved one, consider making a list of their interests—even if it's just mentally, and especially if you're buying gifts for several people. That way, when you come across something that would be great for that person, you'll know right away.
‌Budget:‌ When it comes to Valentine's Day gifts (or any gifts), there's no right or wrong amount of money to spend. If you're buying something like jewelry, keep in mind that the cheaper it is, the less likely it is to last forever. Handmade items are so special because they are made with thought and care, so if that's what you're going for, you might need to spend a bit more to ensure your loved one will receive the high-quality item they deserve.
Scroll on for our list of thoughtful, handmade Valentine's Day gifts for all the people in your life.
Valentine's Day Gifts for Her
HandmadeDaintyUS Personalized Name Necklace
This charming personalized necklace is sure to bring all the lovey feelings—whether it's for your friend, significant other or kid. You can choose any name (up to 10 letters) to be beautifully crafted into this gold, silver or rose gold chain. While the necklace is minimalistic and pretty dainty (in the best way), you can choose from a 14-inch, 16-inch, 18-inch, 20-inch or 22-inch chain.
DWELLOrloKnife Handmade Damascus Pocket Knife
There's always room for another throw pillow, especially when it's as sweet as this one. The pillow reads "love you more" in all lowercase letters, which is a lovely message without being too in your face about it. It's chic, simple and perfect. Choose from a white- or natural-colored pillow cover along with your preference for the text color. A cool feature is the option to choose the fill, which includes polyester or faux down. You can also opt for just the cover, which comes in either 16 inches or 18 inches square.
MyZeroWasteFamStore Organic Bath Salts
Perfect for anyone who enjoys taking baths with soothing, aromatic bath salts, this gift set has five jars full of them. Made with 100% natural ingredients, the bath salts include organic herbs and organic essential oils. The glass jars hold 3.5 ounces of bath salts and come with one wooden salt scoop. The types include relaxing lavender, rose and geranium, peppermint and lemongrass, chamomile and calendula, and peace and calming. The products are made in small batches by hand to ensure you get a fresh product.
Valentine's Day Gifts for Him
OrloKnife Handmade Monogrammed Damascus Pocket Knife
When it comes to pocket knives, it doesn't get much more stunning than this one from the OrloKnife shop. The intricate design on the blade matched with the wooden handle and sturdy case are plenty of reasons to buy this knife for your loved one—not to mention the monogram possibilities. You can have the blade monogrammed with a name, initials and a date, or you can have the tip of the handle monogrammed however you'd like, including with symbols. Choose the handle material you like best, including blue wood, white bone, rosewood blue and orange, green wood, and green and rosewood. For less money, you can opt for a knife with no personalization.
MiraGiftsWorld Customized Face Socks
Nothing says "I love you" like personalized socks with a familiar face on them. These socks can handle up to three different faces, so you can add your whole family, your pets, or whoever you think would make your person laugh the most or feel the most love. You can add text as well, whether it's a name, a phrase, initials or some sort of inside joke. There are 19 sock colors to choose from, ranging from neutral to bright.
LetsMakeMemoriesUS Personalized Coffee Mug Set
Whether your person drinks coffee, tea, hot chocolate or something else entirely, these red coffee mugs will be an adorable addition to the collection. Similar to the classic best friend necklaces from the '90s, each of these mugs features half of a heart that connects to the other along with a name inside the heart. Each name can be up to 9 letters.
Valentine's Day Gifts for Kids
ReadySetSensory Play Dough and Magic Sand Kit
Your child will be obsessed with this adorable sensory kit from ReadySetSensory. Not only does it comes with brightly colored trinkets and toys (including dinosaurs!), but it also comes with nontoxic, sparkly play dough and kinetic sand. You can add personalization by including the child's name, otherwise, it'll come with wooden letters that spell "ROAR." ReadySetSensory offers loads of kits featuring all different types of themes for kids ages 3 and up.
NeonNameSign Neon Name Sign
Get ready to win the cool parent award for this one. This neon name sign will brighten up your kid's room and add a super fun vibe. There are several colors and sizes to choose from, you just need to add the name, font and an icon if you want one. You'll receive proofs of the design before it goes into production to make sure it's perfect.
GrowandMake DIY Garden Kit
Give your kids the gift of growing their own veggies and flowers with this easy-to-use gardening kit. Included is an instructional booklet, a mini windowsill greenhouse with 12 seed starting pellets, garden markers, circle labels and a magnifying glass.
Valentine's Day Gifts for Friends
PurpleDaisyRoom Candy Heart Earrings
Is it even Valentine's Day without candy hearts (or in this case, faux candy hearts)? These adorable earrings feature several classic sayings. Choose the saying that speaks to you most along with the color.
Athenus Birth Flower Jewelry Travel Case
Your bestie will love this small personalized jewelry box. The inside can fit rings, earrings and small necklaces—perfect for travel. Choose from select colors and the image you'd like next to your friend's name.
RusticSugarCreekCo Personalized Candle
You can never go wrong with a personalized soy candle. Write something hilarious to your bestie or something sentimental. Whatever you choose, they're sure to love it because it came from you. There's a long list of scents to choose from along with three size options and either a bronze or silver lid. You can also choose the font.