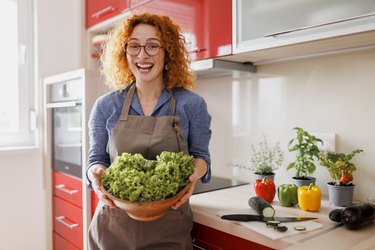 Cooking is a fundamental life skill. It's also an endlessly fascinating area of study, and a collection of highly satisfying individual skills, and—especially for some of us—really, really messy. That's why our grandmothers and great-grandmothers practically lived in their kitchen aprons. Aprons protect our clothing (and us) from the hot and fabric-staining splashes and spatters that come with cooking and baking, and they can be downright stylish and appealing in their own right. If you're tired of having grease spots and sauces ruin your clothing, maybe it's time to invest in an apron or two and develop the habit of wearing one. We've picked out six of the best aprons to help you get started.
What to Consider When Purchasing Aprons
‌Your Usage:‌ What do you want from your apron? Do you want to keep flour or tomato sauce off of your clothes while you cook or bake? To shield you from spatters while grilling or deep frying? Just to look good in your Instagram and TikTok posts? (A perfectly legitimate scenario, for the record.) Each potential usage has its own set of requirements, so you'll need to pick an appropriate apron for the job. In truth, if you cook, bake and grill a lot, you'll probably want a few for different purposes.
‌Materials:‌ Aprons come in a range of materials, from lightweight cottons and synthetics to heavy waxed canvas or even leather. All of these materials have their pros and cons: Lightweight and colorful prints are visually attractive, but offer less protection. Leather and heavy fabrics will protect against hot spatters (or sparks from welding, for that matter) but might not breathe well and can be tiring to wear for extended periods. Plastic and waterproofed fabrics will repel splashes and protect against scalding, but—again—don't breathe, so you'll sweat more. Linens and hemp cost more than (most) cotton or synthetics, but they're very durable and often more sustainable. Once you're clear on how you'll use your aprons, and which characteristics you value, you'll have a better idea which materials to choose.
‌Length, Cut and Style:‌ Here again, you have lots of styles to choose from depending on your needs. Professional cooks and waiters often wear half aprons tied at the waist, which protect your pants and give you a place to wipe your hands (or hang a kitchen towel). Some prefer a bib apron, which covers the chest and provides better protection for your clothing.
Then there's the question of how the apron holds itself on: You may be fine with the traditional neck strap, or you might prefer a cross-back style apron with two separate shoulder straps. The best aprons are adjustable, with straps that can be lengthened and shortened to fit cooks of differing heights and body types. Finally, how does it tie? Are the straps short and meant to tie in the back, or long enough to wrap around and tie in the front? Front and back both work, it's simply a matter of knowing your preference and buying accordingly.
The phrase "professional quality" or "professional grade" is a bit deceptive when it's applied to kitchen goods. You may think it refers to high-end, aspirational things you see celebrity chefs using on TV, but as often as not it means the cost-effective, utilitarian tools used all day by actual working line cooks. If you made a Venn diagram of how that plays out with aprons, this offering from Chef Works would be the place where those two circles intersect.
This heavy duty, 100% cotton apron is made of durable denim, sturdy enough to last through years of heavy use and frequent washing. Instead of a neck strap, it uses flexible, adjustable elastic suspenders to provide a secure but comfortable fit. There's an upper pocket for a Sharpie or a food thermometer, while the larger front pockets will hold recipe cards or oven mitts comfortably (and also have a pen pocket stitched into the top of each larger pocket). It's a practical, serviceable piece of kitchen wear that's all business, but still has a little bit of that genuine TV chef apron look. Just as importantly, it comes at a price that home cooks won't choke on.
If you're all about function and frugality, and don't care about fancy features or celebrity-chef pixie dust, buying the kind of aprons used by working line cooks is always a good option. This two-pack from Syntus is exactly that kind of choice: It's durable, it's no-frills, it's machine washable, and the price is extremely modest. It's the kind of apron commercial kitchens order by the dozen (and so can you, if you want to cut your price per apron in half).
Despite the low price, they're relatively well made. The polyester fabric is soft but thicker than you'd expect and water repellent, it comes in multiple colors, the front pockets are large enough to be useful and the apron is large enough to fit comfortably around all body types. The neck strap is also adjustable, so you can make it longer or shorter as needed to get an improved fit. It won't give you and your clothing as much protection as most of the other aprons on this list, but it's still suitable for most of your day-to-day cooking, baking and grilling.
The Best Apron for Grilling
Grilling is a little more hazardous for home cooks that popping something into a skillet or frying pan. The spatters tend to be hotter, there's more heat, and—if you cook over hardwood or charcoal—there's the risk of sparks or embers hopping out of the barbecue and onto your clothing. You can absolutely go out and by a heatproof grilling apron to protect against those risks, but you may find that a welder's leather apron is your better bet.
This classic piece of workwear from Fightech is a perfect example. It's heavy enough and durable enough to stand up to years of trouble-free use, and its straps are in the cross-back style so you can wear it for hours in comfort. The straps simply snap into place with easy-to-operate clips, making it easy to get in and out of. Better yet, it's loaded with pockets, clips and loops for all of your barbecue (or gardening, or metal fabrication) tools. If you like the idea of a leather apron but don't want to splash out quite this much, there are lower-priced alternatives (like this one from YesWelder) that offer almost as much versatility at half the price.
The Best Apron for Baking
The best aprons incorporate clever ideas from actual cooks and bakers, and this one from Food52 is a prime example. It's made from a middle-weight cotton twill (comparable to heavy-duty denim), so it's light enough to be comfortable but thick enough to stop most splashes and spatters. The ties are extra long to accommodate most body types, and while it doesn't have the back straps, you'll find on our top pick its adjustable neck strap is extra-wide for greater comfort.
There are lots of pockets, divided between the bib and the hip areas, to hold everything from recipes and notes to your thermometer or reading glasses (and one pocket comes pre-loaded with a conversions chart). Arguably, its cleverest feature can be found at the bottom hem. Many bakers use the hem of their apron as an impromptu pot holder, and Food52 leaned into that by stitching terrycloth pot holders into the bottom corners of the apron. The apron is available in five stylish colors and three sizes—kids, short and regular—to fit almost any user.
All of our picks to this point have been bib-style aprons, but not everyone wants or needs to go full-length. If you can't stand the feeling of an apron that hangs from your neck or shoulders, this half-apron (aka waist apron or bistro apron) from Atalinia might just rock your world.
Made from French-grown flax, it's high enough at the waist to protect your clothes as you lean into the counter, and goes low enough to protect your clothing (and legs) from any spillage. The wide, comfortable waist ties are plenty long enough to suit most body types and to tie in either the back or the front (whichever you prefer). The pockets are generously sized to comfortably hold recipe cards, pot holders or anything else. Linen's durability means you'll use this apron for years to come, and its classic, timeless design ensures that you'll want to.
The Most Aspirational Apron
There are a lot of very good and very premium aprons out there. You'll find plenty of avid cooks who swear by Hedley & Bennett's Essential Apron, handmade offerings from New York's Tilit, or—for those on a budget—sturdy but less exalted aprons from companies like Bragard or Hudson Durable Goods. If you're going to splurge on a really premium apron, though, it's hard to find fault with the Original Linen Pinafore from California-based Rough Linen.
The loose, comfortable cross-back style apron is light enough to wear all day, but still heavy enough to cope with any spills a home kitchen is likely to throw its way. The apron comes in three sizes and no fewer than 11 colors, so there's one for every taste, and they're made by hand with full attention to sustainability and the sewers' welfare. In fact, the company is so committed to waste reduction that you can write and request a bundle of their linen scraps for use in your own craft projects. What's not to like?