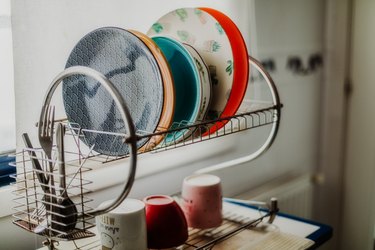 Is a meal really complete until the dishes are done? Dishwashing isn't the most glamorous part of the cooking process, by any stretch (you'll seldom see anyone Instagramming a drying mat full of plates and silverware), but it's a necessity. And, while dishwashers have lightened the task for many of us, not all of us have a dishwasher and not everything is dishwasher-safe. That means we still need to hand-wash dishes regularly, and that we all need a functional dish drainer. We've picked out six of the best dish drying racks, and explain what makes them exceptional.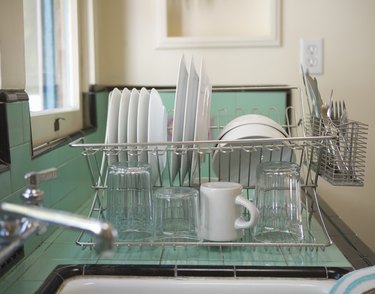 What to Consider When Purchasing a Dish Drying Rack
There are lots of inexpensive dish drying racks out there, and as a rule there aren't many pressing reasons to choose one over another. That's why we're going to skip the "budget" and "value" categories entirely in this review, assuming that you already have one of the basic models and want to upgrade. Everybody's situation and usage will be different, so there's no one best contender: It comes down to what's best-suited for you and your space. Here are a few of the most important considerations:
‌Materials:‌ Plastic dish drainers are inexpensive and versatile, but they tend not to be especially durable (and some of us avoid unnecessary plastic). Plastic-coated wire is a step up, with the metal adding durability and the plastic coating preventing rust. Some love the look and sustainability of wooden or bamboo dish drying racks, though they're prone to mold if they aren't cared for. Stainless steel is the ultimate option, being rust-resistant, durable and easy to clean, but it's also costly. You might even skip the rack entirely, and just use a drying mat. It's up to you how much you want to spend, and how you prioritize each material's pros and cons.
‌Size and Capacity:‌ How many dishes do you hand-wash? How much countertop space can you carve out for your dish drainer? The answers to those questions will decide how large a dish drying rack you need. Bear in mind that some racks are sturdier than others, and will accommodate oversized pots and pans a little more safely. Ultimately dish drainers come in enough shapes, sizes and configurations that you should find one to fit into almost any space you have at your disposal.
‌How the Rack Fits Into Your Space:‌ A closely related question is how the rack fits into your space, or—to put it another way—where you'll use it. Will it go alongside your sink, on the countertop? How about in your sink, or on it, or even straddling the entire sink area? Will it be packed away into a cupboard between uses, or will it live on the counter most of the time, despite your best intentions? Those are things you'll want to take into account.
‌The Extras:‌ Some dish drainers come with a raft of extras and thoughtful touches, while others are relatively plain. That's worth thinking about. Does a given model include a drain board or drying mat, or will you need to purchase that separately. Is there a detachable utensil holder or caddy, that you can simply lift out to put your silverware away? Better yet, do you get more than one (or a divided one) so you can sort your cutlery, speeding the process of putting it away? Does the dish drainer expand for added capacity, or shrink and fold up for easy storage? These little details aren't necessarily going to make or break your purchase decision, but they'll add a lot to your appreciation of this unsung kitchen workhorse.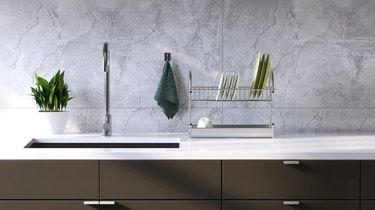 The Best Overall Dish Drying Rack
If you're looking for a full-sized, no-holds-barred dish drying rack, there are two that stand apart from the pack: The KitchenAid, and this one from simplehuman. They're comparable in basic design—they're both large, high-sided dish drainers in a rather stylish mix of stainless steel and dark plastic—but the simplehuman stands out for its extra handful of thoughtful design elements.
The way it drains is a Really Big Deal. Unlike the KitchenAid's relatively conventional drain tray, which doesn't always drain effectively, the simplehuman drainer's tray has a swivel spout that lets you direct the water safely into your sink (not onto the counter). The rack stands tall on its feet, so it will drain reliably even into a sink with a high lip. The drain tray also has a special coating that speeds drying and discourages bacterial buildup and mold.
Slide-out trays catch the drips from your glasses when in use, but don't take up space otherwise. The utensil holder is divided for sorting, the dish drainer is large and sturdy enough for the biggest plates and pots, and the sides are extra-high for safe stacking of clean dishes. There's even a snap-on holder for delicate wine glasses, keeping them safe from breakage as they hang dry. The entire dish drying rack also separates into its component pieces for easy cleaning. What more can we say? It's not cheap, but we think its thoughtful design and durability justify the price premium over its rival from KitchenAid.
The Best High Capacity Dish Drying Rack
If you routinely hand-wash lots of dishes, you might find yourself in need of even more capacity than our top pick provides. This towering dish drainer from X-Cosrack (makers of a wide range of storage baskets, racks and shelving) provides a brilliant solution to the problem, stacking your dishes vertically rather than sprawling to take up counter space.
It's less than a foot deep and 16 inches wide, but the three sturdy stainless steel racks will hold a startling number of dishes: Up to 15 plates and 18 bowls simultaneously, along with cups, glasses and cutlery. The height and spacing of the shelves can be adjusted to custom-fit your dishes, and each tier has its own integrated drain board. A removable caddy for silverware hangs from the side of the unit, along with hooks for your utensils.
You can treat it either as a dish rack you can disassemble and put away, or as a full-time storage rack for your dishes and utensils (it actually looks rather stylish). It's sturdy and stable enough to use as a freestanding unit, but you can also secure it to your wall with a pair of screws for added stability. It's not perfect—it may be too tall to fit under your cabinetry, and the drain boards may drip water onto your countertop—but it's a solid performer.
The Best Dish Drying Rack for Small Spaces
What if you have limited space, or just don't hand wash a whole lot of dishes? If that's you, OXO has you covered. Its Good Grips line includes three space-saving options: A fold-flat rack and a compact rack that's essentially a drain board with pegs; and our pick, the fold-away rack. It's the most conventional of the three in appearance, but that belies its thoughtful design.
The two caddies for cutlery and utensils are removable for cleaning (or simply for extra space) and are machine washable, and the plate rack folds down to make room for pots, mixing bowls and other large items. Cups and glasses drain directly into the drying rack (not onto your counter), and the rack itself—like our top pick—has a spout to drain directly into the sink. When not in use, the sides fold in to make the rack compact and easy to store on its side in the nearest cupboard.
If even the Good Grips is larger than you'd like, we're also partial to the much less conventional DishGarden dish rack from Chef'n. It's even smaller, and can be used in-sink or on your kitchen counter. Paradoxically, despite being so small, it can hold oversized items like serving trays and cookie sheets. Few dish drainers can honestly be described as a "conversation piece," but this one can. For small spaces, either of these dish draining racks represents exceptional value.
The Best On-Sink Dish Drying Rack
Food writing site Food52 has made a successful transition into physical kitchen-related products, drawing on the collective insights of its writers and the active community of users that have grown up around the site. Its products—including this on-sink dish drying rack—are often unconventional, but always well thought out.
In this case, the silicone covered steel of the rack is big enough to rest comfortably across the top of most sinks, and can be rolled or unrolled depending how many dishes you need space for (and how large your sink is). Lids, cutting boards and baking sheets can stand up between the bars; glassware and dinnerware will rest on top. One end has a slot for a two-compartment utensil holder, and the caddy is perforated so it can act as a colander for rinsing grapes or other small food items.
The rack itself is useful for holding freshly-rinsed produce while you work at the sink, and can even double as a trivet for your hot pots and pans. When you're not using it, it simply rolls up and fits neatly into a drawer. If you don't care about the added features but like the roll-up idea, Surpahs makes a similar silicone covered stainless steel dish rack starting at about half the price.
The Best Over-Sink Dish Drying Rack
When you think about it, the most logical place to put a dish drying rack is right over top of your kitchen sink. That way it takes up no counter space at all, you won't need a drip tray because any water runs right into the sink, and you barely need to move at all to put your clean dishes onto the rack. This two tier dish rack from HOWDIA is a solid example of the type.
At less than a foot deep it leaves plenty of room for you at the front of the sink, and at 32 inches wide it's plenty wide enough to straddle all but the largest sinks. You'll get two full size racks stretching across the top, with plenty of room for dinnerware, prongs for your glassware and a basket-style utensil holder on the sides (plus another basket for soap dispensers) and a rod where you can hang utensils to dry (or for storage) from hooks. It's sturdy, more attractive than you'd expect and a great space saver in the kitchen. What more could you ask?
The Most Versatile Dish Drying Rack
One issue with most of the best sellers in this category is that they commit you to one usage option: On the sink, over your sink, in the sink, or on your kitchen counter. The Expandable Dish Drying Rack from TOOLF doesn't. With the extensions retracted it will fit inside of most sinks (and there's a smaller version, if you need it), but with them extended it will fit on top of your sink instead. Alternatively you can use it on the countertop—in compact or extended mode—depending on the number of dishes you need to wash. It's got more than enough space for the dishes you'll need in a 2- to 4-person household, but it's compact enough to fit almost any kitchen.
As a minimalist alternative, we'd also suggest the Umbra UDRY. It's essentially just a microfiber drying mat, with the addition of a moveable (and removable) plastic rack to hold dinnerware. It's available in multiple sizes, and there's also a "deluxe" model that includes a silverware basket and an upright holder for wine glasses to hang from. When not in use, the plastic rack takes up minimal space and the mat folds up neatly. Either the TOOLF or the Umbra gives you a lot of flexibility in adapting to the space at your disposal.