Placemats were unfashionable for a while, the kind of thing you'd mentally file away next to lace doilies or or a vintage macrame plant hanger from the '70s. Lately, they're trendy again, partly because fashion runs in cycles and partly because they're just plain practical. Putting down placemats doesn't just make your place settings look more complete; they also help protect your tablecloth or dining table from spills, stains and wear. As a bonus, most will also provide a photogenic backdrop for your most Instagram-worthy recipes. We've picked out a half-dozen of the best placemats for everyday use, offering a balance of aesthetics and practicality.
What to Consider When Purchasing Placemats for Everyday Use
‌Your Needs:‌ Do you want placemats to protect that heirloom, hand-made table from your great-grandmother? Something to catch the splatters from your toddler's experiments in food-based finger-painting? Just something pretty to make your table look nice? Those are all valid use cases for placemats, but you may find yourself leaning to different choices depending on your priorities. Somewhere on the line that runs from pure practicality to sheer beauty, you'll find the compromise that you're looking for.
‌Materials:‌ There are two broad categories of placemats to choose from: Fabric mats that are (usually) machine-washable, and non-fabric mats that (usually) wipe clean and (usually) are waterproof, or at least spill- and stain-resistant. Fabric placemats often come in pure linen or cotton, though for everyday use you might find that a synthetic wears better and costs less. Non-fabric mats are typically made of plastic or silicone, though you may find them in other materials, from woven bamboo to paper to natural cork. Choose a set that meets your needs, protects your tabletop and fits with your decor. It's also OK to have a set for daily use and a different one for formal table settings, but this roundup will focus on the unpretentious kind you'll happily use every day.
‌Budget:‌ Everybody has a different definition of what constitutes an "everyday" placemat. For some, it'll be something durable enough and high-quality enough to last through years of heavy use. For others, it means a price low enough that you won't mind discarding them if they're damaged or stained in daily use.
The Best Overall Placemats
Bright Dreams Washable Easy-to-Clean Placemats (Set of 6)
These modestly-priced placemats are just about everything you could ask in a "daily driver." They're a woven design made from a PVC/polyester blend, which mimic the look of fabric but have all the durability of plastic placemats. They're resistant to cutting, scratching and staining, they'll handle a hot plate or mug (up to 200 degrees Fahrenheit), and they'll protect your table from all the nicks and daily wear it would otherwise experience. They also look better than you'd expect at this price point, with over 30 different colors and patterns to appeal to the interior designer in you.
They do fall short in a couple of areas: Like any woven placemat, they won't totally protect your table from spills, and they're not dishwasher-safe or machine-washable. That being said, they're easily cleaned with a damp cloth, or you can hand wash stubbornly stuck-on food with a brush and warm, soapy water. They'll last for years, are equally suitable for outdoor use on the patio, and at this price, you can afford multiple sets. What's not to like?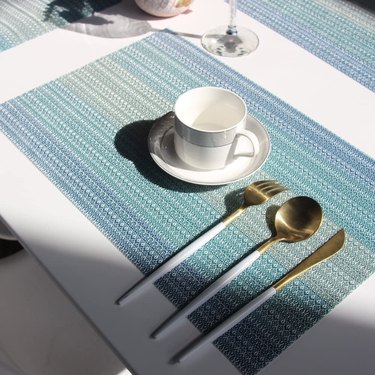 The Best Placemats for Small Children
Munchkin Silicone Placemats for Kids (Set of 2)
Protecting your table from toddlers and small children is a special challenge. Most adults won't tip their bowls over on the table, spill their cup multiple times at one meal or bang at the table with their fork, but your little ones will routinely do all of those things. Ordinary placemats provide some degree of protection, but your best bet is a silicone placemat like these colorful ones from the popular Munchkin brand. They're stubbornly non-slip thanks to a grippy underside, their raised lip helps keep spills on the mat itself, and they're thin enough to roll up and stash in a drawer when they're not in use (or tuck into the diaper bag and take with you to a dinner out). They're also dishwasher-safe, because let's face it: When mealtime is over, you'll have lots of other things to clean, without hand-washing the place mat.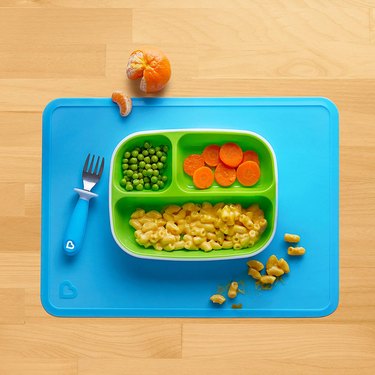 The Best Charger Placemats
OrganiHaus Round Woven Farmhouse Placemats (Set of 6)
Round placemats ("chargers") are designed to fit directly underneath a plate or bowl, rather than providing a surface for an entire table setting. They're primarily meant to protect your dining table from hot plates or bowls, which might otherwise damage its finish. Chargers are essentially a trivet that's pretty enough to come to your table, and they're available in a range of natural materials including jute, bamboo, rivergrass, wheat stems and many more. While all of those fibers are pleasantly rustic and natural-looking, they can be hard to clean and may even shed fibers onto your table.
That's why we favor this placemat set from OrganiHaus instead. Its round charger placemats (and oval placemats) are woven from durable cotton rope. It's still a natural, renewable fiber, but these will last longer than most competitors and—a key detail—they're washable, unlike most of those others. Another key benefit is that they're absorbent and will protect your table against small spills (or condensation from chilled or frozen desserts). Charger mats are available in packs of six in several colors (or packs of mixed colors, for a designer look), while the more-traditional oval mats are also available in packs of four. The manufacturer also has coasters for your cups and glasses, to complement the chargers and give each setting a cohesive look.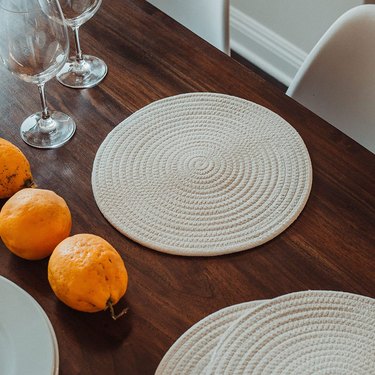 Andie Home Oval Placemats for Kitchen Table and Dining Room (Set of 6)
One thing that all woven, linen or cotton placemats have in common is that they're not entirely spill-proof. Soups, beverages and even condensation can ooze through them and potentially mar your table's finish. That's an issue for a lot of us, because it often means choosing between an attractive woven mat or a gaudy (or cheap-looking) plastic placemat that's more appropriate for the kids' table.
These oval Andie Home placemats let you have it both ways: Their solid vinyl surface is completely waterproof, but they're available in a range of colors and prints that work well with almost any table decor. They're stain-resistant, heat-resistant to 180 degrees Fahrenheit, and they're even made in the U.S.. Usable indoors or out, they simply wipe clean with a damp cloth after your meal is over. They won't replace linen placemats for dinner parties and special occasions, but for day to day use, they're almost perfect.
The Best Fabric Placemats
Solino Home Linen Placemats (Set of 4)
Fabric placemats come in a range of materials, from synthetics such as rayon and polyester to traditional cottons, linens and cotton-linen blends. They aren't as protective as non-woven plastic or silicone, but nothing looks better on your dinner table. If you want a set of fabric placemats that will hold up to years of use, but still look elegant on your table, it's hard to go wrong with these classic, hand-woven linen mats from Solino Home.
Natural linen is a superbly durable fiber, which means they'll stand up to a lot of use, but they're machine-washable, so care is pretty simple. You can iron them for a crisp, Instagram-worthy appearance or embrace the less-formal, slightly-rumpled look that's characteristic of linen. Either way, they're a striking addition to any place setting. These ones give you dozens of color options, from bold reds and blues to earthy natural tones. They're certainly not the lowest-cost option in our roundup, but their durability and esthetic appeal means they still provide excellent value. And hey, if you're shopping for table linens, why not opt for the real thing?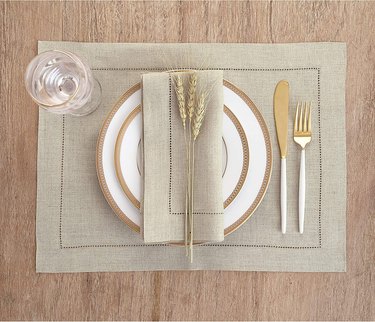 The Best Upgrade Placemats
Chilewich Wave TerraStrand Chevron Rectangular Placemat (1 ea.)
It's perfectly possible for designer placemats to also be everyday placemats, as long as they're built to stand up to daily use. That's the case with these woven placemats from New York-based designer Sandy Chilewich, a powerhouse in the world of table linens and floor coverings. Chilewich's distinctive designs combine extruded yarns—mixing polymers and natural plant-based materials—with unusual, artisanal weaves that give them a genuinely distinctive appearance.
We've chosen this one from her extensive line because of its laid-back, Zen vibe. Available in blue or grey, the chevron weave will look good against most tabletops, and will make your dinnerware and cutlery pop. The mats are durable, water- and stain-resistant, and will pair beautifully with the company's table runners or napkins. Their price point is substantially above most of our other picks (a single placemat for the cost of a set of most others) but it's still an affordable luxury, and well worth it when you consider the years of service you'll enjoy from them.