A home cook who's only used cooling racks for cookies and cakes would be shocked to see how they're used in commercial kitchens. Paired with a matching sheet pan, chefs use them for roasting birds and large cuts of meat, or for preparing perfectly crisp bacon in quantity. Fried foods are drained on a rack, rather than a plate of paper towels, so they stay crispy instead of getting soggy. Pastry chefs use them for decorating cookies or drizzling icing or chocolate over pastries because the excess can be caught on the pan underneath for easy cleanup. The best cooling racks handle all of these tasks—and many more—with flair, and we've picked out seven of them for your consideration.
What to Consider When Purchasing Cooling Racks
‌Material:‌ You'll find wire racks in a number of different materials. The top choice for versatility is stainless steel, which is sturdy, durable, handles high heat, and—usually—is dishwasher-safe. You'll also see options with chromed steel or nonstick coatings, which are typically lower in cost but represent some compromises. The chrome or nonstick layer will eventually crack, flake or wear off, which means less durability and the potential for rust. In general, the best cooling racks are heavy-duty and solidly constructed. When in doubt, choose the sturdier option.
‌Ladder Versus Grid:‌ Broadly speaking, you'll see two main styles of cooling racks. One consists of a frame with crossbars all running in the same direction, like the steps of a ladder, and are known as "ladder designs" for that reason. The other style contains bars set at a right angle to each other, making a grid pattern, and are referred to as grid designs. Both options achieve the main purpose of air circulation, but grid designs tend to be sturdier. The width of the crossbars is important, too: A wide spacing makes for better cooling but increases the risk that small baked goods or pieces of food might fall through.
‌Size:‌ This matters in a lot of ways. Bigger is better when you've got several batches of cookies coming out, but large racks take up counter space you might not have and don't necessarily lend themselves to easy storage. If you want to use your rack together with a sheet pan for roasting veggies or a bird, check that the rack fits the pan closely. It's easiest to find racks that match standard commercial sizes—half sheet pans, quarter sheet pans and so on—but you'll also see racks sized for jelly roll pans and random department-store baking sheets. For purposes of this review, we'll only look at racks sized for half-sheet pans, but the same manufacturers make other sizes and shapes as well.
‌Special Features:‌ There are cooling racks that go beyond the basics with thoughtful features or added versatility. Some are oven-safe to higher temperatures than others, perhaps even suitable for broiling. Some expand or stack, to give you a maximum cooling surface in a minimum of countertop space. Nonstick coatings are less durable, but aid in cleanup. Some models have taller "feet" than others, raising the rack farther from the underlying surface. That creates better air circulation for fast cooling, or for even browning if you use the rack in your oven.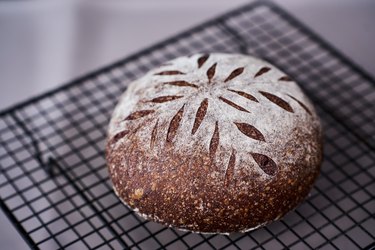 The Best Overall Cooling Rack
Checkered Chef Stainless Steel Cooling Rack, 2-Count
This is as solid an all-around baking rack as you could wish, ticking all of the right boxes for value and durability. The high-quality stainless steel construction, with a total of four crossbars supporting the grid, makes it extra-sturdy and unlikely to warp even under high heat (it's rated for up to 500 degrees Fahrenheit). The grid provides excellent airflow for either cooking or roasting purposes and will keep all but the smallest cookies or roasted vegetables from falling through. The rack is even dishwasher-safe, though it'll clean up easily by hand if you don't have room in the dishwasher. One Checkered Chef cooling rack is a great option but two is even better, hence our choice of the 2-pack as our top overall pick.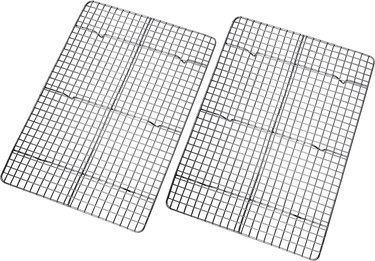 The Best Heavy-Duty Cooling Rack
Kitchenatics Cooling and Roasting Rack
If you're intrigued by the potential to use your cooling rack as a cooking tool as well, Kitchenatics has you covered. This extra-durable rack is explicitly intended for cooking as well as cooling, as the name suggests. It's rated for up to 575 degrees Fahrenheit, high enough to even go under the broiler or on your grill. The feet of the rack are a full inch in height, which gives excellent airflow for cooling or roasting purposes. With this one, you can enjoy crispy oven-cooked bacon, sauce-coated chicken wings or even a roast or oversized turkey of up to 45 pounds in weight (the cooling grid's supporting crosswires are solidly welded into place for extra rigidity). Of course, it's also adept at cooling cookies, cupcakes and other goodies as well. The price point may give you pause, but it will last a lifetime with minimal care.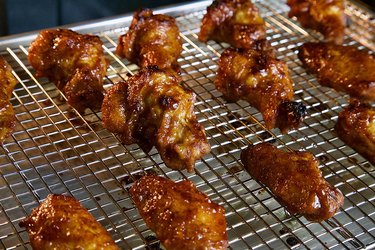 The Best Budget Cooling Rack
Hiware Stainless Steel Cooling Racks, 2-Count
There are times to splurge on the best kitchenware you can get, and there are times to be smart with your money. If you're currently in that second camp, there's a lot to like about these low-cost cooling racks from Hiware. While they don't quite match up to our top picks in heft and durability, they're solid performers at a budget-friendly price point. Like their higher-end peers, these sheets are made of solid stainless steel, and at 0.6 inches, they stand higher from the countertop than most racks (which is great for air circulation). The 3/8-inch grid is large enough for good airflow but small enough to keep your cookies from falling through, and the racks are both dishwasher-safe and ovenproof to 575 degrees Fahrenheit. Getting two of these good-quality racks, at a price that might not buy even one from other brands, is just smart shopping.
The Best Expandable Cooling Rack
Nifty Expandable Cooling Rack
If you bake large batches, a half-sheet size cooling rack won't always be big enough for you. You could just buy a larger rack, but those take up a lot of countertop space when they're in use, and a lot of storage space when they're not. A better option is an expandable cooling rack, like this one from Nifty. It's made of rust-resistant chrome plated steel, and consists of three racks that slide together for compact storage—making roughly a 14-inch square—but extend to 35 inches in width if necessary. The individual racks can also be detached and used separately if that's better for you. They're dishwasher-safe, but the chrome will last longer if you hand wash them. A lighter-duty alternative is Wilton's Expand and Fold cooling rack, which is 14 by 16 inches when folded but opens up to 32 inches in width if needed.
The Best Multi-Tier Cooling Rack
Wilton 3-Tier Collapsible Cooking and Baking Cooling Rack
What if you simply don't have enough countertop space to fit even an expandable cooking rack? In that case, your best option is to expand upwards, rather than outwards. You'll find lots of multi-tier cooling racks if you browse cookware stores and online vendors, but they broadly fall into two categories: collapsible or stackable. We like this stackable model from Wilton, which gives you three tiers of cooling on 10- by 16-inch ladder-design racks. That's enough for each layer to hold a dozen normal-sized cookies or even larger numbers of small cookies or other treats. It opens and closes accordion-fashion, and—most importantly—gives plenty of space between the layers so you can easily add, remove or turn the items you're cooling. That's not always the case with stackable racks, including Wilton's own, which typically only have half as much height between layers. Its only downside is that the bars are spaced rather widely, at 1/2 inch, so extra-soft or delicate cookies might break under their own weight, and small cookies could fall through.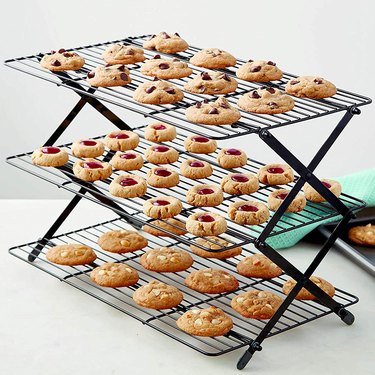 The Best Nonstick Cooling Rack
OXO Good Grips Nonstick Pro Cooling Rack
Stainless steel cleans up easily enough, but some bakers prefer the added convenience of a nonstick surface on their bakeware. If you fall into that camp, you can't go wrong by opting for this well-thought-out cooling rack from OXO. Getting the simple things right is the company's brand, and this rack is a fine example. While most racks have curved wire feet to support the cooling grid, for example, OXO's rack stands solidly on unbroken rails that run the length of the rack (like the runners on a sled), so your rack won't wobble. The rack also has raised handles at the ends to make it easier to lift and move, or to remove from a sheet pan if you've used it in the oven. The PFOA-free nonstick coating is rated for a temperature of up to 450 Fahrenheit, lower than most of the racks in this review but still adequate for most of your roasting or baking needs. It's neither the cheapest nor the costliest option in this category but given OXO's attention to usability, it's a great choice for most purposes.

The Best Cooling Rack and Sheet Pan Combination
Nordic Ware Rimmed Half Sheet with Nonstick Grid
We've made the case elsewhere that a top-quality half-sheet pan is an extraordinarily useful kitchen tool, and a cooling rack is its natural partner for many of those uses. So why not buy them together as a matched set? This combination pack includes Nordic Ware's Naturals half-sheet pan, a high-quality commercial-grade pan which—as it happens—was our pick for the best sheet pan available in 2022. Like the company's famous Bundt pans, it's made in America from heavy gauge aluminum, stiffened with stainless steel in the rolled-down rim. It's paired with a nonstick stainless steel rack, manufactured in China to be a perfect fit for the sheet pan. The nonstick coating is a mixed blessing: It makes clean-up easy, but it means you can't use the rack for high-temperature roasting or baking. Still, it's an excellent bundle if you're outfitting a kitchen and need both pieces anyway.