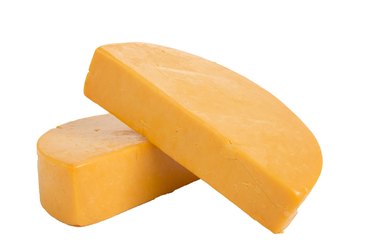 The term "longhorn cheese" may evoke visions of cattle-drive cookouts, but the real derivation of the name is a bit tamer. What this Wisconsin-born cheese lacks in origin story, it definitely makes up for in flavor and versatility.
Characteristics of Longhorn
From a culinary standpoint, if you see a suggestion to use longhorn cheese, the recipe refers to a type of Colby. Longhorn Colby cheese got its name because of the tube-like shape in which regular Colby cheese is molded, similar to a long horn.
When it's sold commercially in portions of 1 pound or less, longhorn Colby cheese takes the form of a packaged circle that's been cut from the cylinder, although sometimes that circle is halved. For parties, you can get a larger "half loaf" portion that retains the cylinder shape.
If Colby is the taste you're after, double check before you buy a longhorn cheese. Occasionally, you'll see longhorn cheddar or longhorn Jack on offer. These cheeses were also molded in a cylinder shape but are otherwise different than longhorn Colby.
What Sets Longhorn Cheese Apart?
Longhorn and other Colby cheeses come from Wisconsin and are cow's-milk based. They're often compared to some of the milder cheddar types, at least in terms of flavor. Although Colby and cheddar cheeses are both classed as semifirm cheeses, longhorn and other Colby cheeses are noticeably different than cheddar.
To start, longhorn cheese is less dense than cheddar. It also has a higher moisture content. Much of the difference has to do with the production of the two kinds of cheese, which is similar until the process of treating the curds. For longhorn and other Colby cheeses, the curds are kept in cold water and separated as opposed to the "cheddaring" process, which presses curds together.
Keeping the curds from fully clustering together gives longhorn a more elastic texture than cheddar. That sweet taste and springy texture are hallmarks of longhorn cheese.
Create Vibrant Appetizers
For gatherings, include longhorn on a simple cheese and cracker tray or a fine charcuterie board that includes smoked meats, dried fruit and nuts. As a mild, semifirm cheese, longhorn cheese presents a great contrast to soft brie and salty, hard cheeses like Asiago. Its deeper, yellow-orange color also adds additional contrast to the pale or blue-marbled cheeses.
Of course, longhorn is also a useful treat for an informal snack. Slice a few wedges of regular longhorn Colby or even a marbled longhorn Colby-Jack cheese, add crackers and a few slices of apple or pear and you have an appealing treat for yourself or a small crew.
Liven Up Sandwiches
Grilling longhorn cheeseburgers is one obvious use for the well-known melting cheese. Its milder flavor also makes it a classic "comfort food" ingredient for a basic grilled-cheese sandwich, or it can pair with smoky ham and spicy mustard. Similarly, a longhorn cheeseburger can be a simple pairing with beef and bun or complex with the addition of toppings and gourmet rolls.
Don't forget cold sandwiches. Slice longhorn cheese thinly and layer with cooked chicken, avocado, tomatoes or any of your other favorite cold-sandwich fixings. The mild taste and springy texture make it one of the more versatile cheeses for sandwich making.
Add Some Americana to the Fondue Pot
Of course, the most authentic cheese fondue pots will contain Gruyère, Emmentaler or other types of Swiss cheese. Why not toss regular longhorn or longhorn Colby-Jack cheese into the mix? Either longhorn type boasts a reliable melting quality that makes it a good stand-in for pricier imported cheeses.
For more complexity, use longhorn cheese to stretch the budget by mixing it with one or two imported Swiss types. Use a crusty artisanal bread for dipping.
Dress Up Dinners
Regular longhorn Colby and longhorn Colby-Jack cheese are prized for their superior melting qualities. That makes either a natural for more than just longhorn cheeseburgers and fondue pots. Longhorn cheese is also useful in all manners of cheesy cooked dishes.
Use longhorn cheese on nachos and other Mexican or Tex-Mex dishes. It's also fun to provide bowls of cubed or grated longhorn along with other toppings at your next potato bar or chili tailgate. Of course, don't forget to try this versatile cheese on such baked cheesy classics as broccoli-cheese bake, mac and cheese or tuna-noodle casserole.