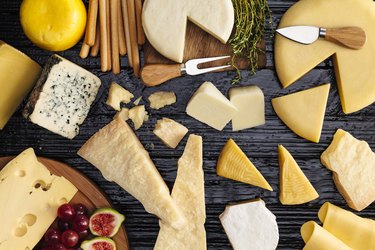 Even if you have a decent selection of kitchen knives, you may find they don't work particularly well for cutting various cheeses. Knives that aren't specially designed for this delectable dairy can smoosh soft cheeses, cause hard cheeses to crack and break apart, reduce crumbly cheeses to rubble, get stubbornly stuck to sticky cheese, and do a not-so-great job spreading spreadable cheeses. It's a pain when all you want to do is nicely top your cracker. Of course, the pain stings a little more when you spring for costlier gourmet cheese.
And think of your guests! Not only are they likely to struggle to serve themselves if you put out regular kitchen knives with your cheese board—but it also looks like amateur hour. Cheese knives are essential accessories for home entertainers.
Once you choose some of the best cheese knives, you'll be happy you decided to stock your kitchen with these convenient, specialized utensils.
What to Consider When Purchasing a Cheese Knife
​Type:​ Cheese comes in different classifications: hard (e.g., Parmigiano Reggiano, pecorino), semi-hard (e.g., cheddar, gruyere), semi-soft (e.g., mozzarella, fontina) and soft (e.g., Brie, cream cheese). And no single knife is perfect for all types of cheese.
So, there are different types of cheese knives. Common styles include:
Cleavers and chisels for hard and semi-hard cheeses.
Soft cheese knives with very skinny blades or broader blades with large holes in the side, minimizing surface area and sticking; these often have two prongs at the tip to help with serving, and they're sometimes serrated.
Spreaders—similar to small butter knives—for spreading soft and crumbly cheeses.
Plane slicers that look like little shovels with a slit near the base of the blade for shaving off thin slices of semi-hard and semi-soft cheeses.
Parmesan knives (also known as spade knives, heart knives, bell knives, almond knives and more) with short, sharp-tipped blades for chipping off pieces of hard cheese.
​Singles or Set:​ If you're not much of an entertainer and have a strong preference for hard or soft cheeses, you can probably get by with a single cheese knife. Otherwise, if you're making the leap to get dedicated cheese knives, you might as well get a set that includes a few designed specifically for different types of cheese.
These are the main considerations when buying cheese knives. Also, check that the handles look comfortable to grip, and obviously take your budget into account, as prices range widely. And if you prefer dishwasher-safe utensils, many are.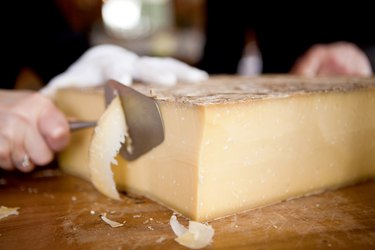 The Best Overall Cheese Knife
Hammer Stahl Cheese Knife
If you just want one knife that handles a wide variety of cheeses, choose this one. It's a soft cheese style, but its sharp serrated blade also works for semi-hard and hard cheeses. The forked tip comes in handy for serving cheese slices and charcuterie, and the ample 5-inch blade is of high quality and well balanced. You'll use this knife for fruits and vegetables too, plus it's an attractive knife. Overall, it's a great price point for the quality, durability, versatility and aesthetics. This one's not dishwasher safe, though.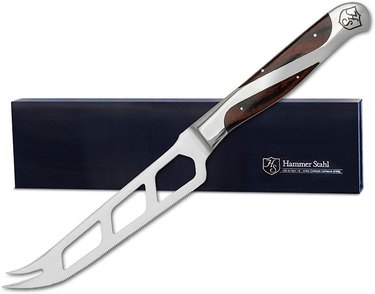 The Best Cheese Knife for Hard Cheeses
This cleaver-style cheese knife with a finely honed, 7-inch beveled stainless steel blade makes quick work of hard and semi-hard cheeses, whether you're cutting or chipping away. It features a beautiful polished hardwood handle with brass rivets that's very comfortable to work with, too. Just keep in mind that the hardwood means you can't put this utensil in the dishwasher. It's a durable piece that should last a long time, sold at a good price for what you get.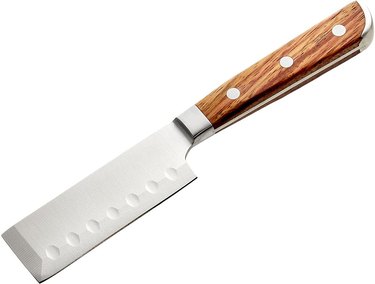 The Best Cheese Knife for Soft Cheeses
Boska Soft Cheese Knife Copenhagen No.1
You can't go wrong with this well-priced soft cheese knife from Dutch manufacturer Boska, a leading brand for cheese tools since 1896. The thin, super-sharp blade glides right through soft and semi-soft cheeses, and it even has a nonstick coating so cheese peels off effortlessly without tearing. The design of this entirely stainless steel, single-cast piece is sleek and elegant, so you'll feel good about putting it out for guests. Also, the ergonomic handle is amply sized for comfortable use.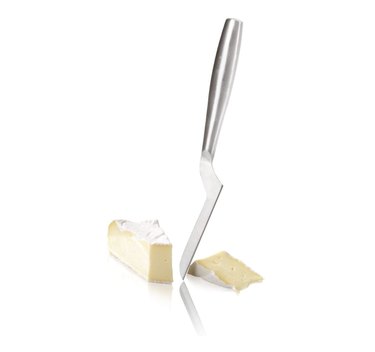 Towle Living Wave Stainless SteelCheese Spreader (4-Count)
Here's a very budget-friendly set of four cheese spreaders for soft cheeses. Cast from a single piece of heavy-gauge stainless steel, there's no crevice between the blade and the handle for cream cheese, cottage cheese, or other soft and spreadable cheeses to get stuck in. That—plus the fact that they're dishwasher-safe—means easy cleanup after enjoying your food. And, with a simple, contemporary-looking design and mirror finish, these utensils are nice enough for company.
Boska Cheese Slicer Copenhagen
When it comes to uniformly slicing semi-hard and semi-soft cheeses, a plane knife is a great tool to have on hand. This one has a comfortable, ergonomic handle and a streamlined design, and it's a very affordable product—especially given the quality, durability and ease of use. It's designed for perfectly snackable-sized cheese slices, and it can even slice hard cheeses. Plus, there's peace of mind knowing it comes from Boska, a worldwide favorite maker of cheese accessories.
Swissmar Parmesan Cheese Knife
This is a useful tool for breaking off chunks of hard cheeses like Parmigiano Reggiano. The stainless steel blade comes to a fine point for chipping away at hard cheeses, but it also has a sharp cutting edge that works just fine—even for semi-hard and semi-soft cheeses. The handle is easy to grip when you're hacking at a hard cheese, and the piece is dishwasher-safe to simplify things at cleanup time. It's also an elegant design and an attractive piece, offered at a great price.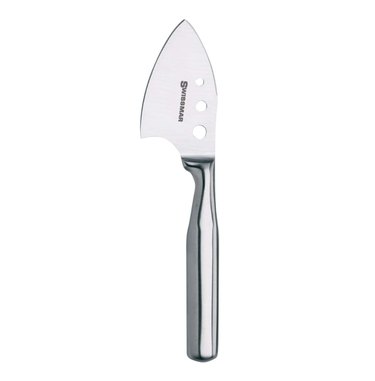 The Best Budget Cheese Knife
Zyliss Comfort Cheese Knife
Here's a perfect pick for those who want just one budget-friendly cheese knife that can be used for a variety of cheeses. It's a soft cheese knife, but the high-quality, serrated stainless steel blade can take on harder cheeses, too. The ergonomic handle even has finger indents for a more comfortable grip, and the two prongs at the tip of the blade are helpful for serving cheese and meat slices. This dishwasher-safe piece offers an attractive look that surpasses its price, and it even comes with a sheath for safe storage.
The Best High-End Cheese Knife
Laguiole en Aubrac Handmade Cheese Knife
If you're willing to spend top dollar for a single gorgeous, versatile cheese knife, look no further than this one. It's an authentic handcrafted piece from Laguiole, France, an iconic locale with a world-renowned knife-making tradition. The curved, finely honed blade with an exceptionally sharp tip makes quick work of everything from hard to soft cheeses. And the olivewood handle is a work of art. This is a piece that will last a lifetime, and you'll feel proud to display it and put it out for your guests.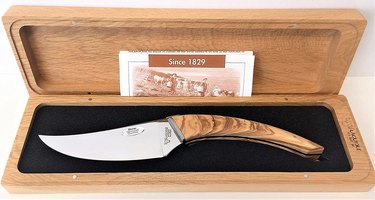 The Best Cheese Knife Set
ICOSA Living Lunar 6-Piece Cheese Knife Set
This stainless steel cheese knife set is an easy pick, given its comprehensive inclusions and notably budget-friendly pricing. So many cheese knife sets come with three or four pieces, but this one has six, covering a broad spectrum of uses. You get a soft cheese knife, a thin knife, and a chisel knife that are all great for semi-hard and semi-soft cheeses, a Parmesan knife for hard cheese, a cheese spreader, and a two-pronged cheese fork for serving. If you want one set that covers you for every type of cheese and looks nice enough to put out for company, this is it.