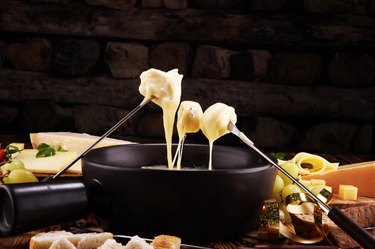 For people of a certain age, fondue is a fond memory: Fill in a mental picture of happy guests in Unfortunate Seventies Fashions, gathered around a sunken living room, surrounded by shag carpeting and plants in macrame hangers. Fondue's popularity waned a bit after that early-'70s peak, but it never entirely went away because—let's face it—who doesn't like melty cheese (or chocolate)?
Fondue is a very social thing, a reason to gather a group of friends together to laugh and enjoy each other's company. Any fondue set can elevate your entertaining by a notch, but the very best bring a bit more to the table.
What to Consider When Purchasing Fondue Sets
So what is fondue, exactly? The most familiar version consists of cheeses such as Gruyere and raclette, melted in a pot with white wine. It began as a way for the rural, mountain-dwelling Swiss to feed a big family on little other than stale bread and their own cheese. Other versions might replace the cheese mixture with hot oil or broth, with diners spearing vegetables or small cuts of meat to cook in the hot fluid. The dessert option is chocolate (or caramel) fondue, with fresh fruit or sturdy baked goods to dip. In any case, the mechanics are the same. The pot is filled with something hot, and you dip another food into the hot part (usually, using forks).
With those basics out of the way, there are a few things to think about before you make your purchase:
‌Materials:‌ If you're going to use your fondue set primarily for the traditional cheese mixture, or for melted chocolate, you'll want a relatively thick one that retains hit and distributes it evenly (enameled cast iron and ceramic fondue pots are the traditional choices). Thinner metal pots work well for hot oil or broth, but they can leave you with hot spots that cause cheese or chocolate to stick and scorch.
‌Heat Source:‌ Electric fondue sets are heated, of course, with an electric coil. Traditional models are designed to sit over an alcohol burner (or in less-traditional cases, a can of Sterno), and small fondue-for-two sets might even use a candle or tea light. Alcohol burners give you the freedom to set up anywhere, but for an easy-to-use fondue set, electric wins.
‌Capacity:‌ Fondue sets vary pretty widely in size. Some hold as little as a cup or two, for couples having a romantic evening, while others hold several quarts and are suitable for larger get-togethers. Contemplate which direction your social life is trending, and buy accordingly.
‌Ease of Cleaning:‌ Fondue ingredients are mostly sticky and gooey by nature, so cleaning is an important part of the process. Conventional non-stick coatings are relatively rare (they don't play nicely with metal fondue forks) but enameled cast iron and ceramics clean up pretty readily, and stainless steel can be scrubbed pretty aggressively without harm.
Tip
Rather than trying to heat your cheese (or oil, broth, or chocolate) in the fondue pot itself, bring it up to temperature first on the stovetop or in your microwave. Electric fondue pots are the exception because they're usually powerful enough to warm up your fondue just about as quickly as your stove would.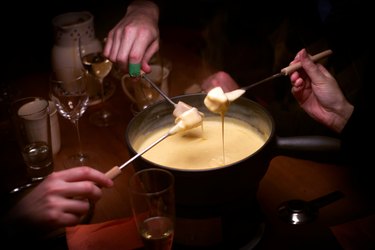 The Best Overall Fondue Set
Fondue is a social activity, and if your fondue set is going to be the center of attention it should be both beautiful and functional. This eye-catching set from Swissmar over-achieves on both counts. The base (‌rechaud‌) and pot itself are clad in copper over stainless steel, so you get both durability and looks. Use the outer metal pot for broth or hot-oil fondue, or put water into the metal pot and then add the ceramic-bowl insert to provide lower-temperature, non-scorching heat for cheese or chocolate. The catering-style burner uses jellied alcohol, which produces strong, even heat and is less likely to spill as everyone gathers around. The main pot holds just under 2 quarts, and the ceramic bowl holds 1.3 quarts. The set comes with six fondue forks, just about right for small gatherings.
The Best Electric Fondue Set
Electrically-heated fondue sets represent a bit of compromise: You don't have to worry about open flames or pre-heating your fondue mixture, but you're tethered to a power outlet and the cord—as a result—is a tripping hazard. This fondue set by Cuisinart addresses the tripping question intelligently by attaching the power cord with a magnet (like some Apple computers) so if a guest trips over it, the cord simply pulls away rather than spilling your fondue. It's a winner in every other respect, too. Its 3-quart capacity is plenty for even a large get-together, the eight color-coded forks allow for lots of guests to get in on the action, and the temperature control goes low enough to be safe for chocolate but high enough to work with hot oil. While it lacks the copper-clad elegance of our top-choice Swissmar, the brushed steel of the Cuisinart is attractive in its own right. You really can't go wrong with this one.
The Best Cast Iron Fondue Set
If our top-choice Swissmar represented the ‌luxe‌ version of Swiss fondue, this solid, workmanlike sibling is a nod in the direction of fondue's blue-collar origins. Aside from the beautifully ornate ‌rechaud‌, this is a plain and sturdy fondue set in cast iron with a colorful enameled surface (white on the inside and blue, black or red on the outside). The heat source is an alcohol-gel burner and can be adjusted to higher (for oil) or lower (for cheese or chocolate) temperatures by adjusting airflow to the fuel. The pot holds up to 2 quarts of fondue and comes with six forks. The pot is suitable for all cooking surfaces including induction, so on nights when you're not entertaining it can also serve as a regular pot.
The Best Ceramic Fondue Set
Ceramic fondue pots provide excellent heat distribution to avoid hot spots and scorching, and they're relatively easy to clean up. Their real superpower, though, is that you can pop them into the microwave to heat (or reheat) their contents. This 750 milliliter (roughly 3 cups) model from Dutch manufacturer Boska is an outstanding example and offers serious value at the price point. It's warmed by three ordinary tea lights for no-fuss entertaining, and it will work for chocolate as well. It comes complete with candles, a stand/candle holder, and four forks. The company makes a 1-liter model as well (roughly 1 quart), but for the difference in price, you're better off buying two of the smaller ones. You'll get more capacity, and still only spend about half as much.
The Best Fondue Set for Two
When it's just the two of you enjoying a bit of quiet "us time," hauling out a full-sized fondue set—especially a heavy cast-iron or electric model - might be more trouble than it's worth. For those occasions, a compact model like this one from Tebery is just the thing. With a capacity of about 1 1/2 cups, it holds just the right amount of chocolate, cheese or your favorite hot dip to serve two (or just you, if you're having a Really Bad Day). The base and bowl are made of clean, white porcelain, which is both dishwasher and microwave safe for extra convenience. The heat source is a single tea light (not included), so setup is a simple matter of lighting the candle and melting your ingredients. The set comes with four forks, so you can share with friends if you really want to.
The Best Fondue Set for Large Groups
For serious entertainers or hours-long parties (think tailgating or summertime long weekends), the one- or two-quart capacity of an ordinary fondue set just won't cut it. This supersized stoneware model from Boska, on the other hand, will keep the party going for hours with its whopping 6.5-liter bowl (about 1 1/2 gallons) and an even dozen of fondue forks. The heat comes from not one, not two, but three alcohol burners, giving you all the heating capacity you need for indoor or outdoor use. Those burners can be tweaked for high or low heat, so you can roll with either an oil or broth fondue or the more traditional cheese (or chocolate). It's not a graceless behemoth either, with an award-winning design that balances the white stoneware with a natural-wood base and handle. It doesn't come cheap, but if you entertain a lot it's a definite winner.