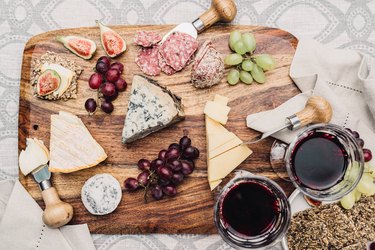 When you want to serve a crowd something a bit more refined than pizza, yet heartier than chips and dip, a meat and cheese tray is the perfect solution. In fact, the classic meat and cheese tray is the "little black dress" of parties — it can be dressed up or scaled down to suit the gathering.
You can pick up a cheese and meat platter from the corner deli before adding your own special touches. Or hand-pick the finest charcuterie meats, cheese and other platter items at a specialty gourmet shop. Setting out a spread with three or four types each of meat and cheese, along with other goodies, is always a crowd-pleaser. Be sure to set a basket of breads and crackers nearby, as well as cheese slicers, knives, small plates and plenty of napkins.
1. Meat
Cured meats are the order of the day when it comes to making meat and cheese trays. Plan to serve about 1.5 pounds, total, of cured meat for every dozen guests who will be attending your event. In practical terms, that means that if you want to serve four types of meat, order about ½ pound of each of your meat selections.
To gourmet cooks, the types of meat served on a party platter consist of two categories: "encased" or "whole muscle." For the layman, that simply means either sausage-like or sliced. For the most appealing trays, a mixture of both kinds is appetizing and visually engaging. Encased meats are cured through fermentation and seasonings, so they have a more moist, spicy quality. Whole muscle types are dry-cured and sometimes smoked, and they are often on the sweet side.
Upscale varieties of ham are the most common sliced meats for a festive party tray. Prosciutto is a thinly-sliced Italian variety. It can have its own pride of place on a meat and cheese tray, or wrap it around a melon ball or a dried apricot and secure it with a toothpick. Serrano ham, a Spanish favorite, is also traditionally served in thin slices, and it pairs well with crusty bread. Perhaps the fanciest ham variety for a meat platter is jamón ibérico, a thick, rich imported ham made from a specific black pig breed found on the Iberian peninsula.
When the meat and cheese platter includes crusty bread for potential sandwich-making, one or two sliced meat selections like smoked turkey or pastrami provide an alternative to ham selections.
At least two types of encased meats should round out your meat selections. Classic choices include Italian dry-cured salami; the French salami type known as saucisson; pepperoni; a gourmet bologna variety; the sweet Asian sausage lap cheong; and a larger Italian sausage made with ground meat such as soppressata or mortadella.
To add extra visual appeal, tightly roll some of your sliced meats and thin salami selections, and fold the others. Loosely fold each slice into quarters, and then set them upright between other platter selections. Thicker encased meats can be served in rounds or chunks.
2. Cheeses
As with meats, plan on a total of 1.5 pounds of cheese for every dozen people who will be attending. Choose cheese varieties with different flavors and textures to bring the most visual and culinary appeal to your cheese and meat platter.
A smoked type, such as Gouda, is a smart choice for pairing with cured meats. Aged varieties like Gruyere and sharp cheddar also complement sausages and cured sliced meats. For contrast, include softer, "crumbly" types like goat cheese, as well as a blue cheese such as Roquefort or Stilton.
Finally, include a creamy, spreadable cheese; Camembert or Brie is ideal. Consider buying a small wheel of either kind to create a centerpiece for your meat and cheese platter. Cover it with gourmet jam and chopped nuts to make a truly striking focal point. (You may also find these kinds of enhanced cheese wheels premade in the gourmet cheese section.)
Again, contrast is key. A blue-marbled wedge of Stilton, for example, is set off nicely by a log of herb-encrusted goat cheese, along with a brick of orange-yellow cheddar and a wheel of creamy-white Brie. It's also a nice touch to preslice several pieces from most of the cheese selections.
3. Bread and Crackers
Unless you're making an actual deli tray, soft rolls aren't needed with your platter. Instead, opt for a few selections of crunchier starches in different sizes. A long, thin baguette loaf offers a crispy texture and the added advantage of being easy to slice. You'll find gourmet "variety packs" of crackers in most supermarkets, and options include round and square crackers with different textures and flavors. Breadsticks and pita toasts are also good options.
Of course, you don't have to offer every bread-like selection under the sun. Three or four options is fine. And while they're technically part of the party spread, you'll probably need to heap the bread and crackers in one or two baskets next to the actual meat and cheese tray to make room.
4. Condiments and Spreads
Savory spreads offer an ideal cracker-topping alternative, especially to any vegans at your gathering. Options include a colorful hummus, basil pesto, olive tapenade or spreadable cream cheese. If you'd rather not put a wheel of cheese in the center of your platter, a tub of one of these spreads serves as the focal point instead.
In addition, consider some sweet and spicy condiments to round out both the meat and cheese flavors. Choose from apricot preserves — a frequent partner to brie and crusty bread — along with jalapeno jelly, gourmet mustard, chili-infused honey, horseradish sauce, and cherry or plum preserves.
5. Extra Nibbles
Additional goodies not only give your guests something extra to munch, but also will fill in the empty spaces on the platter. Because so many cheeses and meats go well with sweet, tangy or savory flavors, the extra foods provide a balance of flavors.
In the tangy category, pickles and olives reign supreme. The "fancy" small pickle known as a cornichon is a natural on a festive meat and cheese tray. If you only have room for one olive type, go with pitted black olives.
Nuts and dried fruits are also easy to scatter between larger shapes. Dried apricots, dates and figs are sized perfectly for the meat and cheese platter. Shelled nuts that can be opened without a nutcracker are ideal – think macadamia and pistachio. If you want to offer shelled mixed nuts, set small bowls into the empty spaces on the platter.
Finally, consider offering fresh fruit and veggies as a palate cleanser for the richer, fattier offerings on the meat and cheese tray. Clusters of red and green grapes are always decorative. Slices of pear and apple can be kept from browning with a squeeze of lemon juice before serving. Festoon bite-sized juicer fruits, like pineapple and mango, with colorful toothpicks that make them easier to handle. Celery sticks, carrot slices and julienned bell peppers add crispness, and they are also handy for dipping into the spreads and condiments.