How to Make Beaded Star Ornaments. A star-shaped holiday ornament handcrafted with beads is a project that can be adapted for all ages. The ornaments are eye-catching gifts for the holidays and wonderful trinkets to hang on the Christmas tree. A beaded star ornament with a streamlined shape can be completed in just a few minutes.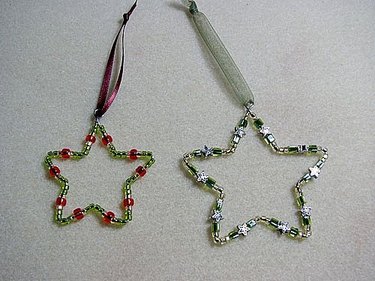 Things You'll Need
Wire Cutter

Round-Nose Pliers

Scissors

Steel Wire Or Crafts Wire, 20-Gauge

Ribbon

Colorful Beads
Step 1
Gather your materials. Use the wire cutter to cut a piece of wire about a foot long. Depending on how big you want your star to be, adjust the length accordingly -- for example, if the sides of your star are about an inch long, count 10 inches for the 10 sides of the star, and add another inch for the end loops. Choose your beads. Count 10 sets of beads corresponding to the 10 sides of the star. Cut 4 to 6 inches of ribbon to use to hang the star.
Step 2
Use your round-nose pliers to form a small loop at the end of the wire.
Step 3
String your first set of beads for one side of the star. Bend the wire, then string the next set.
Step 4
Continue stringing and bending until you complete the 10 sides of the five-point star. The beaded wire will look like a zigzag.
Step 5
Use the wire cutter to trim the wire about 1/2 inch from the end of the zigzag, and insert into the starting loop to close the star. Adjust the angles of the points of the star to your desired shape.
Step 6
Use the round-nose pliers to form a large loop with the end of the wire. This will secure the ends of the beading and give the star a hanging loop.
Step 7
Insert the ribbon into the hanging loop and knot the ends together.
Tip
The recommended wire size is 20-gauge because it is hard enough to hold the star shape, yet small enough to fit into the holes of most beads. It's best to temporarily string one set of beads (for one side of the star) to see how they will look strung together and to determine the length of wire to cut. It will also save you the aggravation of stringing the beads in a zigzag and later realizing that the wire is not long enough to complete all the sides of the star. Be creative with the colors and sizes of the beads. Use your favorite colors as well as the colors of the season. Choose shiny, sparkly beads for more drama. Try adding two more sides to make a 6-pointed (or 12-sided) star. Use pipe cleaners and plastic pony beads to adapt the project to younger children.
Warning
Keep glass beads and wire out of the hands of children under 5.