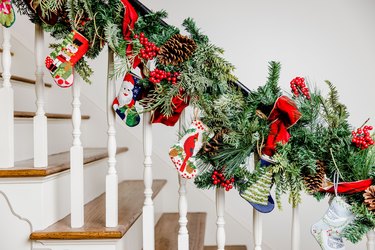 No matter how many holiday seasons you've celebrated, walking down a staircase on Christmas morning—whether tip-toeing to spy on Santa or rushing down to a pile of presents—never loses its magic. Now that you have your own staircase, consider it a blank slate to seriously elevate your holiday decorations. Whether with lush strands of garland, tiny twinkling lights or big bows, a festive flight of stairs will easily take your holiday decorations to another level.
Best of all, decorating a staircase for Christmas doesn't take much effort and oftentimes doesn't take much money, either. You don't need an interior design degree to gorgeously wrap a garland around a staircase or to hang a few stockings. Yet it'll lighten and brighten your home in full festive manner, making you all the more excited for Christmas to come.
What to Consider When Decorating Your Staircase
‌Type of Staircase:‌ As you're narrowing down which decorations are best for your staircase, consider the structure itself: where it's located, how it twists and turns and who will see it. Do you have room between the rails to thread a thick garland? Is it the first element guests see when entering your home? (Then go grand with it.) Is it close enough to your tree that you don't want to overpower the look?
‌If You Need a Power Source Nearby:‌ If you're considering anything with a lighted element that needs an electrical source, you wouldn't want to be stuck without a power outlet nearby. Many twinkle lights are battery-powered, so if you're lacking a power outlet, opt for those. An extension cord running through the room isn't a charming look.
‌Color Scheme:‌ Depending on where your staircase is located within your house, you'll want to consider if you want to coordinate it with your Christmas tree's color scheme or not. Balancing reds, greens and metallics between all of your decorations throughout your home will provide the most cohesive look, but if you're inspired to add doses of color into your staircase (pink garland? sequin stockings?), have at it.
Read on for 11 of our favorite ways to dress up your Christmas stairway.
1. Classic Nutcracker Stocking
There's something special about your own stocking, and there's something extra special about having your own stocking from Bauble, since they're hand-stitched in Haiti by single mothers for fair trade. There are dozens of holiday-themed designs to choose from, but we particularly love this classic and colorful nutcracker. Invest in one for each member of your family, then display them along your staircase, either using removable adhesive hooks or hanging them on a garland that's been wrapped around the stair rail.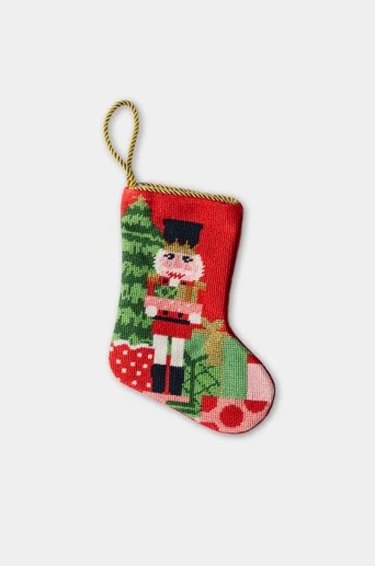 One look at this climbing vine garland, with bendable rose gold wire and twinkling warm white LED bulbs, and our imaginations went wild. There's no space in or outside of your home that this garland wouldn't look magical. It'd truly light up a festive staircase, though. As you're buying, choose between one of two sizes: the small size is 15 feet of lighted length and the large size is 30 feet in lighted length. Keep in mind that the small version is battery-powered—make sure you have four AA batteries laying around—while the large needs to be plugged in. Twinkle on.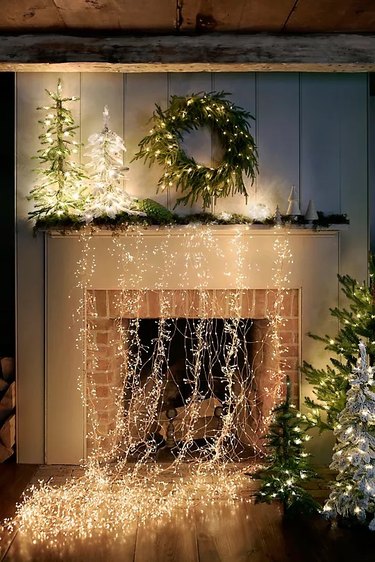 As much as we adore real garlands, we don't so much adore the mess they make. For a garland that won't shed as the 12 days of Christmas get closer, opt for a faux garland. Just think: one less thing to vacuum! There are many garlands on the market that appear remarkably realistic, even close up, like this faux cedar bough—no mess included. Simply string it around your staircase for a simple wintry touch of evergreen, or add ornaments or bows to it for a dose of color.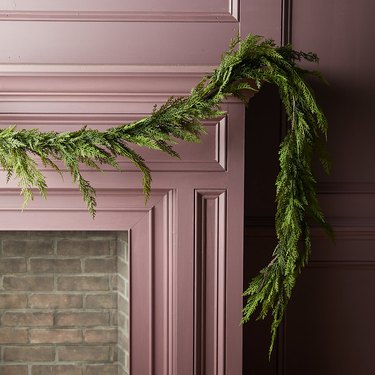 4. Red, Gold and Green Party Streamers
Holiday decorating doesn't get much easier or more budget-friendly than streamers. For under $12, pick up this pack of red, green, white and gold crepe paper party streamers. Then get creative! Wrap them around your staircase in a cool pattern, have some hanging down or create crafts with them to display on your stair rail. If you have little ones, using party streamers is a great way to get them excited for the season (as if they need any more excitement…) and involved in decorating, fostering a love of holiday decor early on.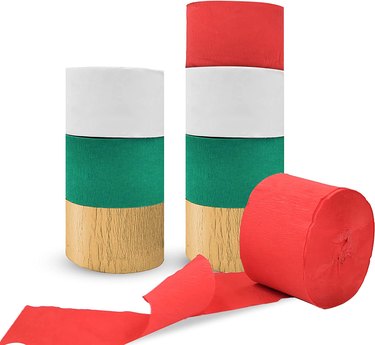 5. Nordic Dried Orange Christmas Garland
For a subtle take on staircase decorating—and decor in general—look to Scandinavia for inspiration. They always opt for a simple yet stunning design, like these traditional garlands created out of dried oranges. Adding these to your holiday decorations would bring an unexpected color, texture and life to your staircase, or whenever you choose to hang it. This garland would look equally as beautiful strung on a tree or across a fireplace mantle too. Bonus: It's eco-friendly and biodegradable, so no environmental guilt is necessary.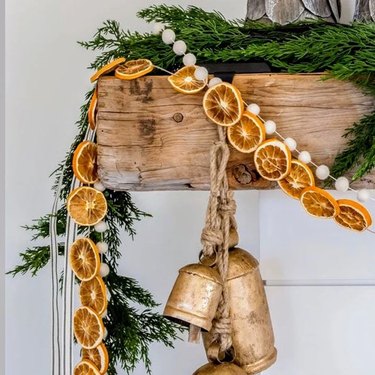 6. Red Velvet Christmas Bows
These oversized Christmas bows would be sure to brighten your staircase—nearly no time and little money necessary. (You can hang these in just a few minutes and buy them for under $16.) You don't have to worry about your bow-tying skills either; these are pre-tied to perfection. Use the wire in the back to attach them to your stair posts or add an adhesive strip to the back. Easy peasy!
7. 'Twas the Night Before Christmas Stairs Vinyl Decals
Bring the most iconic and classic Christmas poems to your staircase with these vinyl decals. You can customize the size and text color that you prefer, too. (Just be sure to measure your stairs before committing to ensure they fit.) Unfortunately, they're not reusable, but these decals would make your staircase stand out for one spectacular season.
Bold, bright, beautiful—that's the look you'll get with these buffalo plaid signs that will add joy to your home this holiday season. All you need to do is hook them from a garland with the already-included hooks. How easy is that? These signs are incredibly versatile, too. One year they can adorn your staircase, the next, above a fireplace and the following, on your front door.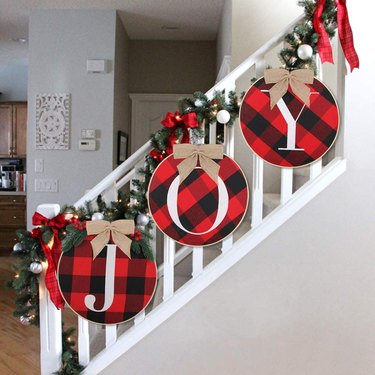 While many garlands are long, meant to be draped or wrapped, this one comprises of four dense vertical branches that'll add a pop of elegance to your staircase. Each is decorated with 35 warm white LED lights that set on a timer, so no need to lay in bed wondering if you turned the garland off. (Just make sure you're stocked with three AA batteries.) They're also beautifully designed with bunches of berries, pine cones and a velvet bow. Now the hard part: choosing a color. What's it going to be—red, blue or gold?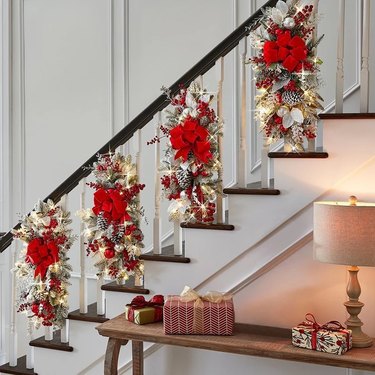 This faux garland is a classic, and would be a delight to decorate with year after year, since you'll never tire of its elegant design. It has a little bit of everything: sparkled branch tips for a glittery glow, clusters of charming little berries and 70 lights that are already pre-lit. It'd be a breeze to wrap around your staircase, but each holiday season you can switch up where you keep this garland. Maybe next year you can display it over your front door, and the following, on your fireplace mantle. The options are aplenty.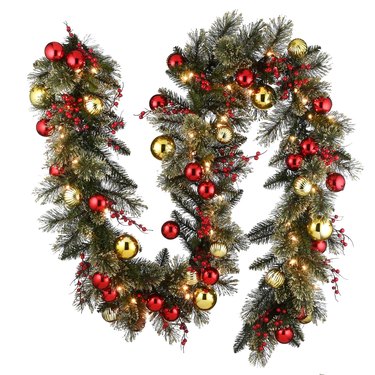 Let your imagination go wild with how to display these LED marquee letters, spelling out whatever holiday term you like best—and whatever fits on your staircase. "Merry" perhaps? Or how about "ho ho ho?" Each letter could sit on a stair, which would be decoration enough, or depending on how many stairs and letters you're working with, place glass jars full of twinkle lights between each letter for additional sparkle. Each letter requires two AAA batteries (not included), so there's no need to plug them in either.