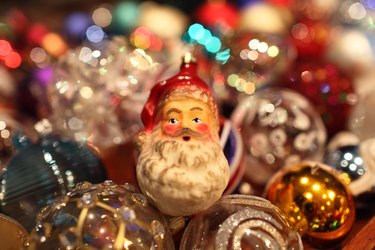 Nothing gives us the warm-fuzzies quite like vintage Christmas decor. Whether ornaments, figurines or otherwise, they bring a sense of nostalgia and charm that modern pieces simply don't capture. Maybe you've been lucky enough to inherit relatives' goodies from the '50s, '60s or '70s, or maybe you're an avid thrift shop scavenger. No matter how you've acquired your vintage Christmas decor, they're no doubt priceless pieces.
There are downsides to those vintage beauties though. They're often fragile, making Great Grandma Eleanor's holiday decorations pretty to look at, but less appealing to display if you have pets or children running wild in your home. Vintage ornament sets are probably missing pieces, Rudolph's red nose might have broken off decades ago, and who knows the last time that Mrs. Claus doll was washed.
If you haven't inherited true vintage Christmas decor, perhaps you've rummaged through estate sales or scoured the crowded aisles of thrift shops instead. There are plenty of gems to be found, but shops can be hit-or-miss and you have to rifle through plenty of duds. Chances are you'll find the perfect '60s Santa cookie jar in the middle of July, when you're less inclined to spend money on holiday decor or feel inspired to drag out the decorations bin from storage.
That's when vintage-inspired—but definitely not vintage in age—Christmas decor comes in handy. You'll get the look without the fear of breaking an heirloom or the price tag of a one-of-a-kind vintage find. That's why we've rounded up a few of our favorites that we think you'll love just as much as we do.
What To Consider When Purchasing Vintage-Inspired Christmas Decor
‌Material:‌ An upside of buying no-so-vintage Christmas decor is that you can ensure its material works for your household and lifestyle. Precious ceramic decor pieces aren't the most practical if you have curious little kids or four-legged friends in your house. Modern pieces made to look vintage will likely be made out of sturdier materials, like resin or plastic.
‌Size:‌ As you would with any decor you may add to your online cart, give the dimensions of the pieces you're considering a good glance over before buying. You don't want any surprises when you unbox it, only then learning that it's too big or small for your space. Getting a ruler out never hurts.
‌Style:‌ Vintage-inspired pieces are undoubtedly charming, but can look out of place with the rest of your modern holiday decorations. Ease into the look with a few small vintage-like pieces that are in a similar color scheme as the rest of your decor.
Read on for a few of our favorite vintage-inspired Christmas decor pieces that we're immediately adding to our carts. Ready, set, decorate!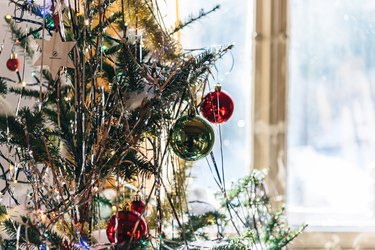 1. Vintage Resin Reindeer
If you've been scouring vintage shops and eBay for vintage Christmas deer, your eyes might have bugged out with sticker shock. The real deal can be wildly expensive. Not the case with this vintage-inspired trio, which includes a standing doe and her two tiny fawns. The intricate details feel oh-so vintage, while the price and material are much more friendly to everyday life. Since they're made out of resin, and not ceramic like many true vintage editions would be, you don't have to worry about a clumsy cousin or your dog's wagging tail knocking them over.
2. Light-Up Christmas Tree Car
The only thing more charming than this festive car carrying a bottle brush tree is the actual process of picking out a Christmas tree. (Hopefully, there is hot chocolate and plenty of laughs involved.) This display, which includes the paper car, glitter and bottle brush tree (that lights up!), would look magical on a mantel or buffet table. The whimsical illustrations have a vintage vibe that makes us nostalgic just looking at it, which will grow with each year you put out this display since it includes the calendar year. Batteries aren't included though, so be sure to double check you're stocked up on those.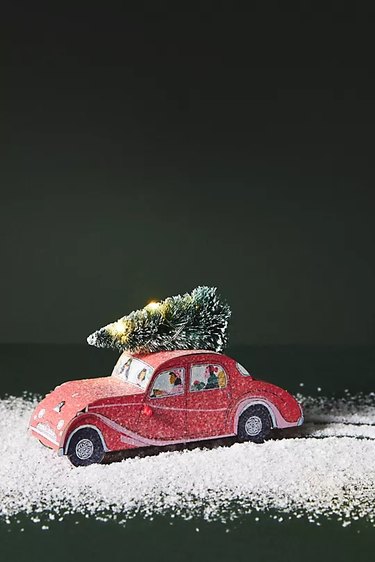 3. Vintage Christmas Girl Wall Clock
We're suckers for any type of holiday decor, but if a piece is both pretty ‌and‌ practical, all the better. Like this clock, which features a vintage-style girl singing carols with little critters at her feet. Choose between a natural wood, white or black frame as well as white or black clock hands. Switch out your everyday clock temporarily with this one, or place it somewhere you could use a dose of holiday delight, like in an entryway or kitchen. You'll feel festive and on time.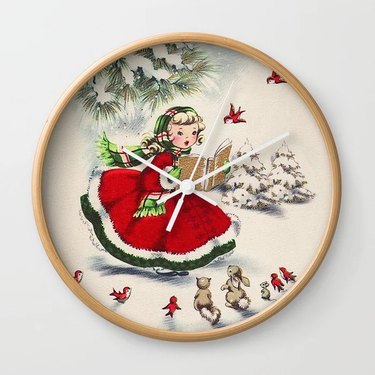 4. Retro Christmas Garland
For vintage-inspired decorating made easy—‌really‌ easy—nab one of these garlands, which features 15 retro images that harken back to many decades ago. The jolly snowman, Santa and elf, among other images, are bright and bold, requiring little else to accompany them. Simply hang this on a mantle or on any blank wall to immediately liven up the space. Since they're made of quality cardstock, with a little care these will keep in good shape for years to come.
5. Multicolor Ceramic Christmas Lights
We're big fans of soft LED holiday lights, but there's nothing quite like the vivid glass bulbs that remind us of childhood. These big, bright bulbs can be strung around or inside your home for a joyously retro feel. How pretty would these be draped in a window or along a long buffet table? (That is, as long as you don't have curious kids who might futz with them.) Or, take them outside to weave them through your bushes or brighten up your patio.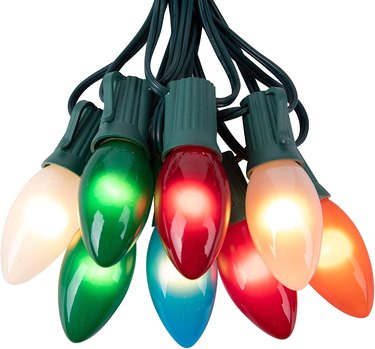 6. Rifle Paper Co. Nutcracker Advent Calendar
Every holiday season needs an advent calendar. If you can make it an advent calendar designed by Rifle Paper Co. with their signature retro vibes, even better. The charming characters and florals will help you count down the 25 days to Christmas by opening doors to sweet seasonal scenes. (Saving you from additional holiday treats—here's betting you'll get enough of those.) Now, whether or not you have the self-control to open just one door at a time is up to you …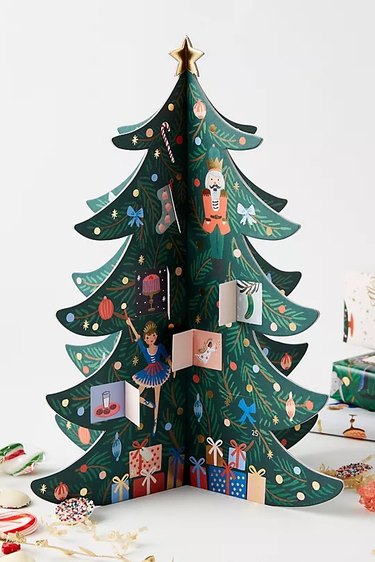 7. Decorated Feather Mini Christmas Tree
A full retro-inspired Christmas tree would likely require hundreds of vintage ornaments—a big feat unless perhaps you were your grandmother's favorite and inherited her entire collection. If not, a more realistic option to get those nostalgic vibes in a tree is with a mini version, like this one from Terrain. It's modeled after classic vintage feather trees that were popular in Germany in the mid-19th century and features a set of tiny glass ornaments shimmering on sparse branches. It's a bit of an investment, but consider this an instant family heirloom that'll be passed down for generations to come.
8. Vintage Santa Claus Print
Framed art is a no-brainer in terms of everyday decor, but can be easily overlooked in terms of holiday decorations. Not anymore. It's time for one of your mainstay pieces of art to take a break so this vintage-style Santa print can temporarily take its place. It'll bring a pop of color and cheer to any space, whether a living room, entryway or even a bathroom.
9. Vintage Christmas Items Throw Blanket
A vintage blanket is charming in theory, but less so once you're cuddled up under the itchy, holey throw asking yourself, "What's that smell?" Instead, cozy up with a new blanket adorned with a vintage-style print, like this one full of nutcrackers, stockings, candy canes and more. The sherpa fleece gets softer and softer with each wash. That's good news, especially if a mug of hot chocolate goes awry during your annual viewing of ‌Elf‌.
Hot chocolate simply tastes better out of a vintage-style Santa mug. These gorgeous glazed ceramic mugs are hand-painted, which gives them an ultra-special one-of-a-kind feel. The only problem? Chances are everyone in your family will want their own—a good problem. To keep these in their best condition, so you can sip out of them year after year, keep them out of the microwave and hand-wash them if possible. (They are dishwasher-safe if necessary though.) Best of all, these come in three skin tones—chocolate, honey and caramel—so you can choose the Santa that best fits your family.