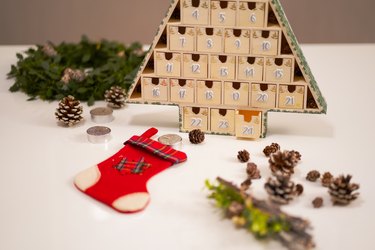 When you think of advent calendars, you might think of ones filled with chocolate or toys for kids. Well, as much as kids enjoy counting down the 24 days in December until Christmas Eve, adults love it too—but, you know, the ones that are designed for grown-up tastes.
An advent calendar provides a countdown to the big day. It's a festive and trendy way to keep the holiday spirit alive in the hustle and bustle of winter events. While there are plenty of basic advent calendars available at grocery stores, you don't have to settle for something boring.
What to Consider When Purchasing Advent Calendars for Adults
‌Interests:‌ The interests of the person you're buying an advent calendar should always be taken into consideration before you start your search (even if that person is you). A mom of three kids might enjoy a self-care or beauty advent calendar just as much as she'd find a wine advent calendar useful, and someone who enjoys scents around the home will probably appreciate a candle advent calendar.
‌Type:‌ There are two main types of advent calendars to consider: Single-use calendars and reusable calendars. Single-use calendars are typically made of cardboard and are filled with items related to a theme, like chocolate, coffee or chakra stones. The calendar itself is thrown away once it's done being used. Reusable calendars are often made of wood and feature small drawers for each of the 24 days leading up to Christmas. Reusable wooden advent calendars are fun because the contents are up to you. You can fill the drawers with notes, trinkets, candy or whatever small items the recipient might enjoy.
‌Size:‌ While most advent calendars come with 24 pockets for the 24 days in December leading to Christmas, some have 12 for the 12 days of Christmas, and others might even have less. If you don't want to commit to advent calendar-ing for 24 days, consider getting a smaller size. It's all in good fun, so get whichever size feels right to you.
‌Cost:‌ Holiday advent calendars can range in price from $10 or so to upwards of $100 or $200, depending on the contents. While a $150 wine advent calendar might seem expensive, it includes 24 mini bottles of wine, typically sourced from all over the world, which ends up being a little over $6 a bottle—not bad. If you're buying a chocolate calendar for a chocolate connoisseur, an $8 advent calendar won't have as high quality of chocolate as a gourmet option selling for $40.
Below you'll find our top picks for the best advent calendars of 2022.
The Best Advent Calendar for Foodies
Bonne Maman 2022 Limited Edition Advent Calendar
If you begin every day with jam on toast or have a charcuterie-obsessed loved one, this set of 23 miniature fruit spreads and 1 miniature jar of honey makes for a sweet treat. The limited-edition advent calendar typically sells out well before the holidays, so it's best to order yours ASAP. This year's flavor lineup includes Chestnut and Orange with Spice, Mango Raspberry and Lime, Orange Yuzu and Grapefruit, and Strawberry with Star Anise—yum! Each glass jar contains 1 ounce of fruit spread or honey, and they're best enjoyed before June 2023.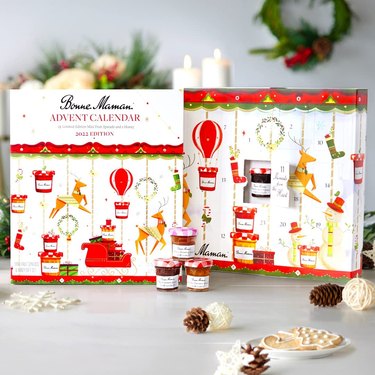 The Best Advent Calendar for Candle Fans
DesignUndone Candle Advent Calendar
It doesn't get much more exciting than this handmade advent calendar for those who can't get enough candles in their lives. Each candle is hand-poured in Texas and has a unique holiday scent. The coconut soy wax candles come in 4-ounce glass tumblers and there are 12 scents in total, including wild pumpkin, spiced apple, warm chai, sweet lemon, mistletoe and eggnog. This Etsy shop tends to run out of supplies to make the limited-edition candles by November or December, so make sure to buy yours soon. (We do, however, recommend this Voluspa advent calendar as a backup option).
The Best Advent Calendar for Winos
In Good Taste Wine Advent Calendar
If you find yourself thinking that all you want for Christmas is wine, you deserve this boozy advent calendar. Whether you're buying it for yourself or someone else, it's sure to bring a lot of joy (and maybe even a slight buzz). The calendar comes with 24 mini wine bottles sourced from Italy, Spain, Portugal, Argentina, South Africa and California. Each night you can sip on different wine varieties, including zinfandel, pinot noir, rose, chardonnay, merlot, cabernet sauvignon and more. The company will even send a daily email to guide you through the wine you'll be sipping.
The Best Advent Calendar for Coffee Lovers
YawnBrew Coffee Advent Calendar
Folks who love coffee really love coffee. If you or someone you're buying for is open to trying new types of coffee, this coffee advent calendar is fantastic. It includes 24 best-selling and extra tasty coffees, including Rwanda Cocatu AA, Kenya Gakuyu, Guatemala Todosantarita, Nicaragua Santa Maria Honey, Ethiopia Sweet Berry and Tierra Madre Women's Coffee. Each sachet holds 18 grams of coffee. The price varies depending on which calendar you buy—choose from the Coffee Pro Advent ($60.53) or the Advent Calendar Standard ($54.47 - $55.49). The latter option "contains a couple more darker roasts and more blends than the Coffee Pro Advent." If you purchase the Pro, you can also add on a double-walled coffee cup or a French press for an additional fee.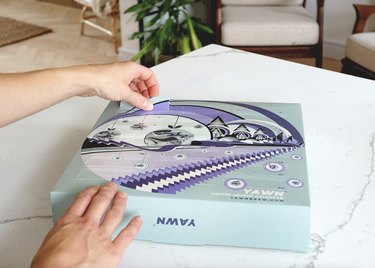 The Best Advent Calendar for Tea Drinkers
Pukka Organic Herbal Tea Advent Calendar
What better way to try many different types of tea than a tea advent calendar? This organic herbal tea Christmas advent calendar features 24 days of tea blends, from calming herbs that can help you relax to refreshing ingredients that awaken your senses to peppermint blends that help ease an upset stomach. You can even bring it to the office to give yourself something to look forward to each day.
The Best Advent Calendar for Self-Care Enthusiasts
ForevershineEtsy Customizable Self-Care Advent Calendar
This holiday season, let the Christmas countdown begin with a little self-care. Since self-care looks different for everyone, this advent calendar is customizable. You can select the items that speak to you the most, including hand cream, lotions, shower steamers, bath bombs, candles, soap, bath salts, sheet face masks, lip balm, bracelets, earrings, tea, coffee, perfume, and other skincare and beauty products. If you prefer to be surprised, you can also select that as an option. Choose from a 12 Days of Christmas calendar or a 24 Days of Christmas option.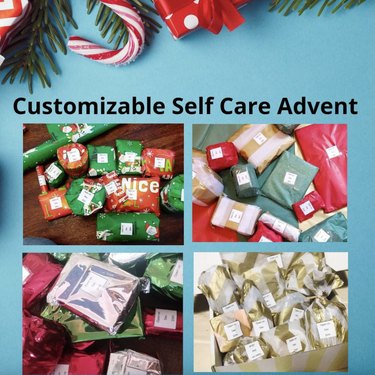 The Best Advent Calendar for Sewists
Stitch Supply Co 2022 Advent Calendar
This limited-edition advent calendar is designed for sewing enthusiasts. It's jam-packed with sewing goodies to create items like quilts, bags and other crafty things. The exact contents of this gift set are a surprise, but you can be sure that it's full of sewing notions and sundries related to sewing (and curated by a variety of artists in the crafting community to boot).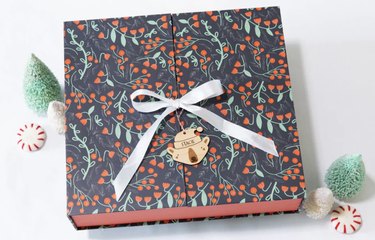 The Best Reusable Advent Calendar
Hans Village Advent Calendar
A keepsake the whole family will love, this reusable, light-up wooden countdown calendar has 24 tiny drawers for treats and treasures. Made of hand-painted plywood, this beauty will look great on display next to your Christmas tree. It won't just function as an advent calendar, its holiday village scene will add some magic to your Christmas decor.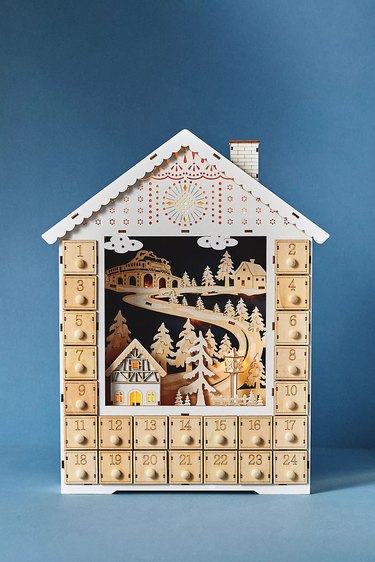 The Best Advent Calendar for a Sweet Tooth
Godiva Chocolatier Advent Calendar 2022
Enjoy a different chocolate each day in the lead-up to Christmas, including milk, dark and white varieties. Making a great holiday gift for loved ones, all 24 pockets are filled with holiday-themed delights like a milk chocolate Santa and a medallion with a dark chocolate shell and a mint center. It comes in an attractive gift box that opens like a book, showcasing a sparkling snow globe on the cover. The chocolate has a rich taste and silky feel, bringing a small bit of joy to your cold December days. If you're looking to splurge on the chocolate lover in your life, Charbonnel et Walker sells a gourmet version featuring handmade chocolates and truffles.
The Best Advent Calendar for Healers
Elementao Crystals and Healing Stones Advent Calendar
Perfect for anyone who collects crystals, this healing crystal and chakra stone advent calendar provides a full set of 24 stones. Polished crystals and stones for each chakra can help to restore energy. An ID sheet is included with each stone's properties, and the calendar comes with a bag to hold the stones once they're revealed. The calendar also includes selenite and fluorite wands for cleansing and recharging your collection.