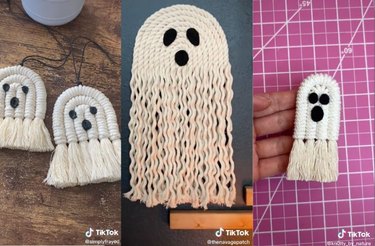 If you like your Halloween more cutesy than scary, we've found the perfect festive DIY trend for you: macrame ghosts. These ghosts are some of the cutest we've seen this season, and they require minimal materials to make. Because they're made with macrame cord, they'll blend seamlessly into your everyday home decor while still adding a touch of autumnal spirit.
TikTok user @thenavagepatch created one of the macrame ghost videos that went most viral. According to their video, all you need are two 10-millimeter-thick cotton nautical ropes (or macrame rope), foam board or cardboard for the ghost backing, black felt or fabric for their eyes, hot glue to attach the eyes, scissors and an X-ACTO knife if you have one.
To make this macrame ghost, you'll cut out a half circle of cardboard or foam board, nestle nine strands of macrame rope together atop the backing and add felt eyes and a mouth. Next, unwind the three strands of each piece of macrame rope, stopping at the top of the felt backing. Finally, trim the bottom of the rope strands into a straight, even line.
A Mini Guide to Macrame Cords
There are a few different types of macrame cords out there, so here's a handy guide:
‌Macrame rope‌ is usually made of three strands that are twisted together, also known as three-ply. This is the kind of cord used in @thenavagepatch's viral video.
‌Macrame sting ‌is very similar to rope and doesn't have three strands twisted together. This is the kind of cord used in @simplyfrayed's video.
‌Waxed macrame cord‌ is most often used for jewelry because of its small size and because the wax makes it water-resistant.
If you prefer your decorations to be a bit more miniature, TikTok user @simplyfrayed came up with a bite-size boo version. These little ghosts look similar to the version made by @thenavagepatch but feature a more frayed base and are made up of only three macrame cords. This version also uses macrame string as opposed to macrame rope.
To make these little guys, you'll wrap three strands of macrame string with more macrame string to create a coiled look. Glue these coils next to each other, creating a rainbow shape, and then create the eyes and mouth out of black twine or thin rope. Comb out the bottom excess of macrame string to separate the individual strands and then cut these strands into a straight line. After adding some black string to the top, you'll be ready to display your mini ghost! If you make multiple ghosts, they could even be ornaments for a Halloween tree.
Whichever version you choose to bring to life (or death?!), we hope you enjoy making these boo-tiful macrame ghosts.