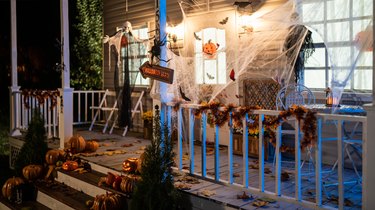 Finally, spooky season is upon us! All year long, we've been (somewhat) patiently waiting to practice our witch's cackle, don our most creative costume and hand out candy to all of the trick-or-treaters in the neighborhood. You too? Now it's time to go all out in full festive mode. Step one: Decorate your house in Halloween decor.
If you're looking to freshen up your space with new festive decorations, Michaels is a reliable one-stop-shop for all things Halloween. From indoor to outdoor decor, to scary decorations and sweet ones, you can stock up on nearly all that you need for Halloween this year at Michaels. If you don't have time to wander the aisles, no worries. We've done the shopping for you. Read on for our nine favorite Halloween decor finds from Michaels that we love and think you will too.​
What To Consider When Purchasing Halloween Decor from Michaels
​Batteries:​​​​ Do the Halloween decorations you have your eye on need batteries? Michaels includes descriptions that clearly say if a piece needs batteries, if they are included or not, as well as what size and how many. Be sure to check your junk drawer. If you don't have backup AA or AAA batteries laying around, add those to your online shopping cart too. The Halloween season goes by in a blink, and you wouldn't want your fun new decorations sitting around unlit as you figure out a time you can pop by Target.
​​​​Style:​​​​ Halloween decor can either be dark and scary or silly and joyous. There's no wrong way to decorate for Halloween—it is your house, after all. If you opt for decorations on the gothic side though, beware that not everyone may be as enthusiastic about it as you are. The littlest of trick-or-treaters may get scared if they get a peek of skeleton hands and black bats from your window. On the other hand, you may want to be known as the scariest house in the neighborhood. Up to you! Just be conscientious of it as you're shopping for Halloween decorations.
​​Price:​​ As much as we'd love to sip PSLs all year long, fall is a fleeting season, and Halloween flies by. Take that into consideration as you're weighing how much to spend on holiday decorations. While these pieces won't be on display for very long—a few weeks at most—you'll want to make sure you're getting good quality items that will last year after year. Too cheap and they're likely to fall apart. Too pricey and you may not be able to go all out with your Thanksgiving and Christmas decorations. Thankfully, Michaels delivers high-quality without a super high price tag. Invest in pieces that you know you'll love Halloween after Halloween.
Ready to add some Halloween cheer to your home? Scroll on—and shop on!—for 10 of our favorite Halloween decor finds from Michaels.
1. Lighted Halloween Bats Table Tree Decor
Say it with us: C​ute​! This oh-so-adorable mini table tree would add a glittery, gothic touch to your Halloween decor. Use it as a dining room table centerpiece, or highlight it amongst little Halloween knick-knacks on a shelf or fireplace mantel. It's sweet as is, and even more so once it's illuminated by 20 tangerine-colored LED lights. Don't forget to add batteries to your online cart too, since it requires two AA batteries. Since this tree is made by hand, keep in mind that each one will vary slightly, which makes it all-the-more special. Just keep it inside; it's not meant for outdoor use.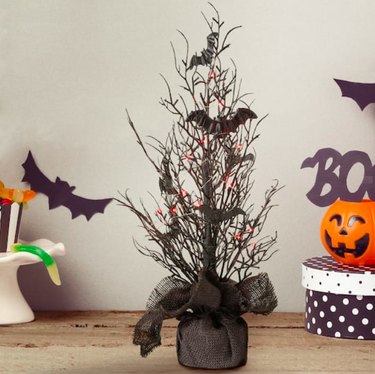 Don't forget to bring a little holiday spirit into your kitchen! It's likely where most of your family members gravitate anyway, always wondering what's for dinner. One of the easiest, most practical and least expensive ways to add some Halloween fun to your kitchen is with themed tea towels. This polyester/cotton blend set of two ghost towels measure 16 inches by 25 inches, and would look particularly cute hanging from your oven or draped over your shoulder while baking spooky Halloween treats. As much as we adore orange and black Halloween decor (as you'll see with the rest of this piece!), we love that this set breaks away from the typical color theme, with a beautiful blue hue instead. Bonus: they're designed and printed in the U.S.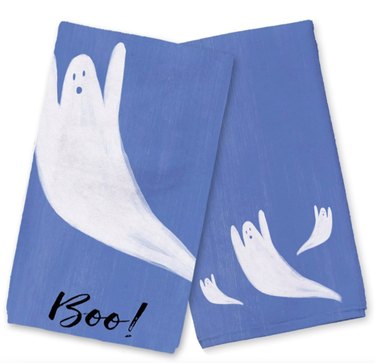 3. Skull Heads Throw Pillow
A Halloween-themed throw pillow is simply a must. Not only are they a breeze to add to your decor— we wish all decorations were as effortless as throwing on a couch—but they're useful too. This skull motif pillow featuring visible stitching would add a bone-chilling touch to your living room decor. It's made of polyester, cotton and rayon, and has polyester filling for a fuller look. The backside is a solid, off-white color to match the skulls and there's black piping around the edges. The throw pillow measures 16.875 inches square and 4 inches thick.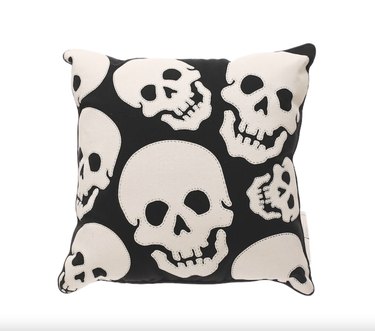 4. LED Illuminated Halloween Candy Corn Trees
These charming mini ceramic candy corn trees feel like a total score from a vintage shop—without having to hunt around from shop to dusty shop and without the broken bulbs and missing tree from the set. This pack of four from Michaels brings all the nostalgia of something your grandmother would have displayed with the convenience of buying a new set online. These battery-operated trees stand 5-1/2 inches high and come to life when you turn on the yellow, orange and white LED light bulbs. Now, the hard part: Where to display them? There's no going wrong. House them on a windowsill, mantle, buffet, or countertop—up to you.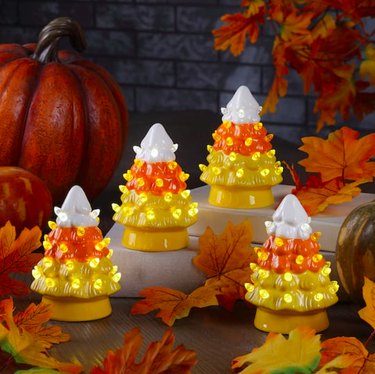 5. Watercolor Pumpkins Shower Curtain
It can be easy to overlook your bathroom when it comes to holiday decorating. Not much changes decor-wise in there as the seasons roll on. But don't! The easiest way to make a statement in your bathroom is to switch out your shower curtain with one that screams "happy Halloween," like this watercolor pumpkin design. It's not the least expensive decor option, but it'd definitely make you smile every time you get a glimpse of it. We particularly love this design because it's sophisticated enough for a grown up, fun enough for a kiddo and definitely delightful enough for a guest bathroom, so no matter where you hang this it'll be a hit. It's made of softened polyester, which, come November 1st, can be machine-washed, then stored away until next year. Note that this curtain includes 12 eyelets for hanging, but the rings, liner and grommets are not included.
For a touch of dark romance, opt for this iron and acrylic candelabra with dangling beads and a gold patina finish. It holds three taper candles (we'd suggest these bone-shaped ones) and stands 15 inches tall. Make it the centerpiece of your dining table or place it on a fireplace mantel for a goth-inspired look. Or, you could use it to light the way while wandering around your haunted mansion at night.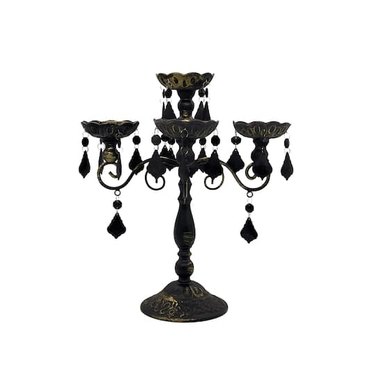 7. Pre-Lit Halloween EEK! Decor
Eek, indeed! This tinsel Halloween decoration would brighten either your lawn decorations, porch set-up or anywhere inside too. Each letter as well as the exclamation point are lit with 80 total orange and white LED lights that will add a spooky glow to your home this Halloween season. This one requires serious space, as it's over 4 feet long, but would be the perfect standout piece to signal to all the trick-or-treaters that your house is a must-stop.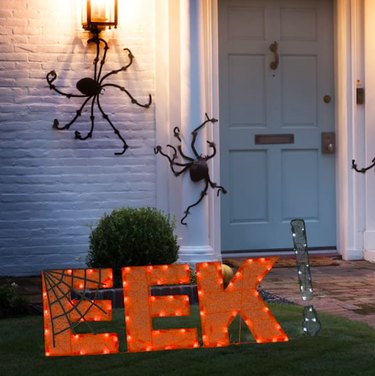 8. 24" Eyeball Rose Halloween Artificial Wreath
Don't let your door go naked this Halloween. You simply must bedeck your door with a just-spooky-enough wreath, like this one featuring black and crimson foliage and wandering blue and green eyeballs. Wreaths aren't just for doors, of course. They can be equally as beautiful hung in an entryway, over a fireplace or in a window. This 24-inch model is intended for indoor use, but if you have a covered entrance and are careful to bring it inside during inclement weather, you should be OK.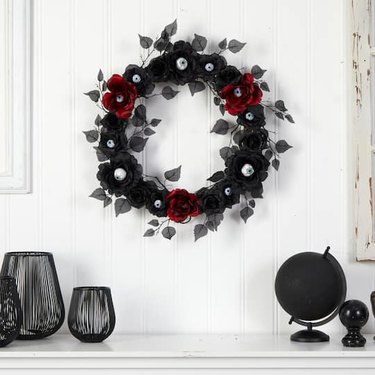 9. Glitzhome 28" Halloween Fabric Gnome
Gnomes are a crowd pleaser—they're festive, but far from scary—and we think every home needs at least one. This mystical gnome is sporting a wizard hat, a felt jack-o'-lantern, and a long, fluffy gray beard. He stands over 2 feet tall, so he commands presence while being easy to squeeze anywhere amongst your decorations. Give him a goofy name and make the gnome a part of your family each Halloween season.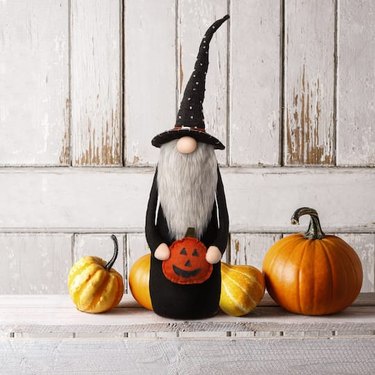 10. 12.5" Cabinet of Oddities Tabletop Decoration
If your idea of Halloween decor is a little bit creepy, a little bit chic, this tabletop cabinet of oddities should fit the bill. While it's completely faux, the pieces nestled in the wooden display boxes are surprisingly lifelike. There are a few skulls and bone fragments, a broken snake egg, a potion bottle labeled "Mr. Hyde," a petrified mushroom and an animal horn. It's just over a foot tall, so it's on the smaller side, but looks fantastic on a floating shelf or bookcase.