Many of us look forward to that one house in neighborhood that goes all-out for Halloween. The one that's decorated to the max all October long, with LED lights, frightening animatronics, and maybe even a low layer of ominous fog. If you're looking to up the ante in your own yard this Halloween, or perhaps you plan on throwing the ultimate Halloween fright fest, you may be interested in investing in a fog machine to enhance the atmosphere. Plus, while fog machines work incredibly well for haunted mazes, Halloween parties and front yards, you can use a fog machine for whatever themed party or stage concert you want, at any time of the year!
As its name implies, a fog machine helps you create artificial fog, straight out of a horror movie. At their most basic, fog machines work by heating up a liquid called fog juice (more on that later) until it becomes a vapor. The machine then pumps out the vapor through a type of nozzle. Once the warm vapor comes into contact with the cooler air outside, the fog begins to form. While some people might opt for using dry ice to create fog, a fluid-based fog machine is usually easier and safer to use and doesn't involve dangerously low temperatures. Some fog machines even come with a variety of controls so you can adjust the rate and volume at which fog gets churned out, while others might include lighting effects—perfect for a stage show, for example.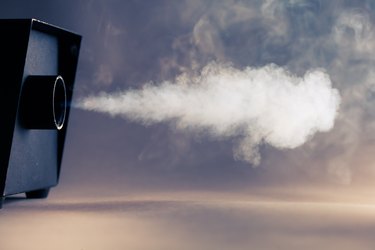 What to Consider When Purchasing a Fog Machine
​Fog Machine Type:​ The main types of fog machines are heated or chilled fog machines. Heated machines use a heat exchanger that vaporizes the glycol and water solution inside the machine. The vapor comes out warm or even hot. In our opinion, chilled machines are better and work well for Halloween-themed setups.
Another category to consider is high versus low fog machines. High fog machines produce much more fog and are usually used outdoors, but you can use them indoors, too. They work best for setting dramatic scenes. The fog they produce can be very dense and obscure a lot of the surroundings unless you implement a focused light source. Low foggers, on the other hand, produce fog that lingers closer to the ground—perfect for adding an ominous layer to Halloween haunts or parties.
Low fog machines are more popular and include two subtypes: dry ice and fluid-based. The majority of fog machines on our list are fluid-based, as they eliminate the need for storing dry ice (which shrinks over time, as well) at extremely low temperatures, which can be difficult and lead to frost burn if you're not careful.
​How Large Your Space Is:​ Generally, the greater coverage (often measured in cubic feet) a fog machine can provide, the more expensive it will be, so it's worth measuring your space so you don't spend more than you need to. For example, if you're just adding fog to a standard high school auditorium stage, a smaller, low-hanging fog machine might work. If you're fogging up a huge dance floor in a gymnasium, a larger fog machine is probably necessary. Indoor versus outdoor also makes a difference; outdoor fog tends to dissipate more quickly, while indoor fog settles for longer.
​Size and Fog Output:​ Going along with how large your space is, the actual size of the fog machine tends to make a difference in its fog output. Large, professional fog machines can produce anywhere from 10,000 to 25,000 cubic feet of fog per minute, while smaller fog machines (the kind you're more likely to get) usually produce fog in the ballpark of 3,000-5,000 cubic feet per minute. Either way, timers and controls allow you to control the density and consistency of your fog clouds.
​Tank Capacity:​ Most low-lying fog machines contain two separate tanks, including one for ice and another for fog fluid. Check the capacity of the tanks as well as the fog machine's consumption rates to help you determine how long it will take for your machine to burn through a full tank of fog juice. According to Spirit Halloween, it takes a 400-watt fog machine approximately 6 hours to burn through 1 quart of fog juice, or 4 hours for a low-lying fog machine.
​Wattage:​ Wattage plays a crucial role in the output and performance of the fog machine. This is also a factor that determines the size or capacity of the fog machine, in a way. Many fog machines operate on wattage in the range of 400 to 1,000 watts. A smaller machine with less wattage will have a smaller output. A fog machine with only 400 watts might only produce 150 cubic feet of fog per minute. Jump up to 700 watts and you might be looking at 3,500 cubic feet per minute. Over 1,000 watts can produce about 4,500 cubic feet of fog per minute, and it's this level that's ideal for larger venues.
​Ease of Use/Controls:​ Most good fog machines on the market come with convenient controls that are pretty intuitive to use. Many come with wired controls or even wireless DMX controllers or remotes that give you the ability to operate your fog machine from a distance. Plenty of machines also come with a timer control and auto-shutoff function before the machine starts to overheat.
​Fluid:​ Fog machine fluid, or fog juice, comes in the form of water-based or glycol solutions where the latter is an active ingredient. This active ingredient could be triethylene glycol, propylene glycol, glycerin, or a combination of the three. Every fog machine comes with its own specific heat process, and because of that, it's necessary to have the right chemical composition for making it operate correctly. That's why it's important to make sure you understand your fog machine's requirements of fog fluid or fog juice, as it will be a pivotal component to your success with the product.
​Special Effects:​ While standard fog machines produce fog only, some fog machines come equipped with multicolor lights or a light show setting that allows the fog to appear to change colors. Whether you're staging a rock concert or trying to attract even more attention to your front yard on Halloween, such special features are nice to have—although absolutely not a necessity.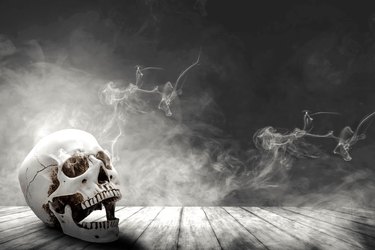 A Note on Fluid-Based Machines and Fog Juice
The good news is that fluid-based fog machines, which are the most popular, also tend to be less expensive in the long run, because the fog liquid doesn't degrade or shrink over time, unlike dry ice—so you won't need as much of it. Many fluid-based fog machines are also portable and can produce more fog than dry ice can. You end up getting more fog per liquid volume.
The tradeoff is that liquid fog machines are usually more difficult to clean up afterward. There may be more leftover residue or even stains to clean. Maintenance on fluid-based machines can also be costlier. Another thing to keep in mind is that liquid vapor isn't always safe for everyone. It's normally considered safe, but for people with allergies, it may not be a good choice.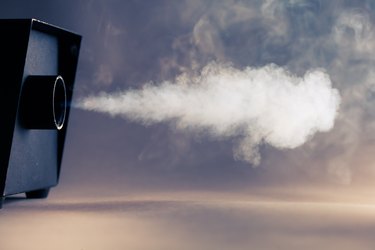 The Best Overall and Best Color-Changing Fog Machine
AGPTEK LED-500 Fog Machine
You'll have plenty of fog in no time using the 500-watt AGPTEK Fog Machine, which can produce nontoxic, unscented fog within minutes. It comes with a wireless remote that enables you to change to any of the 13 available colors of the LED lights. Each pump of fog has an output distance of 2 to 3 meters and lasts around 25 seconds before dissipating.
The AGPTEK model is easy to operate, meaning you can worry less and enjoy your event more, and it earns high marks for being able to produce a substantial amount of fog for a small machine while remaining very affordable. For a budget-friendly price, you get color-changing options and a small footprint that nevertheless produces enough fog for most Halloween home haunts or parties.
​Output:​ 2,000 cubic feet of fog per minute
​Tank Size:​ 0.25 liters
​Wattage:​ 500 watts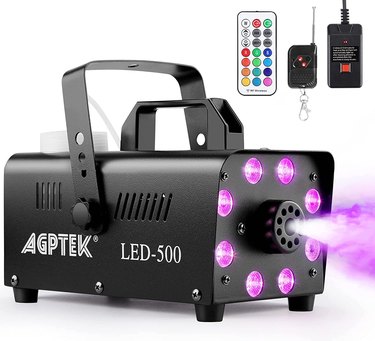 The Best Budget-Friendly Fog Machine
1 BY ONE 400-Watt Fog Machine
If you're interested in a fog machine but are wary of shelling out lots of cash, this is the best basic fog machine for around $60, and for the price, it's very reliable. It generates around 2,000 cubic feet of fog per minute, and although that's not nearly as much as professional fog machines can produce, this model works significantly better than other budget options. Its output distance of more than 8 feet is impressive given its affordable price.
However, it's worth noting that the fog this machine produces dissipates into the air instead of lingering near the floor. If you want fog that lingers longer, you may want to invest in a more expensive model, if you can. This fog machine takes 5 minutes to heat up, holds 10 ounces of water-based fog, and includes a 6 1/2-foot-long wired remote control. Another thing: This model is suited for indoor use only (so it won't work well in your front yard) but it does come backed by a 90-day warranty.
​Output:​ 2,000 cubic feet of fog per minute
​Tank Size:​ 0.3 liters
​Wattage:​ 400 watts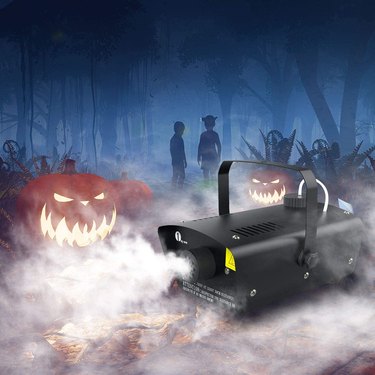 The Best Fog Machine for Large Spaces
If you want to fog up a large space for a Halloween event, such as a spooky dance in a gymnasium, this model is the way to go. At 1,500 watts of power, it comes equipped with a 2-liter tank and boasts a high-volume output of 18,000 cubic feet of fog per minute. The XFMOTO DJ model includes a wireless remote control that you can use to control the amount of fog and change the color of the machine's nine LED lights. Considering its larger size and capacity, the XFMOTO fog machine takes a bit longer than other models—8 minutes—to heat up. Still, that's not bad at all. Once it's ready to disperse the fog, it shoots it out an impressive 20 feet, so it's perfect for covering lots of ground.
​Output:​ 18,000 cubic feet of fog per minute
​Tank Size:​ 2 liters
​Wattage:​ 1,500 watts
The Best Fog Machine for Low-Lying Fog
ADJ Products Low-Lying Fogger (Entour Chill)
While the sticker price may shock you, for low-lying fog—perfect for Halloween dances and front yard haunts—opt for ADJ Products' continuous output fogger, the Entour Chill. The Chill uses less power than many of the other industrial-grade foggers, but at 800 watts, still manages to cover large areas of ground in impressive fog-like vapor in a short timeframe. The Entour Chill has two individual tanks, including one for regular ice and another for fog fluid. There's also a built-in water drain that channels excess water into a plastic drainage bag. Another plus: This model is compatible with most standard water-based fog juice formulas and regular ice.
The Entour Chill features a new and improved heating unit that speeds up heating times to no more than 3 minutes, and also allows it to stay hot for longer and have a continuous runtime of up to 1 hour. It's built with an LED heating indicator that lets you know when the machine is ready to work. Other helpful indicators include a fixed red light that indicates the unit is heating, a green light that indicates the unit is ready to use, and a flashing red light that alerts you that the fluid tank is low. Clocking in at just over 17 pounds, it's not too hefty, yet finds room to include a rectangular output on the front, an ice hopper in the back, and a handle on the top for easier transportation. The Chill comes with a wired remote control and knobs that make it easy to control the fog blast time and output volume, as well.
​Tank Size:​ 1 liter (fluid); 2.5 kilograms (ice)
​Wattage:​ 800 watts
Runner-Up Best Fog Machine for Low-Lying Fog
Mister Kool II by ADJ Fog Machine
If the $400 price tag of the Entour Chill is hard to swallow (we get it), the Mister Kool II model (also by ADJ Products) is a more affordable option for low-lying fog. The Mister Kool II quickly fills dance floors and yards on Halloween, warming up in under 3 minutes. Its powerful 700-watt heater pumps out 3,000 cubic feet of low-lying fog per minute. A well-designed drainage system makes it easy for users to release the drainage valve and use the included hose and bag to eliminate excess water and avoid spillage. Weighing 19 pounds and designed with a carrying handle, the Mister Kool II is robust enough to create an impressive, low-lying fog effect while still being portable and easy to store. Best of all, there's no need for expensive fog chillers, air conditioners or dry ice, keeping things efficient and simple.
​Output:​ 3,000 cubic feet of fog per minute
​Wattage:​ 700 watts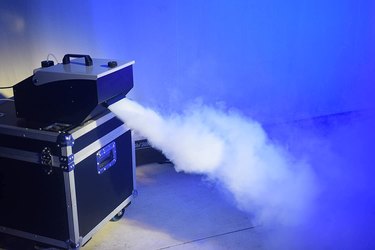 The Best Fog Machine for Vertical Fog
VF Volcano Vertical Fog Machine
For a dramatic vertical fog effect, the ADJ VF Volcano is an excellent choice. It's a compact and powerful fog machine that combines color from its integrated LEDs to create a striking, color-changing wall of fog. At the press of a button, it shoots fog upwards like a geyser, making it a perfect scare tactic for trick-or-treaters or unfortunate guests at your Halloween haunt. This professional-grade fog machine has an impressive output of 5,000 cubic feet per minute and works well both indoors and outdoors.
It includes a wireless remote to make it more convenient to control. It takes 6 minutes to heat up and features handy LED indicator lights to let you know when it's ready to go. There's also a fluid indicator for checking to see how much fog juice it has left. While this fog machine may fulfill a very particular need and isn't designed for filling large spaces with low-lying fog, if you have the budget for it, it's definitely memorable.
​Output:​ 5,000 cubic feet of fog per minute
​Tank Size:​ 1 liter
​Wattage:​ 750 watts
The Best Halloween-Themed Fog Machine
Coffin Skeleton Fog Machine
For seasoned Halloween veterans who don't want any seams to show at their spooky event, this Coffin Skeleton Fog Machine is shaped like a coffin and features a skeleton figure on top, transforming the machine from a piece of equipment into another part of the theming. Available in both a 400-watt and 1,000-watt model, it warms up in 3 to 5 minutes and can run for up to 200 continuous minutes before running out of fog juice.
While this machine gets the job done, it's worth noting that it's not intended for use in very large spaces and doesn't have a huge fog output like some other machines on this list. However, it works quite well for small- to medium-sized rooms, so it could be an atmospheric addition to one of the rooms in an indoor haunted walkthrough—but probably won't be enough to fill a dance floor.
​Tank Size:​ 0.2/0.3 liters
​Wattage:​ 400/1,000 watts