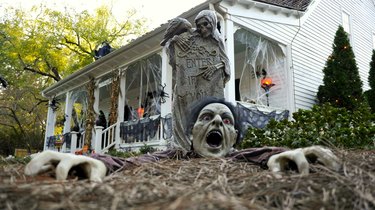 If you want to buy Halloween animatronics to make your house as spooky and entertaining as possible this Halloween, then you've come to the right spot. Halloween decorations that move, light up or make sounds can take your Halloween display to the next level, and you don't even have to spend a (bloody) arm and a leg to make it happen.
Whether you want to provide an exciting family-friendly trick-or-treating experience for the neighborhood kids, impress your friends with your terrifyingly awesome DIY haunted house, throw a sick Halloween party or give the neighbors a fright when they're walking their dogs, Halloween animatronics are a great way to do it.
What to Consider When Purchasing Halloween Animatronics
​Type:​ You can buy various types of Halloween animatronics to liven up your spooky decor. Halloween props will go a long way if you create multiple focal points at various levels to draw the eye. Freestanding animatronics sit on the ground and tend to be eye level (or close to eye level, depending on the height of your guest) and hanging ones come with a loop or something to hang it with. Some animatronics are life-size while others are small and can fit on a tabletop.
​Operation:​ Some animatronics run on batteries while others require an electrical outlet. Where you place the animatronic will largely be based on whether you can supply power or an extension cord if needed.
​Indoor/Outdoor:​ Most Halloween animatronics are designed to be used indoors and outdoors, but none are truly weatherproof. So, if inclement weather is forecasted, you might need to bring your life-size Grim Reaper or Michael Myers replica inside, which is something to consider if you can't/don't want to lug decorations around throughout the month of October.
​Cost:​ You can choose to spend a fortune on something like one really cool animatronic Pennywise prop or a creepy fog machine, but if you're on a budget and really want to impress with your Halloween decorations, consider spending less on one large item so you can buy more things. In general, the more advanced the animatronic, the more expensive it'll be (typically closer to the $300 range and above), but you can find good quality low to midrange options available for less than $50.
Scroll on to find some fun and spooky Halloween animatronics under $300.
1. Oriental Cherry Root of Evil Prop
Entertain and frighten your guests with this large animated Root of Evil prop. At 6 feet tall, this life-size evil prop with a jack-o'-lantern light-up head is a great addition to your house of horrors. A built-in sensor works in tandem to make the pumpkin head light up with sounds and animatronic movements. It comes with a stand so it can be upright on its own, or you can hang it from a hook. It runs on three AA batteries.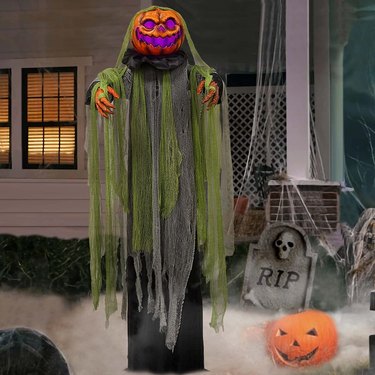 2. Tongtai Poseable Dueling Banjo Skeletons
Display these adorable banjo-playing skeletons with red eyes together or separately. They are poseable, so they can easily be positioned how you want them on any flat surface. The band mates have light-up LED eyes and turning heads. There are three musical options: English, Spanish and no words—just the dueling banjo instrumentals. These guys are designed for indoor use only, although if the weather is favorable on Halloween night, they can sit on your porch to greet the trick-or-treaters. These plug-in skeletons don't require batteries.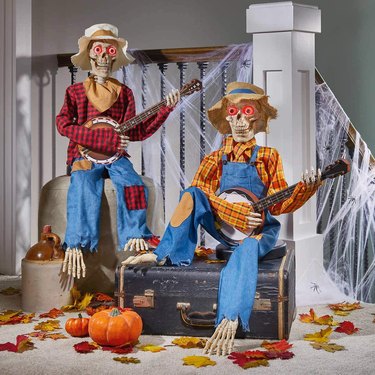 3. Seasonal Visions Animated Ring Around The Rosie Prop
Get ready to take creepy dolls to a whole new level. Quite possibly one of the scariest and most unassuming Halloween decorations, this prop consists of four doll props holding hands and playing Ring Around the Rosy while a haunting version of the song plays. Ghost children make everything scarier. The prop can be used indoors or outdoors, but you might want to place a cover over the motor for protection if it's going to rain. Batteries are not required.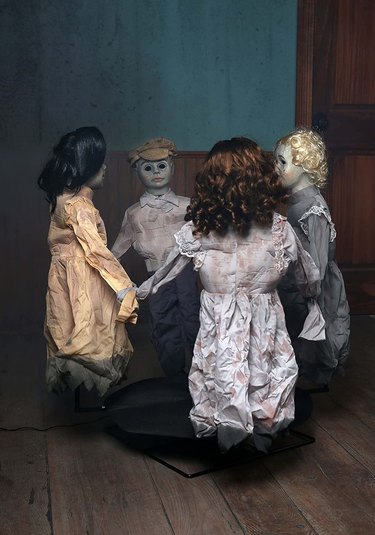 4. Joyin Large Hairy Spider With LED Eyes
When it comes to animated Halloween decorations, the giant hairy spider is a classic, plus it's more affordable than many other animatronic options. The 6.5-foot spider has red glowing eyes, and its metal legs are bendable and adjustable, making it easy to hang on a fence, a DIY spider web, a door, window, tree, etc. Batteries are required.
5. Hyde & EEK! Boutique Light Up Pumpkin Street Lamp
If your intention isn't to scare the trick-or-treaters, rather to add to the family-friendly Halloween vibe, this fun pumpkin street lamp will do the trick (or treat). Not only will it set the spooky mood, it'll also add some illumination on a dark night. This battery-operated indoor or outdoor lamp is 71 inches tall.
6. Haunted Living Lighted Animatronic Clown
Standing at 8.5 feet tall, this clown is sure to terrify your guests. Plug it in and use the on/off switch to turn it on when you're ready to scare your friends. The clown's head moves back and forth as it says several different creepy sayings. Its eyes light up and the mouth moves as it talks while carnival music plays in the background. Its feet are attached to a stand, making it freestanding so it can live inside your home or on a covered porch.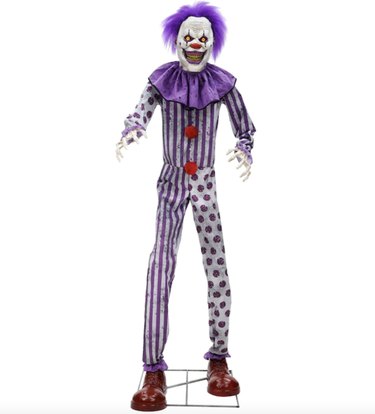 7. Home Accents Talking Raven
This 12.5-inch animated raven is a subtle touch that can add a spook factor to your existing Halloween home decor. Even if your holiday decor is minimal, this raven brings some fun Halloween vibes. Light-up eyeballs, LED animations and creepy sound effects are triggered by a motion sensor. Two AA batteries are required.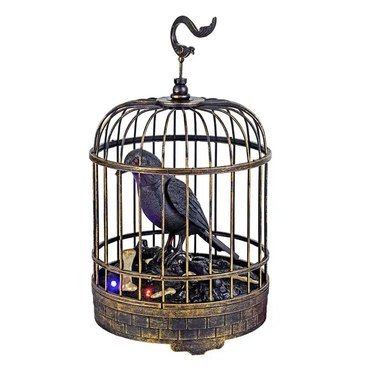 8. Morris Costumes Animated See-Saw Clowns
Not for the faint of heart, these clowns will turn your holiday decor into evil, horror movie-style holiday decor. Activated by an infrared motion sensor, these two horribly terrifying child-size clowns see-saw when someone approaches them or walks by. Music also begins to play, which adds to the creep factor. The plug-in prop is 36 inches tall and sits on a stand.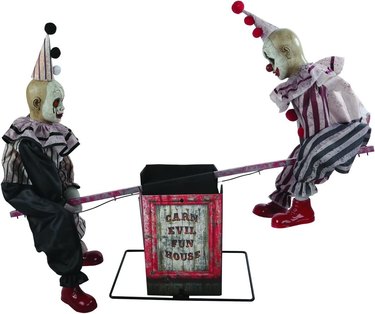 9. The Holiday Aisle Standing Ghost Girl
There's nothing enjoyable about this Standing Ghost Girl, which perhaps is exactly the point. She will creep out your kids, your neighbors and probably even you in those moments when you forget she's there. This battery powered, indoor or outdoor decoration comes with a stake and a telescoping metal pole so she can stand up in your yard, inside your house or wherever she'll haunt the most people. She has flashing red eyes and wears a flowing polyester gown with a tattered creepy cloth headdress and long veil—as ghost girls do.
10. Joiedomi Inflatable Three Witches Around Cauldron
These three witches are stirring up a concoction inside their cauldron for all the trick-or-treaters who come by on Halloween night. This 6-foot tall inflatable features bright built-in LED lights and comes with extended cords, ground stakes, fastening ropes and built-in sandbags. All you have to do is plug it in and it inflates in seconds.
11. Fun Little Toys Crawling Zombie
Kids will get a kick out of this zombie as it turns its shoulders from left to right and flashes bright white lights through the eyes. Its arms are bendable and when someone approaches, it makes a growling sound and slithers toward its next prey. It takes three AAA batteries and can safely be placed outdoors to eat the flesh off of any passerby.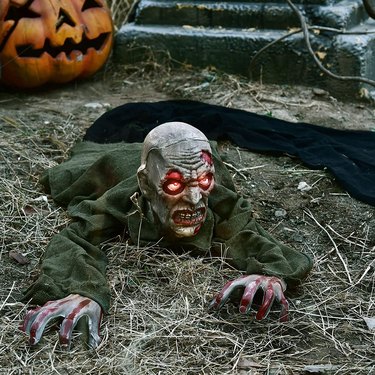 12. Disney Madame Leota Crystal Ball
No Halloween animatronic decoration list is complete without a Madame Leota Crystal Ball from Disney's Haunted Mansion. When motion-activated, this battery-operated crystal ball lights up to reveal Madame Leota's disembodied head. Wave your hands over the ball to activate her powers and hear her talk to the spirit world. This one is fun for the kids and won't give them nightmares.