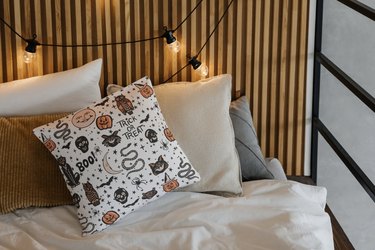 Throw pillows are one of the easiest—and most practical—ways to add charming Halloween decor to your home. Whereas other holiday decorations may require you to nail a hole in the wall, rifle through your junk drawer looking for batteries or possess some serious DIY skills, that's not the case with throw pillows. They need nothing other than a gentle toss onto a couch or chair. Some are cute, some are spooky and all would be an effortless way to prepare for a happy Halloween.
Best of all, most Halloween pillow designs are affordable—even the ones made by artists on sites like Etsy and Society6. Add a few of these to your online carts, and you'll be glad you did. We promise you'll smile every time you walk past them sitting oh-so-cute on your couch.
What To Consider When Purchasing a Halloween Throw Pillow
​Comfort:​ While it may seem obvious to assume all throw pillows are a comfortable place to rest your head, that's not always the case. Some novelty pillows are designed to add color, texture and seasonal cheer to a room's design, and aren't necessarily practical to lay your head on as you watch "Hocus Pocus" for the 100th time. (Think ones that are beaded or adorned with decorative buttons—ouch!) Decide how you'll use the throw pillow, whether for style or for serious comfort, and purchase accordingly. If you want a pillow you can lay down on, look for one with a removable, washable pillowcase.
​Pillow Covers:​ Before clicking "add to cart," read the description of the pillow you're eyeing carefully. All of the ones we highlight below include the pillow cover and the insert, but many on the market are solely pillow covers. Be sure you know what you're buying before it arrives on your doorstep so you're not disappointed. You wouldn't want to be left scrambling to find a pillow insert of the exact dimensions of the cover you (accidentally) bought solo.
​Size:​ The one downside of Halloween throw pillows: You'll have to store them somewhere when the calendar flips to November. Before you throw down serious cash on a series of Halloween pillows, consider where you'll keep them the other 11 months of the year. If you don't have ample storage space, you could downsize to smaller throw pillows, or opt for a decorative pillow cover instead. That way, you can recover the pillow itself for each season and simply store the slim covers.
Scroll on for 11 of our favorite festive throw pillows that would instantly add Halloween cheer to your home decor.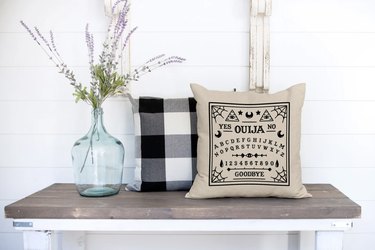 1. There's a Ghost in the Pumpkins Patch Again Throw Pillow With Insert, 16" x 16" - 24" x 24"
For ultra original Halloween designs—ones you can bet all of your kid's trick-or-treating candy on that your neighbor won't have—head straight to Society6. There, you can scroll through hundreds of Halloween throw pillows that independent artists have designed. This one, with a sweet ghost in a pumpkin patch, would add just the right amount of color to a neutral living room design while still fitting in with the rest of your decor. Choose between the indoor or outdoor throw pillow fabric and four different sizes: 16 inches by 16 inches, 18 inches by 18 inches, 20 inches by 20 inches, and 24 inches by 24 inches.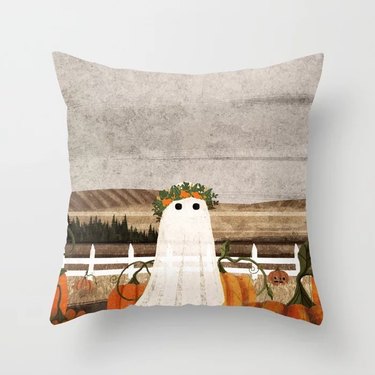 2. Dancing Skeletons Pillow With Insert, 12" x 20" - 20" x 20"
Skeleton decorations can veer spooky or adorable. The ones dancing on this decorative pillow are the most adorable, waving their hands in the air, seemingly throwing the happiest Halloween party of all. Choose between 12 background colors (including red, green, navy and a slew of neutrals), as well as four sizes. This Etsy seller also gives you the choice to order both the insert and the pillow cover, or just the Halloween pillow cover, which will save you some cash. Those customization options allow you to create the perfect throw pillow for you, your home and your style.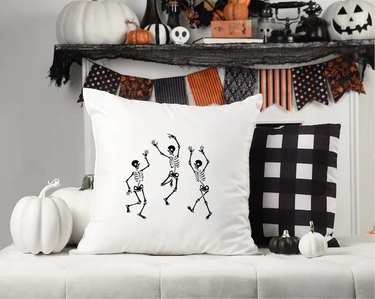 3. Frankenstein Petite Hooked Halloween Throw Pillow, 8" x 8"
Look at this little cutie! We do mean "little" too. This friendly hooked Frankenstein with a cute-as-can-be smile is just 8 inches by 8 inches, making it a perfect mini gift for the Halloween lover in your life. It could also work as an accent pillow on a kid's bed or nestled in a pile of other pillows on your couch. Due to the hooked fabric, it can only be spot cleaned, so keep that in mind if spills are routine on your couch. (No judgment. It happens to all of us!)
4. Headless Throw Pillow With Insert, 16" x 16" - 24" x 24"
The second we saw this charmingly busy Halloween pillow, we added it to our Society6 carts. Its just-gothic-enough pattern was designed by an independent artist, and it comes in several sizes to match your space's needs perfectly. Choose between indoor- and outdoor-friendly fabrics, as well the size of your choice, all with the pillow insert included.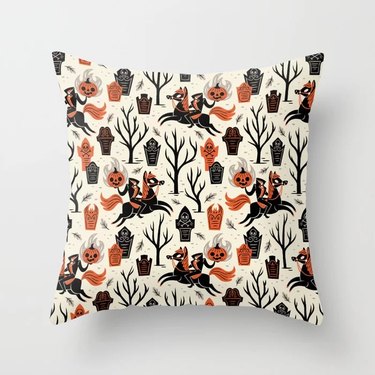 5. Trick Or Treat Lumbar Pillow, 20" x 14"
This supremely soft velvet throw pillow features the best of the best seasonal motifs: A Halloween pumpkin, a spider web, and the phrase "trick or treat," which will act as your daily reminder to make sure you have enough candy for the kiddos in your neighborhood. With its (mostly) neutral color palette, this is an easy pillow to throw just about anywhere. Consider adding this as lumbar support on your office chair or as decoration to the lounge chair in your living room, where you'll lean against it while taking in another viewing of "It's The Great Pumpkin, Charlie Brown."
6. Black Cat Halloween Throw Pillow, 12" x 12"
For a sweet, and not at all spooky, Halloween pillow to add to your home decor, look no further than this black cat design from Target. Though the buttons aren't the coziest to lay your head on, you won't mind because that heart-shaped button nose is as cute as they come. This pillow would add a bit of retro charm to your Halloween decor, and we know you'll be delighted to pull it out of the decorations bin fall after fall.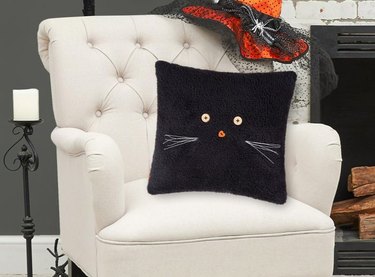 7. Woven Ghost Pillow, 20" x 20"
The ghost on this pillow is definitely a friendly ghost. The sweet smile gives it away! This ghost pillow would be a cute addition to any living room, and we're sure little ones would love to have this one on their bed for the season too. It's not scary, but it is scary soft. So soft that it's worthy of taking a snooze on, which you can feel comfortable doing because the cover can be unzipped, removed and then thrown in the wash for a quick, easy clean.
8. Spider Web Velvet Throw Pillow, 20" x 20"
Spider webs are no fun to find in the corners of your kitchen, but they make for a fun design on Halloween pillows. Take this oh-so-festive pumpkin orange throw pillow. It includes both the insert and the cover, which is removable via an invisible zipper. We can imagine this brightening up your couch, as well as an outdoor patio chair, bench or even your bedroom.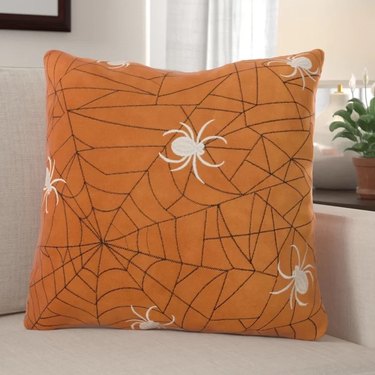 9. Beaded Jack-O-Lantern Pillow, 12" x 16"
A glamorous Halloween throw pillow? Oh yes. There is such a thing and it's for sale for less than $20 from HomeGoods. You can't deny the delightful charm of this pillow, with its light-catching beads and handful of jack-o-lanterns with devilish grins. This isn't a pillow you'll want to rest on, but it will bring a certain sparkle to your living room throughout the whole Halloween season.
10. Goyette Outdoor Square Pillow Cover & Insert
Your outdoor space, whether that's a bench by your front door or a full backyard patio situation, deserves a charming Halloween pillow too. Just make sure it's made to withstand the unpredictable weather of the outdoors. We love this watercolor design from Wayfair, which has a distinctly boho feel. It's water- and weather-resistant, so it's suitable for your patio, porch swing or anywhere else outdoors. Even so, you may want to bring it inside if a fall storm blows through to keep this pillow in good shape so you can use it year after year.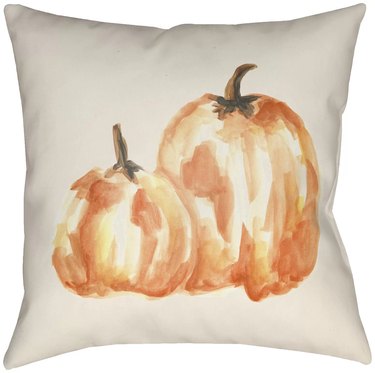 11. Happy Halloween Throw Pillow, 14" x 20"
As if you needed a reminder to have a cheery holiday, this "Happy Halloween" pillow will inevitably brighten your mood every time you pass it, now all the way until October 31st. The embroidered colors of each letter pop against the black background, and we love the smiling pumpkin and ghost and the cobwebs in all four corners. Happy Halloween, indeed!