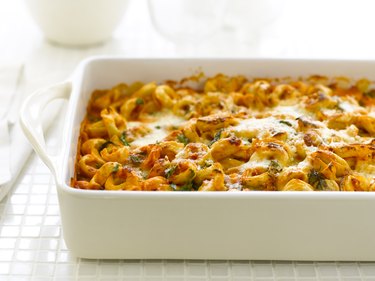 What are your go-to comfort foods? Chances are, at least one of the things that pops into your mind is something you prepare in a casserole dish. These slow-cooking, hands-free meals are ideal for reheating, which makes them an equally good option for leisurely weekends or fast weeknight meals. So which are the best casserole dishes to have in your cupboards? We've picked six outstanding examples, and explain what sets them apart.
What to Consider When Purchasing a Casserole Dish
​Material:​ Casserole dishes need to retain heat, which is why most are made from glass, ceramics or cast iron. All three of those materials absorb your oven's heat extremely well, ensuring that your food will cook evenly. Glass and most ceramics are glazed and won't absorb or alter flavors. Unfinished stoneware is an exception, but it's rare and typically used for single-purpose dishes (like bean crocks) as opposed to general purpose casserole-making. Cast iron casseroles usually have enamel or ceramic coatings, which make cleanup easier and prevent the cast iron from reacting with acidic ingredients.
​Size and Shape:​ Casserole dishes come in a ​lot​ of shapes and sizes. Some are shallow and square or rectangular, which gives you lots of surface area for browning (essential for recipes topped with crumbs or cheese). Others are deeper, and come in round or oval shapes, which are useful for stewed and braised dishes. Some are sized according to their physical dimensions (a 10- by 15-inch rectangle, a 10-inch round), while others are measured in terms of their capacity (3 quarts, 5 quarts). It's good to have a few sizes and shapes, because these are supremely versatile pieces of cookware.
​Appearance and Ergonomics:​ Some casserole dishes have a very utilitarian appearance (looking at you, tempered glass!), while others are designed to look good on your table or even be displayed on open shelving when not in use. It's perfectly okay to choose one over another just because you like the way it looks. Ergonomics also play a role: Casserole dishes are heavy by nature, especially when full, and good, easy-to-grip handles can save you from a dropped and broken dish.
​Storage:​ The size and weight of casserole dishes makes them awkward to store when they're not in use. As you add more casserole dishes in multiple sizes, look for designs that will nest neatly within each other to save space. Some are sold that way, in sets, which is not a bad idea when you're starting out (or upgrading from your random accumulation of thrift-store finds).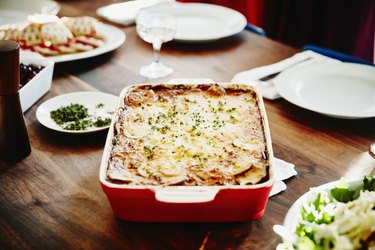 The Best Overall Casserole Dish
Pyrex Easy Grab Glass 3-Quart Baking Dish With Lid
If there's a single type of casserole dish that's going to be the cornerstone of your collection, it's probably a 3-quart rectangular version. It's large enough to serve four to six people (depending on your appetites) as the main part of a meal, or even more people if you use it for a side dish. There are lots of good examples out there, but you absolutely can't go wrong with this one from longtime favorites, Pyrex.
The tempered glass makes it microwave-safe, freezer-safe and dishwasher-safe as well as oven-safe, and the included plastic storage lid makes it easy to put away the leftovers. The company's experience shows in the generous handles at either end of the dish, which make it easy to grip and carry even when you're wearing thick oven gloves. It's everything you want and nothing you don't, which makes it the perfect foundation for a new collection or a useful addition to your existing group of baking dishes.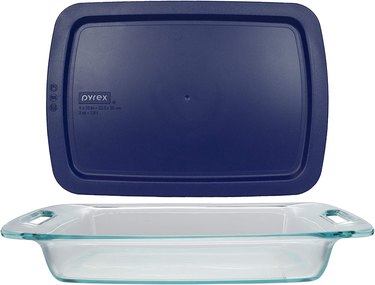 The Best Value Casserole Dish
Anchor Hocking Oven Basics Glass Baking Dishes, Set of 2
Pyrex are the longtime standard-bearers in the world of glass cookware and bakeware, but Anchor Hocking is also a heavyweight with generations of loyal users. Being number two proverbially means trying harder, and this two-piece set of casserole dishes provides solid value at the price point. You'll get both a 2-quart dish (serves two to three) and a 3-quart dish (serves four to six) in durable tempered glass, and that's it. No frills, no extras, just the two of the most useful sizes at one low price.
The dishes are solidly made, with well-rounded corners on the interior for easy cleaning, and handles which—while smaller than those on our top-pick Pyrex model—are still perfectly usable. They'll also nest neatly when not in use, for compact storage. A glass casserole won't win any prizes for esthetics, but their clean, utilitarian design has its own appeal.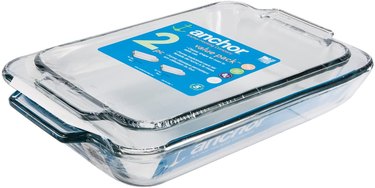 The Best Deep Oval or Round Casserole Dish
Corningware 2.5-Quart French White Casserole With Glass Lid
Corning's ceramic cookware can travel between the freezer, the oven, the microwave and the dishwasher with just as much ease as a glass casserole, and looks good doing it. The company's French White series of cookware has a clean look that's at home on any table, and this 2.5-quart casserole dish is one of the more stylish pieces in the collection. This deeper, narrower style is ideal for many classic dishes, like a small pot roast or oven-braised stews, and the casserole dish itself is attractive enough to bring right to the table.
Many pieces in the French White collection have no handles, just gently flared sides, but this model has well-crafted handles that make it easier to carry. The only downside to this casserole is that for some households, it might be a bit small (it's best suited for small meals or side dishes). There's a 4-quart casserole dish in the French White line as well, if you need the added capacity, but it lacks the smaller model's refined lines.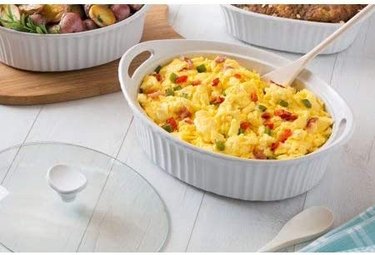 The Best Casserole Dish for Oven to Table Use
Emile Henry Modern Classics Large Rectangular Baker
The French repertoire is filled with famous dishes that cook slowly in the oven. They may not be what you'd picture as "casserole" meals—they typically lack pasta or frozen hash browns, and don't usually involve cream soups or thick toppings of cheese—but they're a cherished part of the country's culinary tradition, and many French manufacturers make beautiful dishes for them in stoneware and enameled cast iron. Staub and Le Creuset are the best known of those brands, but the Emile Henry line offers comparable quality and esthetic appeal at a somewhat more reasonable price.
This simply-named "oval baker" is deeper than the glass dishes we've previously discussed, so it's suitable for making a lasagna or braising a pot roast, and its well-designed handles make it easy to carry. More importantly, it's beautiful enough to grace any table. The interior is glazed in a pure white but the exterior comes in four bold colors ranging from a cheerful yellow to a deep, moody blue, or in elegantly-simple white if you prefer. No matter which hue you choose, it's a statement piece.
The Best Casserole Dish for Potlucks
OXO Good Grips Glass 3-Quart Baking Dish with Lid
Casseroles are innately social dishes, whether you're creating a comfort-food family meal, dropping one off to an overwhelmed neighbor, or contributing to a backyard potluck. That raises the question of how you're going to transport your meal. Disposable foil pans aren't the most elegant option, and they're flimsy and accident-prone. A better bet is to have a casserole dish specifically for the purpose, one that's not costly but comes with a tight-fitting lid for "on the go" meals.
This one from OXO is an excellent choice. It's got big, comfy handles, and the provided lid is flat so it can be stacked (safely!) on crowded countertops. It's also made of lab-quality borosilicate glass, not the more-usual tempered glass, so your well-meaning friends are less likely to shatter it through overzealous reheating or careless placement on a cold surface. As an optional extra, OXO even offers an insulated bakeware carrier to help keep your best "hot dish" hot, on your way to the party.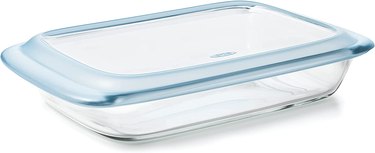 The Best Set of Casserole Dishes
Staub Ceramic Baking Dish Set, 3 Piece
For many kitchen tools, from knives to pots, there are two ways you can build your collection: Curate your own personalized collection, one carefully-selected piece at a time; or, just start with a set of matched pieces and then fill in (as/if needed) around the edges. If you're a matched-sets person, you'll love this collection from French maker Staub.
It consists of one deep 13- by 9-inch casserole, for main meals, and two smaller ones for side dishes, desserts or that one meal you love that nobody else in your house will eat. The high-quality stoneware has an extra-hard ceramic finish, for durability and easy cleanup, and the dishes are safe in the oven, broiler, freezer microwave and dishwasher. They're also beautiful, like the Emile Henry, with a choice of finishes including cherry red, dark blue and "rustic turquoise." They're beautiful, functional, and the price is reasonable for pieces of this quality. What's not to like?