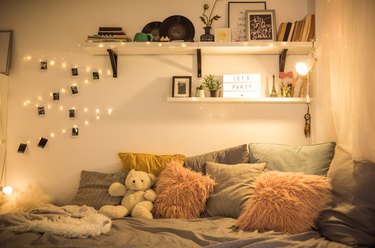 Dorm room lighting is pretty basic. It usually consists of fluorescent overhead lighting that is often either too bright or too dim. To make your dorm room feel warm, welcoming and more like home with lighting you actually enjoy, buying additional ambient lighting is a good move.
String lights are a go-to in dorm rooms, but they aren't the only option to elevate your space. The goal with lighting in a dorm room should be to make studying more pleasant, hanging out with friends more inviting and getting ready to go out less of a chore (lighting is everything when it comes to putting on makeup).
The lighting you choose should also be practical and helpful if you have a roommate who likes to go to sleep before or after you—like adding a small lamp to your bedside table. Unfortunately, your school likely won't allow you to install your own overhead lighting like a chandelier or other permanent light fixtures, but creativity goes a long way.
What To Consider When Purchasing Dorm Room Lighting
​Type:​ The type of dorm room lighting you choose will depend on the vibe you're going for. There are several types of lighting options, including color-changing LED strips, flexible string lights to illuminate around a window or mirror, table lamps, floor lamps, galaxy projector lights, lava lamps and motion-activated lights so you can see where you're going when your roommate is sleeping.
​Illumination:​ Once you're settled in your dorm room, you'll know how much lighting you want to add. If the overhead lighting is too dim, a floor lamp should be able to provide enough light to illuminate the entire room. A floor lamp is also a good option to use instead of the overhead lighting if it's too bright. A table lamp, lava lamp or string lights can add ambient lighting.
​Electrical Outlets:​ Unless your lighting of choice is battery-powered, there's going to need to be an electrical outlet nearby. If you've run out of outlets or if there isn't one in reach of where you want to place your lighting device, consider getting an outlet multiplier to add more plugs to an outlet or an extension cord.
Scroll on to find the best lamps, string lights, projectors and other lighting options to give your college dorm room some much-needed ambiance.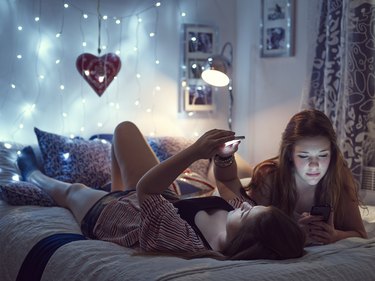 1. Nanoleaf Canvas Starter Kit, 9 Panels
Create your own smart lighting artwork in whatever design you can dream up with Nanoleaf's Canvas Starter Kit. The kit comes with nine panels that can be fully customized to create scenes, sync with playlists and follow schedules. The lights can dance to music, work as an immersive screen mirror, and you can choose from practically endless colors and brightness levels. You can control the panels by touching them or using voice activation via Apple HomeKit, Amazon Alexa, Google Assistant or IFTTT. No drilling is required to hang the panels on the wall—simply use the included mounting tape to display them however you want.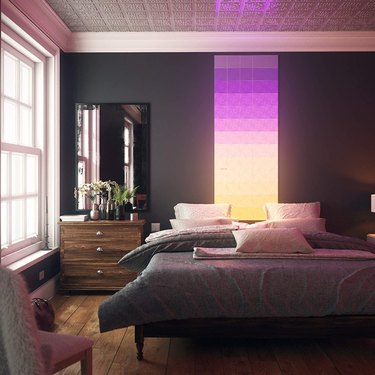 2. BlissLights Sky Lite 2.0 Star Projector
Study under the stars in the comfort of your own dorm room. The BlissLights Sky Lite 2.0 Star Projector projects drifting stars against a transforming nebula cloud that'll make you feel relaxed. You can control the lights via the app if you don't want to get up or by using the button controls on the device. There are different light effects to choose from and you can adjust the rotating motion as well as the brightness. As the company notes, "There's mood lighting, and then there's lighting that's a whole mood." This lighting is definitely a mood.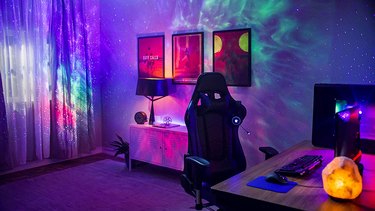 3. Urban Outfitters Zane Task Lamp
Add a vintage-industrial vibe to your dorm room with the Zane Task Lamp. The metal desk lamp comes with an exposed, amber-tinted lightbulb that gently illuminates the area. The cord is wrapped with olive green or black and white fabric for added cool vibes. It also has an on/off inline switch for added convenience. The task lamp comes in two finishes: matte black or gold.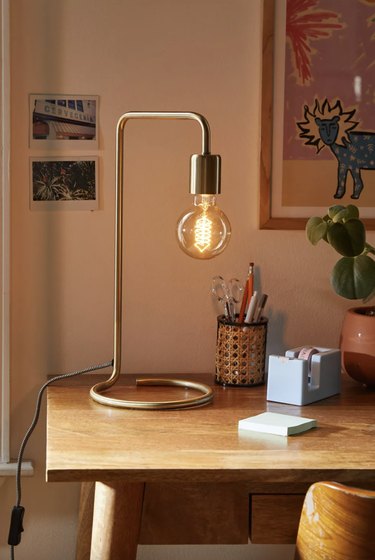 4. Lava The Original Lava Lamp
Lava lamps have been in and out of style since the '60s, but they're back with a vengeance and ready to illuminate your living space. This glass and silver aluminum lava lamp has a purple liquid base and includes a 40-watt light bulb. Not only is it a light source that'll help set the mood, but it'll also serve as a piece of art. It needs to be plugged into a standard 120-volt power outlet and stands 16.3 inches tall.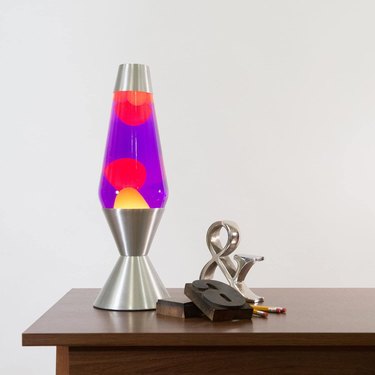 5. Gymax 65" Sphere LED Floor Lamp
Floor lamps provide necessary additional lighting to a room. This particular floor lamp is great because it has two LED light sources and a convenient foot switch. It's easy to assemble and stands 65 inches tall. The lamp has a brass finish and adds modern flair to any space. The lampshades are both made of durable frosted glass, providing warm white light for studying without being too harsh. The sturdy, weighted base is 11 inches in diameter so it's unlikely to tip over.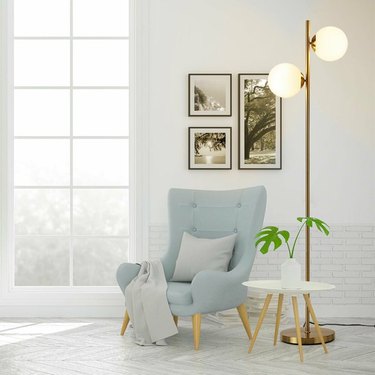 6. Dormify Curtain String Lights
These plug-in string lights will brighten up any college dorm room. Use the fairy lights as added mood lighting in your room or to light up an accent wall as fun decor. You can even buy multiple string lights and hang them on each wall to create even more lighting. These lights are also fun because you can personalize them by attaching photos of your family or friends.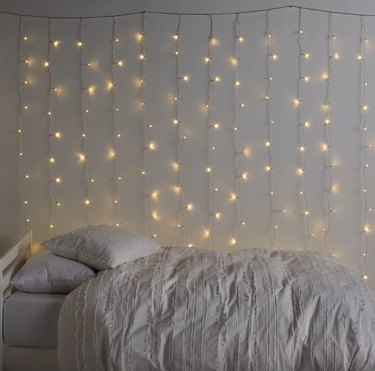 7. Dormify Pom-Pom String Lights
Pom-pom string lights are a staple for college students. They add a youthful touch to any dorm room design scheme and are perfect for hanging around a window, bed frame, mirror, or even framing a door or TV. These lights don't need to be plugged in, but they do require three AAA batteries.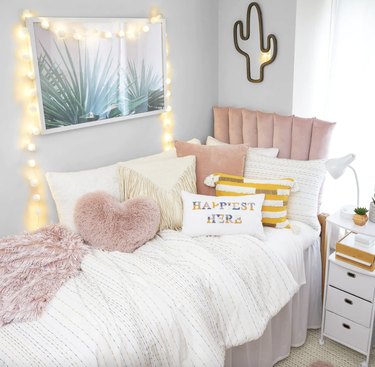 8. Vansky Motion Activated Bed Light
These aren't your average LED strip lights. Place this LED strip under your bed or along the floorboards to see where you're going at night without turning on a brighter light and waking up your roommate. The nightlight is motion-activated, so an automatic shut-off timer keeps it off while you're asleep or out of the room, and when you wake up or return, it illuminates to help guide you to where you're going. It's waterproof and dustproof and you can install it using the included adhesive tape.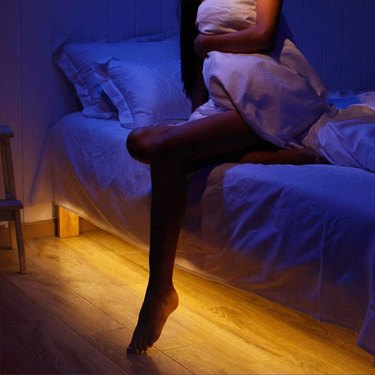 9. Simply Essential Architect Desk Lamp
Every desk needs a lamp. This simple and affordable Simply Essential desk lamp works for late-night studying at your desk or on your bed. The neck can be adjusted to point in whichever direction you need it to. There's an inline on/off switch on the 5-foot-long cord and a metal tapered shade for a directional spotlight. It's sold in three finishes: cool gray, matte white or yellow.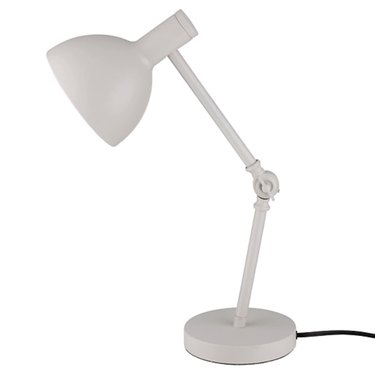 10. The Body Source Himalayan Salt Lamp
Himalayan salt lamps pull double duty when you display them in your room. Of course, they provide decorative lighting with spa-like ambiance, but pink Himalayan salt is known for its therapeutic and relaxing properties. The lamp casts a warm, orange glow that can be dimmed to create the perfect setting for you to relax. It comes with a spare 15-watt light bulb. The lamp is available in three sizes: 6-8 inches, 8-10 inches or 10-12 inches.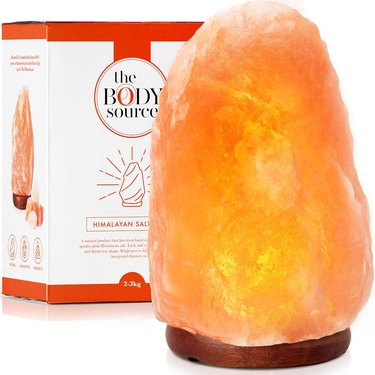 This TikTok-made-me-buy-it moon lamp can change colors and brightness levels based on your mood. It comes with a remote control that works up to 30 feet away and allows you to toggle between 16 different colors that can flash, fade, strobe or remain 'smooth.' It's 3D printed, has a realistic moon-like surface, and rests on an included wooden stand. The moon lamp is 4.8 inches in diameter and charges via a USB cable. It has a battery life of about 5-10 hours depending on the brightness level. There are several sizes available, ranging from the4.8 inch version pictured here all the way up to 9.6 inches.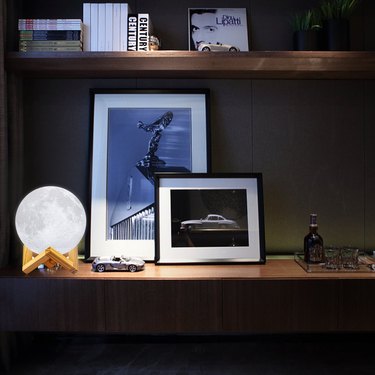 12. Power Practical LED Light Strip
Light up the back of your TV with this LED light strip. It'll also light up the wall your TV is attached to or sitting in front of, which is super fun. It has 15 ambient color options along with 10 brightness modes. Sizes come in large for a 30-inch to 40-inch TV, extra-large for a 41-inch to 59-inch TV, and extra-extra-large for a 60-inch to 80-inch TV.
13. Brilliant Ideas Corner Floor Lamp
Even easier to install than LED light strips, this color-changing corner floor lamp bounces ambient light into your space. It stands 55 inches tall and has an L-shaped base for stability. It comes with a remote control that allows you to choose from 16 RBG colors and four light modes. It's made of 90% plastic and 10% metal and weighs less than 2 pounds. It's powered by a USB cable, which is included.