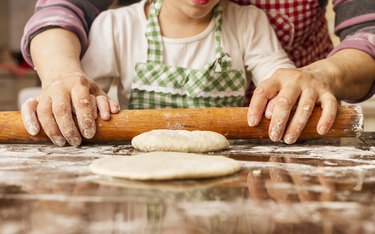 When you graduate from boxed mixes and ready-to-bake cookies to baking from scratch, there are a few essential kitchen tools you'll need to add to your collection. This includes obvious things like baking sheets and cake pans, and less obvious choices like a kitchen scale or a timer (you'll never burn another batch!). You can count a rolling pin in the "obvious" category, but which type of rolling pin? There are several to choose from, each with its strengths and weaknesses. We've picked out six of the very best rolling pins, and explained what sets them apart from their competitors.
What to Consider When Purchasing a Rolling Pin
‌The Basic Design:‌ There are only a handful of basic styles you'll see in rolling pins. One is the French style, which is essentially just a wooden dowel typically 19 to 22 inches in length. It may be the straight or dowel type or tapered at the ends. A second type is the traditional American-style rolling pin, with two handles attached to a relatively thick cylindrical roller (the "barrel"). An axle runs through the center of the barrel, from handle to handle, and ball bearings help it roll smoothly. A third type is the Shaker-style pin, which resembles the American-style pin with handles but is carved from a single block of wood. Each has its pros and cons, so ultimately your purchase decision will come down to personal preference. The one you're comfortable using will always be the best for you, regardless of what reviewers think.
‌The Materials:‌ Most rolling pins are made of wood, typically maple or other hardwoods. Some (gimmicky) versions are made of hollow glass or aluminum, meant to be filled with ice or cold water. The idea is that they'll keep your pie crust cold as you roll it, but in practice, they're not especially useful. Marble rolling pins also stay cold, but they're heavy and flour often won't stick to them very well (meaning you'll use more to keep your dough from sticking, which in turn, can affect your baked goods). Silicone or silicone-coated rolling pins offer good nonstick performance and an extra-smooth surface, which is especially handy when you're working with fondant icing or extra-delicate doughs.
‌Size and Weight:‌ Personal preference is especially important when it comes to a rolling pin's size and weight. A lightweight pin is nimble and easy to maneuver, while a heftier rolling pin means you don't need to work as hard at flattening your dough. Width also matters, because while pie crusts are relatively small you can also expect to roll out relatively large expanses of cookie dough, or rich yeast dough for cinnamon rolls. French rolling pins typically check in at just under 2 feet in width, with a flat central section of 7 inches or more where most of the work takes place. American-style (or "baker-style") rolling pins are typically smaller, with a working width of 10 to 12 inches, though models aimed at commercial bakers can be considerably wider. They're heavier for a given width than French-style pins, so fatigue can become an issue if you're doing a lot of holiday baking.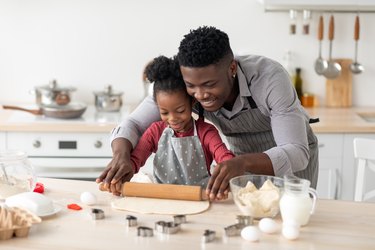 The Best Overall Rolling Pin
Whetstone Woodenware 19-inch French Rolling Pin
There's a lot to like about French-style rolling pins. Professional bakers and pastry chefs gush about their nimbleness and maneuverability, and there's no question they're light compared to American-style rolling pins with handles and ball bearings. The only downside to the classic French tapered rolling pin is that the flat area in the middle of the barrel (the part that does the actual rolling) is relatively narrow. That being said, it's light enough that you may find you need to apply a lot of pressure to roll out the dough.
This model from independent producer Whetstone Woodenware addresses both of those issues. For starters, it's got a bit more heft than most of the (pretty interchangeable) French rolling pins on the market, which you'll find comforting if you're used to a rolling pin with handles It also has a wider flat area on the barrel than most competitive models, at 9 inches in the case of the 19-inch rolling pin. Aside from those advantages, it's simply a beautifully-crafted piece of equipment. They're handmade in Indiana by a small family-owned business, from kiln-hardened maple wood, but—despite this—sell at a thoroughly reasonable price, unlike many similar artisanal pieces. There's a larger 23-inch version (with a 13-inch flat area for rolling) and several smaller sizes, but for most home bakers the 19-inch is probably the best bet.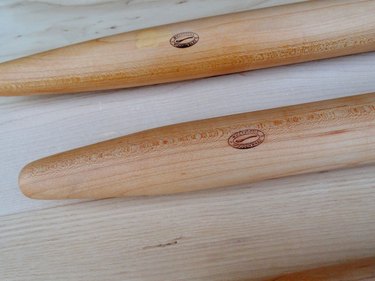 The Best Straight Rolling Pin
J. K. Adams Maple Plain Dowel Rolling Pin
French rolling pins aren't always tapered. That tapered design makes them excellent at changing direction rapidly—great when you're rolling out that holiday-sized batch of sugar cookies—but some bakers find it relatively difficult to bring their dough to a consistent thickness with a tapered pin. This "plain maple rolling dowel" from Vermont manufacturer J. K. Adams is a solid alternative.
At 19 inches wide and 2 inches thick, it's perfectly cylindrical across its entire width. That makes it easy to roll to an even thickness, whether you're working with pie crust or pizza dough. You can also buy silicone spacers from a number of sources to fit over the barrel, helping you roll your dough to a precise thickness (like adjustable rolling pins, but without buying one as a separate, single-task kitchen gadget). The unfinished maple holds flour well, for easy rolling, and needs minimal care aside from an occasional oiling. As with our top-pick Whetstone, you should hand-wash this pin after each use and dry it immediately.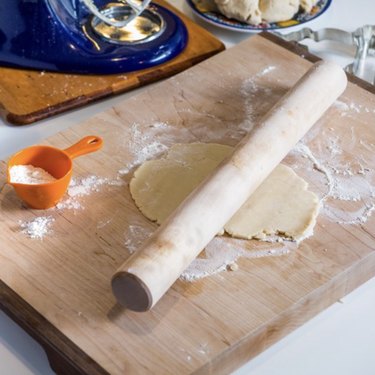 The Best American-Style Rolling Pin
J. K. Adams BRP-1 10.5-inch Maple Bakers Rolling Pin
The J.K. Adams company makes several types of rolling pins, and they're all excellent (their tapered French rolling pin only narrowly lost out to our top pick from Whetstone). If you're most comfortable with American rolling pins—the kind with handles and a freely-rolling barrel—this is as good a choice as you could ask, and it comes at a very budget-friendly price.
You can't fault the workmanship of this rolling pin, which has simple but comfortable handles and rolls very smoothly indeed. The barrel is just a little over 2 inches in diameter and 10-1/2 inches wide, which makes it as light as many French-style rolling pins while retaining that familiar old-fashioned feel. The barrel is also wider than the working (flat) portion of most tapered pins but it's more compact, and therefore easier to store (one handle has a convenient hole drilled in it, for easy hanging. The waxed maple barrel is reasonably nonstick but still holds flour nicely for when you're rolling. The company also makes a larger "Patisserie" rolling pin, with a 12-inch barrel, which checks in at over two pounds and would appeal to anyone who likes a heavier rolling pin.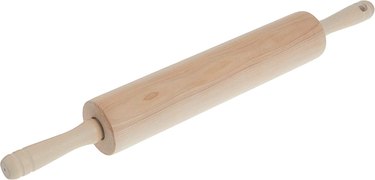 The Best Small Rolling Pin
Muso Wood Small Rolling Pin for Baking
There are times when a big batch of dough calls for a big rolling pin, but bigger isn't always better. Some tasks, like rolling out rounds for small tarts or dumplings, call for a smaller kitchen tool. This dowel-style rolling pin from Muso Wood is a perfect example. At just 11 inches in width and a half-pound in weight, it's small enough and nimble enough to roll out bao wrappers (this type of rolling pin is often marketed as a dumpling roller) or any other small-batch task.
It's made of solid European beechwood with a fine grain (versions in walnut or sapele wood are also available), so it's easy to hand-wash and reasonably non-stick with most doughs. It's also useful for children or other bakers with small hands, though if you want to bake with your kids there's also the made-for-the-purpose model from Mrs. Anderson's, which—because it's an American-type rolling pin with small handles—may be easier for the youngest bakers to grasp.
The Best Nonstick Rolling Pin
OXO Good Grips Nonstick Rolling Pin
If you're a big fan of nonstick surfaces, you'll be happy to know that a wooden rolling pin isn't your only option. There are several nonstick models out there, in varying materials including stainless steel, silicone and nylon. One of the best rolling pins in this category is the OXO Good Grips, which has polymer handles (carefully sculpted to keep your knuckles up off of the countertop) and a stainless steel barrel with a slick, durable nonstick surface. You can refrigerate the pin ahead of time before rolling out a delicate pie dough to keep it from warming and softening.
Unlike most other rolling pins this one is dishwasher-safe, though hand washing will preserve the nonstick surface for longer. If you do feel the need to run it through the machine (normally it will just need a quick wipe with a damp cloth), put it on the top rack and make sure no other dishes can clatter against it and damage the finish. If you have the budget for it and want a professional patissier's tool, the nylon dowel-type rolling pin from French manufacturer Matfer Bourgeat is excellent as well—and also dishwasher-safe—but at a much higher price point.
The Best Adjustable Rolling Pin
Five Two Adjustable Rolling Pin with Measuring Rings
Rolling dough to a precise thickness is an art and a skill. Some bakers can be perfect every time while using any rolling pin—even an empty wine bottle—but not everyone has such a fine touch. If you want to be absolutely sure you're getting your dough just so, the ultimate answer is an adjustable rolling pin. These come with a set of spacer rings at precise depths, so you can roll out most types of dough to exactly 1/4-inch, 1/8-inch or whatever your desired thickness happens to be. You can add spacers to a simple dowel rolling pin like the J. K. Adams, but many adjustable rolling pins go a step further. They add measurements to the rolling pin itself, so you can roll not only to the correct thickness but to the correct dimensions as well.
We like this classically simple offering from Food52, which is an excellent dowel rolling pin in its own right before you get to the extra features. It's 19 inches wide and 1-1/2 inches in diameter, a good all-purpose size for this type of wood rolling pin. It's made of durable, water-resistant teak—it's dishwasher-safe, as a result—inscribed with markings for dough up to 16 inches wide. It comes complete with a set of five spacer rings ranging from 1/16-inch to 1/2-inch, but because it's a simple dowel design, you can easily find generic replacements should you lose any. Not everybody will need or want an adjustable rolling pin, but if you want one, this is a really solid choice.