Sure, there's a cooking timer on your oven and your microwave, and there's an app for that on your phone. So, why buy a standalone kitchen timer to add to your assortment of kitchen tools?
It's still a convenient gadget to have on hand. Sometimes, you want to monitor the cooking time for other stuff while you're also making something in the oven or the microwave. And sometimes, those built-in timers don't have alarms that are loud enough. And some kitchen timers have additional functionality, and some even let you keep track of multiple things at once.
In the end, it's an affordable, small item that's easy to stash away just about anywhere—even stuck to the fridge if you get one with a magnet—and that can come in handy any time. So, why not get one?
What to Consider When Purchasing a Kitchen Timer
​Functions:​ All kitchen timers count down time. But some count up, too. And there are a number of other functions you can find if you want them. For example, some products have two or more timers that run simultaneously, and they may even have different alarm sounds to further help you keep track of multiple things at once.
Do you want a timer that shows the current time and/or date when it's not in use? Would you use a memory function for timer pre-sets? How important is the ability to pause and restart the timer? Some let you control the alarm volume, and many offer a mute option if you prefer a blinking light to a loud sound that might, say, wake up your sleeping baby. You might also be able to control the brightness of the backlight in the display screen.
​User-Friendliness:​ Most kitchen timers are pretty simple to operate, with minimal buttons and switches. Of course, the number of buttons and complexity of programming are generally proportional to how many functions are available. But look for interfaces with few relatively large buttons that make sense. Or, perhaps you'd rather find a more contemporary product with a touch screen operation.
Also, consider the size and style of the display. Is it easy to read, even at a glance from across the kitchen, with big, bold digits and a backlight? And what about the alert sound? Is it a loud alarm or a noticeable noise?
​Design:​ Today, you mostly find battery-powered digital kitchen timers. You can, however, find old-school mechanical ones that tick down the time like clockwork, and these often have a retro appearance to match their vintage method of operation.
And where do you want to put the timer for optimal accessibility? Most have either a base or a kickstand for setting it out on your counter or a magnet for sticking it on the fridge, microwave or other appliances—and some have both. Others have holes for hanging the timer, clips for attaching it to your pants, or even a rope for wearing it around your neck.
These considerations—along with what you want to spend on this gadget—will help you find the best kitchen timer for your needs and preferences.
The Best Overall Kitchen Timer
OXO Good Grips Triple Kitchen Timer
This is a great kitchen timer at a good price. It has three separate countdown timers that run up to 100 hours (in case you're ​really​ slow cooking something) that each have unique alarm sounds, so you can keep track of multiple things at the same time with one device. And even after fitting all that onto the LCD screen, the digital display is still large and easy to read. It defaults to a clock setting when you're not using a timer.
The volume is adjustable and gets loud enough to hear from across the room. There's a nonslip bottom, and the device is angled upward for easy visibility as you make your way around the kitchen. The user interface is simple and intuitive, with a full keypad and a few other soft, self-explanatory buttons to work the timers, stopwatch, memory function and other features. It runs on AAA batteries, which are included.
The Best Budget Kitchen Timer
Antonki Digital Kitchen Timer, Set of 2
If you're looking for an affordable kitchen timer you can count on to count properly, here's a pair of them at a lower price than most single ones. It's a very basic model that counts up and down, but the digital display is giant—and so are the buttons, relatively speaking—and the operations are as simple and straightforward as can be. The alarm beeps loudly, and should be audible even in a neighboring room; or, switch it to silent mode and a red light flashes instead.
There's a memory setting if you like having presets, and there's a fast-forward function that lets you quickly jump to an hour. Note that this timer only goes up to 99 minutes and 59 seconds, though. With a kickstand, magnetic back and a hanging hole, you have plenty of flexibility as to where you use and store this gadget, too. Two AAA batteries are included, one for each timer. And, as an added bonus, you can get yours in white, gray or one of three pastel colors (blue, green or pink).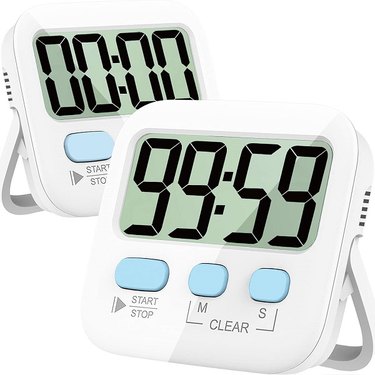 The Best Kitchen Timer That's Easy to See and Hear
ThermoPro Digital Kitchen Timer
If your priority in a kitchen timer is sensory—that it's super easy to see and/or hear—this is the product for you. The digits on the 2.6-inch LCD display screen are quite tall and thick, plus the blue backlight (that you can dim and brighten to your preference) greatly enhances their visibility, even in a poorly lit room; it can typically be read from across the room. As for sound, set the alarm volume to low, medium or high at a range of 70 to a significant 105 decibels, and there's also a silent alarm function.
This model is a double timer, allowing you to monitor two things at once with the same device. The timer runs up to 23 hours and 59 minutes, covering you for a full day. There's a kickstand to place the timer on your countertop or table, and there's also a magnetic backing if you prefer to stick it on the fridge. It's incredibly simple to operate, there's a memory function, and it goes into clock and calendar mode when you're not using the timer function.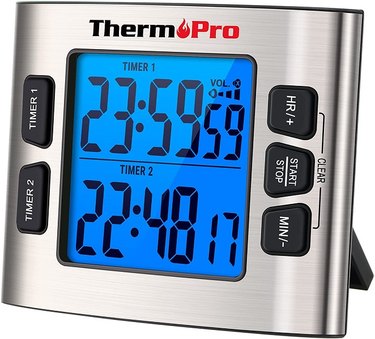 The Best Mechanical Kitchen Timer
If you're looking to escape the bombardment of digital devices as you work with your hands in the kitchen, pick up this cute retro-inspired mechanical clockwork-style timer. It's an affordable buy, and it doesn't require batteries or getting plugged in, so it's even an environmentally-friendly alternative. Just be aware that it only runs for up to one hour, so be prepared to reset it if you need to keep track of something for longer than that.
This is a durable item, made from corrosion-resistant and oxidation-resistant metal, which is useful if you keep it somewhere humid, like around the stove where there's lots of steam. And there's a strong glass case over the timer, too. It contains a magnet, so you can keep it on your refrigerator or a stainless steel countertop appliance. Choose from three fun colors, and there's a matching time indicator dial over the display that's a lot easier to read than the traditional little indicator line.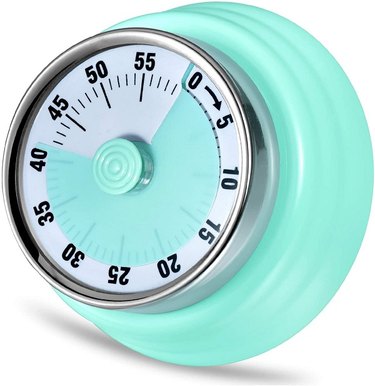 The Best Retro Kitchen Timer
Kikkerland Vintage Streamline Kitchen Timer
While the previous entry is a great retro-style kitchen timer, this one has an even more distinctly mid-century modern look and design. If you have a mid-mod vibe in your home or kitchen, or you just want to add a touch of retro character to the room, this fun mechanical timer is the perfect pick. It's available in light blue or red, and it's accented with a chrome ring that you turn to set the timer.
This model only runs up to 55 minutes—retro timers like this only run up to an hour at most if they're an authentic style—so just keep in mind that you might have to wind it up more than once on some occasions. There's no electricity required, and the display is amply sized and easy to read for this style. And, just like it mimics the look of a mid-century modern kitchen gadget, it's also built to last like things were back then; it's a sturdy, durable, heavy-duty piece made of steel, and the moving parts are solidly constructed.