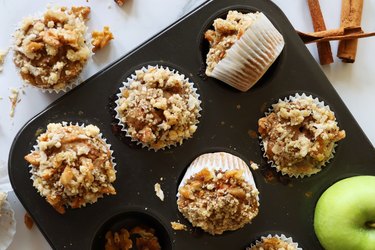 One of the most versatile pieces of bakeware is the muffin pan (or "muffin tin," depending on where you grew up), and no kitchen is complete without at least one or two. Aside from their use in baking muffins or cupcakes, they're useful for a range of baked goods and savory preparations, from mini cheesecakes to individual quiches or even single-portion servings of lasagna or mac & cheese. You can even use them to organize craft supplies for the kids on rainy days!
One muffin tin looks pretty much like another, so we've prepared a list of six of the best muffin pans— plus one bonus recommendation—to help you pick out the one that's right for you.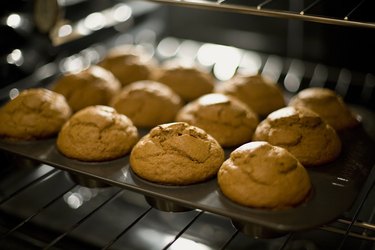 What to Consider When Purchasing a Muffin Pan
​Material:​ Professional bakers favor pans made of natural aluminum, which conducts heat beautifully (that's why our top-pick cake pans and sheet pans are made of that material). It's a mixed blessing with muffin pans, though, because while it's better for cupcakes, you'll get less browning and less of that desirably delicate crispness at the edges of your muffins. A non-stick muffin pan will give you both, which—conversely—is better for muffins but less desirable for cupcakes. Non-stick pans can be made of steel, aluminized steel or anodized aluminum. Silicone muffin pans are beautifully non-stick, but need to be placed on a sheet pan for baking because they're floppy, and can also be awkward to store. There's no right or wrong answer; it's all about how you plan to use the pan.
​Size and Spacing:​ It's helpful for a pan to have extra-wide edges, which make it easier to hold the pan with an oven mitt while not putting a thumb into the batter or crushing a muffin (we've all done it, right?). Extra spacing between the muffin cups also means they'll bake more evenly, giving nicely domed tops and avoiding uneven browning. The downside is that pans with those features take up more space in your cupboard and your oven.
​Special Features:​ These aren't make-or-break aspects of the pan design, but they might serve as a tiebreaker if you're undecided between otherwise-equal pans. These include things like textured surfaces to aid non-stick performance (Pro tip: It doesn't always work, and they can be a pain to clean), extra-wide or silicone-padded grips, dishwasher-safe surfaces, or even a snap-on domed lid for taking your muffins or cupcakes to a potluck.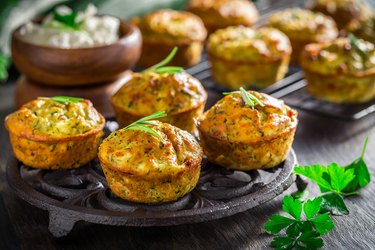 The Best Overall Muffin Pan
OXO Good Grips Non-Stick Pro 12-Cup Muffin Pan
This is neither the traditionally light-colored aluminum pan nor the traditionally dark-colored non-stick muffin pan, but comes in an intermediate bronze tone that's equally suited for muffins or cupcakes. OXO has a reputation for getting the details right, and this pan lives up to that reputation. It has a wide lip at either side and an extra-wide grip at each end, so it's easy to get your pan in and out of the oven, or to rotate it for even baking if your oven has hot spots. The ceramic-reinforced nonstick coating is durable, and your baked muffins will un-mold consistently, even without liners. The pan itself is constructed of heavy-duty aluminized steel with a square-rolled edge for extra rigidity. Some muffin pans will warp in the heat of the oven, but not this one! All in all, it's everything you could ask in a muffin pan. It's even dishwasher-safe.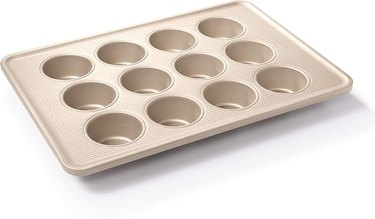 The Best Value Muffin Pan
Wilton Recipe Right Non-Stick Standard Muffin Pan, 12-Cup (Pack of 2)
Our top-pick OXO is an excellent pan, but not everyone's looking for something that deluxe. If you're looking for a serviceable pan at the "value" end of the spectrum, then Wilton definitely has you covered. The company makes several lines of muffin pans, but for its combination of price and performance, it's hard to top the Recipe Right pan. It's made of durable steel with a very slick and effective nonstick coating for easy release. It's also notable for the unusually wide spacing between the muffin cups, which helps your muffins and cupcakes bake evenly and puff up to their maximum height. Like the OXO pan, it's technically dishwasher safe, though hand-washing is better and cleanup is easy even with the messiest muffin recipes.
One modest downside to the pan's overall excellence is that the rim of the pan doesn't provide a lot of room for your thumbs. You'll need to remind yourself to put your thumbs where the holes are, or just switch to using the Ove Glove for better dexterity. It's a minor quibble, considering you get two pans for half the price of our top pick from OXO.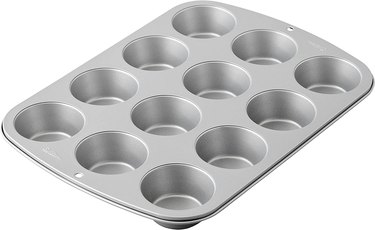 The Best Silicone Muffin Pan
OXO Good Grips Silicone Baking Cups, Pack of 12
Silpat is the no-brainer choice in silicone bakeware for commercial bakers, because they're simply outstanding when it comes to durability, easy release and sheer overall performance. The French manufacturer's Perfect Muffin Mold lives up to that reputation, but unfortunately it comes at a price point that only a commercial baker (or serious enthusiast) could love. For the rest of us, OXO's silicone baking cups are a more compelling option.
These colorful cups work as reusable muffin liners for conventional pans, or you can place them on a baking sheet and use them as standalone muffin cups in their own right (a big sheet, and two or three sets of these cups, is a great way to handle big batches). Their food-grade silicone is nonstick, and is freezer-safe and dishwasher-safe as well as oven-safe. You can even turn the cups inside out to clean in the corners, if you need to (but you won't need to very often). OXO's attention to detail shows in thoughtful touches like the thumb tabs, which give you a grip when you're handling your cupcakes or muffins, and also serve as a convenient pull-tab when you're un-molding your muffins. There are also fill lines inside to help you get your muffins consistently the same size. The mixed colors of these sets even let you color-code your muffins, if you like to make a big batch and then give them different fillings or add-ins.
USA Pan Bakeware Mini Cupcake and Muffin Pan, 24-Well
If you favor mini cupcakes over their full-sized cousins (or if you're addicted to two-bite brownies, for that matter), a mini-muffin pan makes a great addition to your kitchen arsenal. This one from American Pan is one of the very best. It's made from heavy-duty aluminized steel, with the company's patented Americoat silicone nonstick surface (PTFE, PFOA and BPA free). Most muffins, cupcakes or brownies will pop out with minimal fuss, and even with the stickiest recipes, you'll seldom have to work very had at cleaning out the corners. There's also a generous lip at each end to make the pan easy to handle. It's not an inexpensive pan, but it's durable enough to last for years with a bare minimum of care. It's hand-wash only, but that shouldn't be much of a deterrent because the nonstick coating is very effective, and it cleans up easily with soap and water.
The Best Jumbo Muffin Pan
Wilton Recipe Right Non-Stick 6 Cup Jumbo Muffin Pan (Pack of 2)
For those who go in the opposite direction and favor cafe-sized jumbo muffins, it's hard to beat this offering from Wilton. Like our value pick, its standard 12-cup sibling, it's made of durable steel with a rolled edge for extra rigidity, with a reliably effective nonstick surface. These Recipe Right pans are a lighter color than most nonstick muffin pans, which mean they won't brown your muffins as quickly.
That's important in the case of jumbo muffins, which have longer bake times than standard muffins. In a dark pan, you'd run the risk of them over-browning before the middles were fully baked. One nice difference between the jumbo pan and the standard Recipe Right muffin pan is that the ends of the pan have a bigger space for your hand to grip (because with only six cups, there's a space in that spot instead of another muffin). Again, like our value pick, you get two pans for this low price.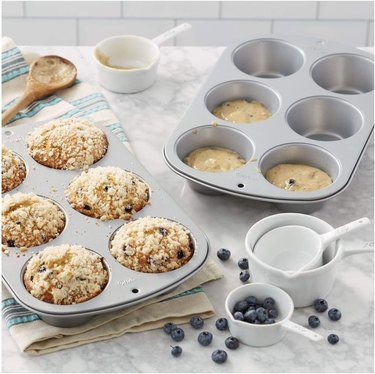 The Best Pan for Muffin Tops
Wilton Perfect Results Muffin Top Baking Pan
Part of the charm of muffins is the contrast between the crisp edges of the muffin top and the tender bottom portion, but a lot of us really, ​really​ like those muffin tops. If you're a big muffin-top fan, you might want to consider complementing your regular muffin pans with a specialized muffin top baking pan like this one from Wilton. It's made of durable steel with a rolled edge for extra rigidity (important with a relatively flat pan like this one), and with Wilton's always-reliable nonstick coating. If you're reluctant to splurge on a single-use pan, don't worry: In addition to golden brown muffin tops, you can use this versatile pan's 12 cups for mini-cake layers, moon pies, cornbread, baked eggs or pancakes, or even perfectly round drop cookies. So go ahead, treat yourself!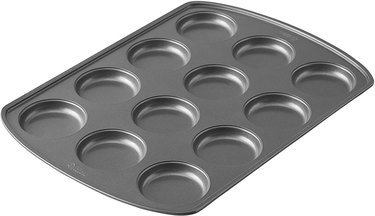 Bonus Recommendation: Best Electric Muffin Baker
Brentwood Mini Cupcake Maker
Sometimes the best muffin pan isn't a muffin pan at all, but an electric countertop muffin baker. They're very similar to other compact appliances like cake pop bakers and donut bakers, but in this case, the cups in the baker are shaped and sized for compact cupcakes or muffins. There are several brands available, but this one from Brentwood is arguably the best of the bunch. The cups on many competing models have a matching top cavity in the lid, which gives the finished muffins an oddly unnatural look. The Brentwood's lid is a simple dome, so your muffins and cupcakes can rise normally.
It makes muffins that are bigger than a mini-muffin but smaller than a standard one, so they're the perfect size for kids. In fact, they're a great way to get kids started on baking without having to reach into the hot oven. Best of all, it's fast: You'll have finished muffins or cupcakes in 6 to 7 minutes. The muffin maker can't be immersed in water, but its nonstick surface will clean up easily with a damp cloth.