Things You'll Need
Two muffin pans

Glycerin soap base

2 Tablespoons of Shea butter

Essential oil of your choice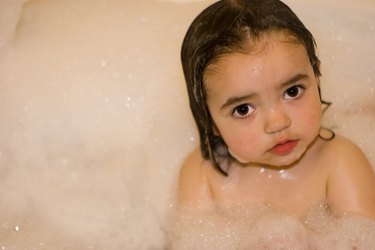 Muffin tins can be used as soap molds, in a pinch, and offer an economical alternative to purchasing expensive plastic soap molds. Muffin tins can be used to make decorative soaps or just regular hand soap, thanks to their size and shape. You can use these tins for any kind of soap making, but for this example, a glycerin soap base will be used, since it is the easiest to make.
Step 1
Prepare a double boiler on the stove. Place one pan full of water on low heat. Place another pan on top of this one. The top pan will be used to melt the glycerin base over a low, moist heat, to prevent burning.
Step 2
Melt the glycerin soap base. Place your brick of glycerin base in the top pan, and allow it to melt. Stir occasionally with a wooden spoon.
Step 3
Add in your Shea butter. Shea butter will act as a hand moisturizer, and will give the glycerin soap a pleasant smell.
Step 4
Mix in your essential oil (optional). If you plan on having scented soap, select an essential oil that you like, and add approximately two to three drops to your glycerin base. If you like strongly-scented soaps, you can add more, but six drops is typically the upper limit.
Step 5
Wipe the muffin tins with rubbing alcohol. This step will keep the soap---once formed---from sticking to the tin.
Step 6
Pour your glycerin into the muffin tins. Take care not to overfill your tins during this step, and allow a small amount of room on top, about 1/4-inch for expansion.
Step 7
Allow the soap to cool. It will take several hours for the glycerin mixture to cool. If you are pressed for time, after one hour, you can place the muffin tin in the freezer to speed the cooling process.
Step 8
Remove your soap from the muffin tins. Place a towel on the counter, and up-end the tin over the towel, gently shaking the tin to loosen the soap. Your soap bars should slide out easily.
Tip
Add drops of soap dye to your glycerin mix to make colored soap.
Warning
Never melt a soap mix over direct heat, it can burn easily.