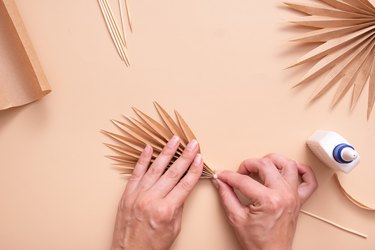 Glue is one of the most essential supplies in a crafter's arsenal. Used for a variety of craft projects, including scrapbooking, card-making, woodworking, jewelry making, and even keeping seems intact on no-sew projects, the type of glue you buy matters—which is why we set out to uncover the best glues for crafters.
Whether you need hot glue for quick-drying adhesion or a more multi-purpose glue for all kinds of DIY crafting or a strong bond option that will keep jewelry pieces together, we put together an in-depth list of the best glue based on type, craft project, durability and more. See our top craft adhesive picks, ahead.
What to Consider When Purchasing Craft Glue
‌Glue Type:‌ There are lots of different types of glues out there, including classic paste, glue sticks, hot glue, tacky glue, spray adhesive, quick-dry glue and super glue. Each glue type works with a variety of surfaces that may or may not also be compatible with your craft. Keeping glue type in mind when shopping will help you make an informed decision on the best glue for your art project.
‌Craft Project:‌ While you can buy more versatile glues that work with a range of crafts, having a project in mind can help guide you as you shop for glue types. Doing so will tell you if a craft project requires permanent glue, whether or not hot glue is an option, and all sorts of other details when shopping for glues.
‌Adhesive Power:‌ The adhesive power of a type of glue will tell you how compatible it is with your craft project, as some glues are stickier and more permanent than others. In addition to your craft project, keep this in mind when shopping for glue.
‌Drying Time:‌ When shopping for glue, consider the drying time, too. This will help give you a feasible idea of how long a project might take to complete or how soon you can move on to the next steps. Drying time is also important to think about in terms of where a project will dry as you don't want it to get in the way of your living space or need to stay outside overnight and potentially get ruined.
‌Application:‌ How the glue applies to a medium is also important to consider, especially when working with hot glue or formulas that might require additional supplies such as gloves. If you work with hot glue, you'll need a hot glue gun and electricity to melt and disperse the glue. This means that working on an art project outside could get tricky, especially if an outlet isn't as easily accessible.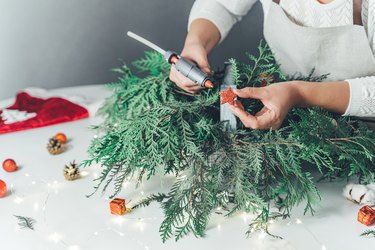 The Best Overall Glue for Crafters
Behold: One of the best glues around—and one that every crafter needs in their arsenal. E6000 glue works on numerous surfaces, including glass, polymer clay, ceramics, wood, plastic and metal, and can be used to attach craft supplies (it's especially good at sticking rhinestones to objects) to surfaces. Whether you make polymer clay jewelry and are looking for a way to attach an earring backing to your finished piece or need to bedazzle a sweatshirt with teeny tiny gemstones, you can achieve almost anything with E6000 glue.
The Most Versatile Glue for Crafters
Tacky glue is the most versatile glue around. Similar to E6000, it works on tons of different surfaces such as wood, paper, leather and plastic—only it has a consistency that is more similar to paste. Aleene's Always Ready Tacky Glue is the best tacky glue because it is easy to use, dries clear and has a super-strong hold. Additionally, it's quick-drying, doesn't stink, and is stored upside down so you don't have to spend time squeezing and struggling to get the glue to flow from the applicator.
The Best Glue for Scrapbooking
Technically, you could use an old-fashioned glue stick for scrapbooking, however, we find that the Scotch scrapbookers' glue is far superior and gives you a lot more control with the two-way applicator. The clear glue has both a fine and a sponge tip that you can use to apply the glue to photos, paper cuttings and more while you work to keepsake family memories. It's also quick-drying, durable and won't wreck photo prints.
The Best Glue for Jewelry-Making
From metal to stones to glass beads, this jewelry glue does it all. Aleene's 21709 Jewelry & Metal Instant Adhesive is a transparent, strong-hold craft glue designed to create a permanent bond. Whether you're into jewelry making or need to quickly repair a piece in your costume collection, the instant adhesive is always excellent to have on hand and is a good, more focused alternative to E6000.
The Best Glue for Wood Working
You can't woodwork without some durable glue in your shop—and we wouldn't get far without Gorilla glue! The Gorilla Ultimate Waterproof Wood Glue is the best glue for wood because it has a super strong hold, compatible with indoor and outdoor projects, and is waterproof. Plus, it's easy to clean up when you make mistakes (just simply wipe it away with a damp cloth while it's still wet). As far as wood glue is concerned, it's fairly fast-drying. It only takes around 20-30 minutes of clamp time and is fully cured after 24 hours.
No matter if you're working on a no-sew project or need a glue that can keep appliques and embellishments intact, Aleene's 23473 Fabric Fusion Permanent Fabric Adhesive is the best fabric glue. This glue creates a permanent bond to the fabric that is machine-washable and keeps its flexibility over time. It's also compatible with all sorts of fabric types and is easy to clean up (when still wet)—just wipe clean with soap and water.
The Best Glue for Kids' Crafts
Kids' crafts can get messy, which couldn't be more true once glue is involved. However, with the Elmers Washable School Glue Purple Glue Sticks, glue is no problem. These easy-to-use glue sticks glide onto paper easily, allowing kids to tap into their inner artist with collages or complete school projects without the hassle of liquid glue. It's also washable, so if they happen to glue outside of the lines, you don't have to worry about the clean-up.
Glue dots are a fantastic solution for a variety of projects, including scrapbooking, card making and other paper crafts. For the best glue dots, look no further than Glue Dots Double-Sided Craft Dots. These sticky little globs have a super strong adhesive (the kind that also works on metal!) and are easy to use for all ages. One box includes 50 sheets made up of 600 glue dots, too, so you have more than enough to work with for multiple projects.
This wouldn't be a glue story without mentioning the best hot glue. While you can find hot glue in a variety of types, a classic—and one that comes with an actual hot glue gun—never disappoints. For basic hot glue projects, the AdTech High Temp Mini Size Hot Glue Gun Kit from JOANN is a budget-friendly and durable solution. The kit comes with a mini hot glue gun and several mini sticks to help you get started. Plus, if you need to refill, you can fit most mini hot glue sticks into this glue gun, which is appreciated.
From paper mache to decoupage, Mod Podge gets us through so many paper projects. Although there are tons of Mod Podge types to choose from—including puzzle glue—we couldn't live without the classic Gloss Waterbase Sealer Glue, which acts as a sticky paste and a nice glossy finish (plus, it's acid-free). The white glue dries transparent and comes in several sizes, including 4, 8, 16, 32, 64 and 128 ounces, and you have the choice to purchase it on its own or add an applicator to make it a bundle. On top of that, it has 4.8 stars from over 57,000 customers, making it one of the best glues on Amazon.