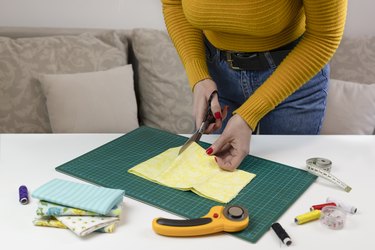 Oh, the hum of a sewing machine, the soft whisper of crisp fabric, and the flawless exhale of a precise cut are all music to a quilter's ears. There's so much satisfaction in creating beautiful quilts, garments or home decor with your own hands. Sewing can be one of those hobbies that not only brings more beauty into your life but reduces stress by giving you a creative outlet. It's no wonder so many people are picking up a needle and thread again and sewing in their spare time. But, in order to get as much enjoyment as possible from quilting and sewing, you need the right tools. Since sewing requires exact measurements and precise cuts, a good cutting mat can become one of your best friends. With oodles of cutting mat options on the market, it can be hard to find just the right mat for you. We're here to help you find the perfect cutting mat that fits all your sewing needs so you and your new mat will be able to make beautiful music together.
What to Consider When Purchasing a Cutting Mat
​Size:​ The size of your cutting mat is the first thing you should consider when shopping for something that will fit your needs. Think about which kinds of projects you do the most. If you tend to cut yards and yards of fabric with long rulers to create large quilts, then a large cutting mat that is at least 24 inches wide by 36 inches long could be perfect for you. Keep in mind that a mat this large will also require a large work table.
Large mats are not very portable and are harder to store, but if you have plenty of workspace and can leave your mat out at all times, then by all means, purchase a large cutting mat. On the other hand, if you like to create smaller projects and use a shorter ruler, a smaller mat might be a good fit for you. Smaller mats come in sizes anywhere from 12 inches wide by 18 inches long to 24 inches wide by 36 inches long. A smaller mat is best if you travel to seminars, take classes, or if you like to work in sewing groups at other people's houses.
​Grid Measurements and Markings:​ One very important thing to consider when buying a cutting mat is the type of measurement you use when sewing or quilting. Do you work with patterns and designs that use inches or do you work in a metric system of measurement and use centimeters? Some mats have inches displayed on one side and centimeters on the other side of the mat, so if you tend to work with both forms of grid measurements, this type of mat would work for you. A mat that has the grid measurements fully displayed on all four sides of the mat is also a critical feature for a cutting mat. Some mats include diagonal markings which help when cutting triangular shapes for quilts. A mat with common block measurements is also a bonus for quilters.
​Self-Healing Mats:​ A self-healing mat is made of multiple layers which will protect your rotary cutter and your work surface at the same time. They are made up of materials that will easily and quickly close when cut with a sharp blade. They are usually softer than a regular cutting mat and will hold fabric in place while cutting and will help to create a nice straight cut. A self-healing cutting mat is a little more expensive than a plain plastic mat but the benefits are well worth the investment.
​Color:​ There are many color options available in cutting mats. They come in color combinations such as green and gray, green and black, green and yellow, pink and blue, purple and yellow, or dark gray and light gray. When choosing a color, first make sure you can easily read the grid markings. Then, think about what color fabrics you'll be working with most frequently and choose a cutting mat color that will contrast with your fabric so that everything doesn't blend together. Last, but not least, if aesthetics are important to you, choose a color that goes with your hobby room's decor.
Let's look at some of the best cutting mats to help you decide which mat is right for you.
The Best Overall Cutting Mat
Fiskar's Self-Healing Cutting Mat
The Fiskar's Self-Healing Cutting Mat is a durable mat to help you make precise cuts and save your work surface from getting damaged. The gray mat is double-sided with markings on all four edges. The measuring grid is marked in metrics and inches on both sides. As well as a measuring grid, there are angular measurements at 30, 45 and 60 degrees for accurate cutting. The dimensions of the measurement grid are 24 inches wide by 36 inches long, but the actual mat is 25 inches wide by 37 inches long. This mat is also available in a 12-inch-by-18-inch size as well as an 18-inch-by-24-inch model. It can be stored flat and if something gets spilled on the mat, it can be easily cleaned with mild soap and warm water. This mat comes with a lifetime warranty, which is definitely icing on the cake.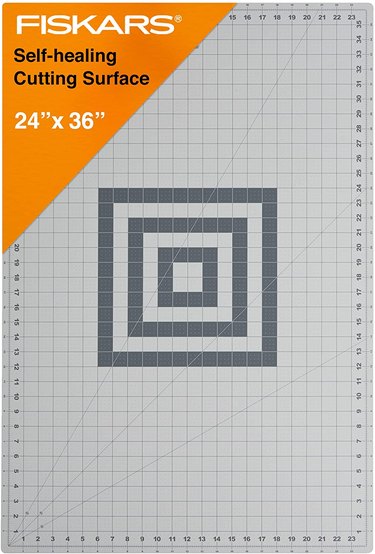 The Best Portable Cutting Mat
June Tailor Quilter's Cut 'n Press II
If you are an on-the-go quilter and you need a small, convenient cutting mat that doubles over on the other side as a pressing mat, then the June Tailor Quilter's Cut 'n Press II is a good choice for you. Although it isn't a self-healing mat, its size and versatility make it great for traveling, working in a small space or as an extra mat. You can even keep it in your lap to snip, trim and press without having to keep getting up and down. This mat comes in a 12-inch-by-18-inch size. One side is for pressing and the other side is for cutting. The measuring grid is marked in inches and there are 45- and 60-degree angular marking lines as well as a bias line mark.
The Best Large Self-Healing Cutting Mat
Dahle's Vantage 10672 Self-Healing Cutting Mat
This double-sided self-healing mat has a 5-layer PVC construction to prevent your cutting blades from becoming damaged or dull. The mat is 3 millimeters thick, which goes a long way to protect your work surface. This mat comes in an 18-inch-by-24-inch model but is also available in a 9-inch-by-12 inch model, a 12-inch-by-18 inch model or a 36-inch-by-48-inch model. The largest size will allow you to cut a standard yard of quilter weight cotton (which is 36 inches by 42 inches) when it's fully laid out. You can get the Dahle's Vantage cutting mat in black, blue or clear. This mat comes with 1/2-inch grid measurements as well as metric and angular measurements.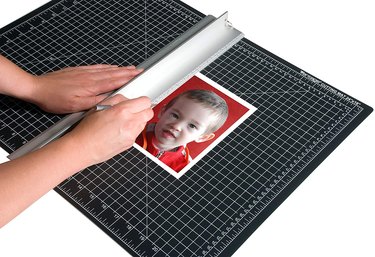 The Best Rotating Self-Healing Cutting Mat
Fiskars Self-Healing Rotating Mat
The Fiskars Rotating Self-Healing Cutting Mat is not only convenient but it's also small enough to be portable. The 14-inch-by-14-inch size allows you to easily cut out fabric squares up to 12.5 inches. Since the mat rotates, you move the mat instead of the fabric while cutting, which creates more accurate cuts. This is a single-sided mat with a measuring grid on all four edges. It also has 30-, 45- and 60-degree angular lines to help you cut out stars and triangular shapes. You can also purchase this mat in a smaller 8-inch-by-8-inch version, which would be just right for packing up and taking to your favorite quilting events.
The Best Self-Healing Folding Mat
The OLFA Folding Mat is durable, convenient to carry and easy to use. This mat folds using a curving seam, which allows the mat to fold in half then snap back snugly into place without the seam showing. Your rotary cutter will not get snagged by the fold because it has such a tight fit. It's perfect for folding in half and taking with you to your quilting classes or sewing retreats. The OLFA Folding Mat is 2.5 millimeters thick and constructed with heat-welded technology that creates three layers of protection for your worktops. The green 17-inch-by-24-inch mat with yellow grid markings is easy to read and provides a durable cutting surface. It comes with a marking grid in inches and metrics. To help you cut multiple layers of fabric into bias strips, triangles and squares, this cutting mat includes 30,- 45- and 60-degree angular lines.