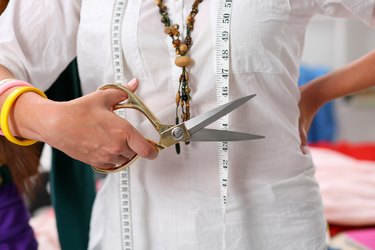 Scissor love—yes, it's a thing. Especially for those who sew for fun or as a profession. A great pair of extremely sharp scissors that feel well-balanced in your hand is definitely a must-have item for your sewing basket. Scissors used for fabric need to stay as sharp as can be to allow you to get precise and accurate cuts. Seasoned sewers know that getting an exact fabric cut can make or break a sewing project. Using sewing scissors on other materials like paper, cardboard or (yikes, even worse) metal can dull them in a hurry and make cutting fabric a painful, discouraging chore.
It's no wonder sewers everywhere go to extreme measures to protect their fabric scissors from misuse. Sewing enthusiasts have been known to hide them away in safes or even lock their favorite pair with a padlock to keep others from using them. You'll see, once you find the perfect pair, you'll want to keep your scissors as safe as possible so you two can go on many sewing adventures together. We're here to be a scissors matchmaker of sorts to help you find the perfect pair of sewing scissors so you and your new cutting tool can make beautiful music together.
What to Consider When Purchasing Cutting Tools for Sewing
​Type:​ Having the right tool for the job can definitely make your life easier and more productive. This is also true in the sewing world. Before you invest in the cutting tools meant just for your sewing kit, it's important to know the purpose of each type of scissor.
Straight shears are used for cutting fabrics for patterns and cutting through ribbon, bias trim and binding.
Dressmaker's shears have straight, long blades that can cut through most fabrics.
Tailor's scissors are made to cut through heavier cloth like denim and leather or cut through many layers at the same time.
Pinking shears have a sawtooth edge that creates a zigzag cut to prevent the raw edge from fraying.
Spring action sewing scissors gently open the blade after each cut, which reduces hand fatigue. They are wonderful for people with hand injuries or arthritis, or to use when creating a project like a rag quilt that requires continuous cutting.
Serrated edge scissors have fine teeth that grip and keep delicate fabric from slipping so it will cut with accuracy.
Rotary cutters have a round cutting edge that slides through cloth, foam and leather. A rotary cutter creates less stress on your hands and is a tool used by people who need to cut large amounts of fabric.
Thread clippers are small, sharp and lightweight. They are usually kept right next to your sewing machine to trim threads, make precise cuts and get into tight spaces.
Seam rippers have small blades at the end of a handle and are used to tear out stitches that need to be redone.
Embroidery scissors have small blades and are meant for detail work.
​Blade:​ There are basically two choices when choosing a blade for your sewing scissors.
Carbon steel blades can be sharpened to an extremely sharp and long-lasting edge but they tend to be very heavy, expensive and are prone to rust.
High-quality stainless steel blades now have a higher carbon content than in the past which makes getting an exceptionally sharp edge possible. Stainless steel is rust-resistant, lightweight and more comfortable.
​Handle:​ A good pair of sewing scissors should have an ergonomic grip to reduce stress on your hands. The handle should be comfortable and lightweight, preferably with a rubber grip. It would be ideal to be able to try out the scissors before you buy them to determine if they feel right in your hand.
​Left-Handed or Right-Handed:​ Choose a pair of scissors that fits your strongest hand. Scissors made for right-handed people will have the top blade on the right so you can see the cutting line while you cut. Scissors made for left-handed people have the left blade on top so the cutting line will be visible while cutting.
​Budget:​ As with most hobbies and crafts, proper sewing tools will be an investment. You'll be the most productive and happiest if you buy the best cutting tools that you can afford. A good pair of scissors will stay sharp longer and cutting will be more fun and not become a painful chore. You won't be spending time and money to get them sharpened as often, which will most likely save money in the long run.
​Size:​ It's important to get a pair of sewing scissors that aren't too big or too small. If your scissors are too big, your hands will get tired more easily and sewing will become painful instead of fun. If your scissors are too small, you won't have as much control over them and get accurate cuts. A pair of 8- or 9-inch scissors will work for most people, as they have good weight and balance. You'll use less force when cutting and you'll be able to cut through a wide variety of fabric thicknesses.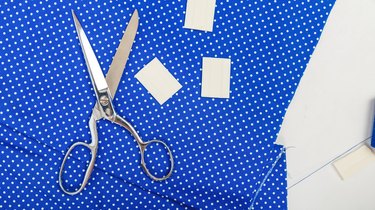 The Most Versatile Fabric Scissors
Mr. Pen Heavy Duty Sewing Scissors
Those of us who enjoy many different types of sewing will benefit from Mr. Pen Sewing Scissors that are made for tailoring, quilting, dressmaking and cutting large swathes of most fabrics. They have a 9.5 inch, high-density, stainless steel blade for a sharp and rust-resistant cutting edge. The ergonomic soft rubber grip will give you comfortable cutting and maximum control.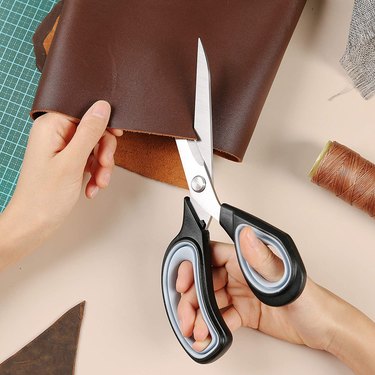 The Best Dressmaker's Shears
Kai 7230 9-Inch Professional Shears
A little more expensive than regular scissors, the Kai 7230 Professional Shears are well-balanced and worth the price. The blades are sharp all the way to the tip and are made of high carbon stainless steel for smooth, lightweight and tireless cutting. The Kai scissors will make precise cuts through thin fabrics such as silk, rayon and polyester, all the way up to thicker fabrics like cotton, denim and leather. They can even cut through several layers of fabrics at once.

The Best Tailor's Scissors
The Livingo Tailor's Scissors are made with a forged press manufacturing process to create high-density stainless steel blades that are durable, strong and rust-resistant. These scissors can cut through many layers of fabric while sewing, quilting, tailoring or dressmaking. The ergonomic rubber handle makes these scissors easy-to-use and comfortable. They come in four different color combinations: black and red, navy blue and yellow, orange and black, and all black.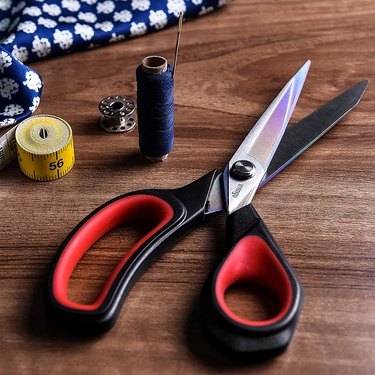 The bent handle on the Gingher's pinking shears holds the fabric flat to help make smooth, accurate cuts. The sharp sawtooth blade creates a zigzag edge that keeps your projects looking crisp and prevents the fabric from fraying. After a time, you can even send them back to Gingher's to have them restored to their original sharpness.
The Best Spring Action Sewing Scissors
Fiskars Titanium Easy Action Scissors
The Fiskars Easy Action Scissors were awarded the Arthritis Foundation Ease-of-Use Commendation for their unique construction. The spring action design gently opens after each cut to reduce hand strain. This makes them an excellent choice for sewers and crafters with arthritis, hand injuries or limited hand strength. These scissors are also designed for people who need to cut large amounts of fabric over long periods of time or those who need to cut through multiple layers of fabric. The Fiskars Easy Action Scissors also have the Fiskars' Softgrip angled handle to help make cutting more comfortable and keep the blade flat on your cutting surface to help create a more precise cut.
The Best Serrated Scissors
Karen Kay Buckley Perfect Scissors
If your sewing adventures include working with delicate fabrics like silk, you'll need a good pair of serrated scissors. The fine serrations will catch and grip the fabric, holding it in place while you cut. The Karen Kay Buckley blades will cut without damaging the fragile fabric and will make a precise cut. These scissors are also able to cut through up to six layers of cotton fabric. Because they only measure 6 inches long and have a small tip, they are just right for trimming and detail work. They also come with a plastic cover to help keep the blades sharp while in storage or traveling.
Olfa Deluxe Rotary Cutter
Olfa's Rotary Cutter is a great addition to any sewer or quilter's tool basket. The sharp tungsten steel blades are able to go through six layers of fabric at once. The Olfa cutter is also one of the only cutters that will work with specialty blades like a scallop, pinking or wave blade. The handle is made from rubber and is comfortably designed to prevent hand fatigue. It also includes a retractable blade and dual-action safety lock to help prevent injury when the cutter is not in use.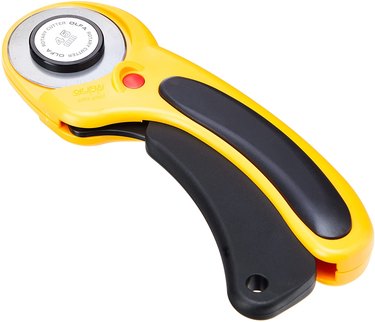 Singer ProSeries Thread Snips
Regular sewing scissors are fine for most sewing projects but can become cumbersome to use if you're just cutting threads. A good pair of small thread snips kept next to your sewing machine can make sewing projects go much faster and are much easier on your hands than using a large pair of scissors to snip threads. If you need to get into a tight space to clip threads, the Singer ProSeries Thread Snips will do the job safely and efficiently. This thread snip is designed much like a pair of scissors, complete with a finger hole to make it easy to maneuver. It has the compact size and lightweight features of a thread clipper and the comfort of regular sewing scissors. Since these clippers are only 5 inches long, they are easy to grab and make quick snips while sewing. The blades are extraordinarily sharp with a fine tip for clean cuts every time. The Singer thread snips also come with a safety cap to keep them safe and sharp when not in use.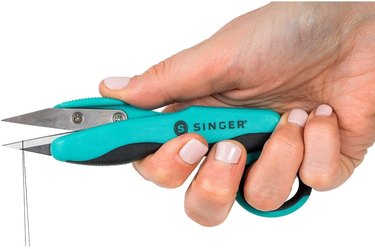 Singer Comfort Grip Seam Ripper
Yes, it even happens to the most experienced sewers. A seam comes out crooked or the wrong pieces are sewn together. As frustrating as it is to make a mistake, it shouldn't be more discouraging to rip out the seam and make it right. Having a sharp seam ripper handy will help make corrections happen quickly and easily.
The Singer Comfort Grip Seam Ripper has everything you need to fix your mistakes. The sharp blade allows you to exert minimum pressure while cutting threads, which reduces the chance of slipping and slicing your fabric by mistake. The ball on the shorter tip fits in between and separates the layers of fabric while mending sewing mistakes. Hopefully, you won't need to use the seam ripper very often but if the seam is quite long, the comfortable handle is designed to minimize hand discomfort while ripping out the seam. The Singer Comfort Grip comes in a 2-pack, including a large and small seam ripper.