Things You'll Need
Matching thread

Needle

Scissors

Iron

Ironing board

Pins

Fabric marker

Ruler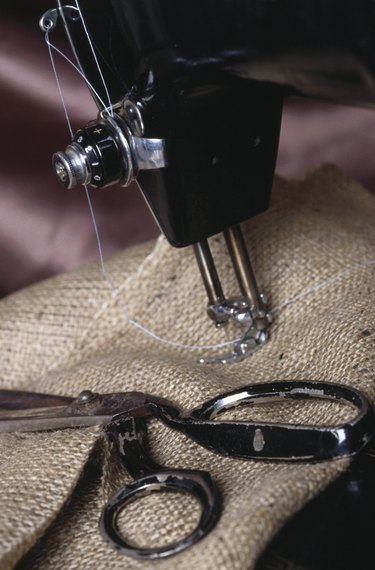 Whether you want to crop a sweater or simply like a shorter cardigan, sewing and stitching creates perfectly fitted clothing tailored to your body. Some sweaters are easier to alter than others, particularly if the fabric is thick and withstands unraveling. If this is your first time hemming a sweater, then work with an older, unworn sweater first to gauge your expertise and skills.
Step 1
Cut the original hem on the bottom of the sweater with a pair of scissors. Pull out the thread by hand.
Step 2
Put on the sweater. While wearing the sweater, use a ruler to measure in inches how much length you want to remove from the bottom of the sweater. Ask a friend to help you pin the bottom up as many inches as necessary.
Step 3
Take the sweater off and flip inside out. Mark a dotted line along where you want to hem the garment. Take the pins out of the sweater and place it on an ironing board.
Step 4
Fold the edges up to the marked hemline. Iron along the folded edges to make a crease.
Step 5
Measure the hem allowance from the bottom of the sweater to the crease. The measurement depends on how thick you want the bottom edge to be. If you want to trim some of the bottom off with scissors, cut 1 to 2 inches evenly off the bottom.
Step 6
Stitch along the bottom of the hem about 1/4-inch from the edge if the fabric is ra. Use a sewing machine to straight stitch the bottom and prevent the ends from unraveling.
Step 7
Fold the bottom edge up at the crease. Sew along the hem's edge and into the sweater with a catchstich, working from left to right. Use a matching thread color to that of your sweater. Catch one to two threads with the needle along the hem's edge. Weave in and out through garment and hem's edge, sewing the two together and keeping the weave evenly spaced. At the side seam of the sweater, tie small knots to close your hem.