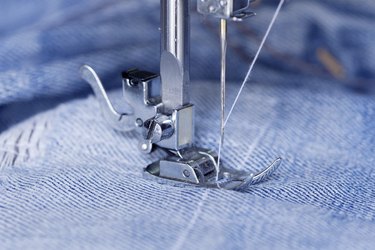 The presser foot is an important part of your sewing machine. While its basic function is to hold the fabric in place as it is being stitched, not every foot is the same. Different feet are needed for different sewing tasks, and not every machine fits every type of foot. In order to determine which foot is right for your machine, you first need to identify which type of shank your machine has. The shank is the metal rod that the foot attaches to; if it is not identified properly, the two pieces will not fit together.
Screw In or Snap On
There are two ways to attach the foot to the machine. Most newer machines use feet that snap on to the shank, and if this is the case with your machine, you do not need to worry about the shank size. However, if you own an older machine, you will need to measure the distance between the bottom of the presser foot and the screw.
Low Shank
The measurement for a low shank machine is 3/4 inch. Most sewing machines are low shank, especially those created for home use. Since they are created with consumers and hobbyists in mind, low shank machines have the greatest variety of available presser feet.
High Shank
The measurement for a high shank machine is between 1 and 1 1/4 inches. High shanks appear mostly on industrial machines, though they also appear on a few home models such as Kenmore, Necchi and other quilter machines.
Slanted Shank
This is a third, less common type of shank that only appears on Singer model sewing machines from the 1960s and 1970s. The shank is 1 1/8 inches and slightly slanted.