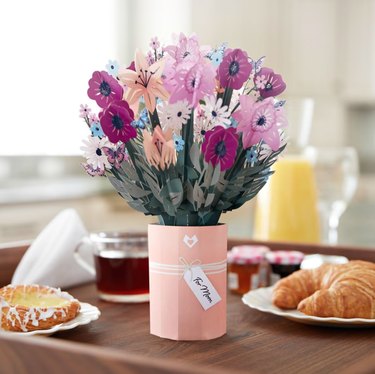 Mother's Day is just around the corner, and if you're struggling to come up with the perfect gift idea, we've got you. Whether the mother figure in your life loves to cook, garden, craft, sew or already seems to have it all, we've compiled the ultimate list of Mother's Day gift ideas. You're sure to find something they'll love amongst these 25 unique items all priced under $200.
Ekobo Recycled Bamboo Colander and Pour Bowl Set
Available in five colors, this colander and pour bowl set is perfect for washing produce, draining pasta, pouring batter and more. Made from eco-friendly recycled bamboo fiber, the set comes in two sizes and includes a perforated bowl for rinsing fruits and vegetables, as well as a slightly larger bowl with a spout handle, so you can collect leftover water and easily use it to water your plants, for example.
Rifle Paper Co. Floral Tin Recipe Box
For the mother with dozens of recipes to keep track of, these beautiful tin recipe boxes from Rifle Paper Co. will help her stay organized. Each box features a gorgeous hand-painted floral design by Anna Bond: Citrus Floral, Garden Party Blue, Herb Garden or Juliet Rose. Other details include a gold metallic interior and a gold-framed front label. Each tin comes with 24 recipe cards and 12 recipe dividers.
FlatlandsBoutique Heirloom Handwritten Recipe Kitchen Tea Towel
If you can get your hands on a handwritten recipe that's near and dear to your mom's heart—such as an old recipe passed down from her mother or grandmother—FlatlandsBoutique on Etsy can take a high-quality photo or scan of it and transform it into a lovely kitchen towel that's both a sentimental and functional. Each towel is made from a soft waffle microfiber weave and measures 16 inches wide and 20 inches long.
AeroGarden™ Harvest With Gourmet Herb Seed Pod Kit
Even if your mom doesn't garden much, she can grow her own fresh cooking herbs with the AeroGarden™ Harvest herb kit—right on her kitchen countertop. The kit allows her to grow up to six herbs at once and includes seeds for Genovese basil, curly parsley, dill, thyme, Thai basil and mint, as well as a 3-ounce bottle of AeroGarden's patented, all-natural plant nutrients. The kit's control panel tells you exactly when to add water and plant food and automatically turns the kit's lights on and off as necessary. It doesn't get much easier than this!
Nourished Essentials Easy Fermenter 3-Lid Fermentation Kit
With this three-jar fermentation kit from Nourished Essentials, your mom can make her own fresh sauerkraut, kimchi, pickles and other fermented veggies in a matter of days or weeks. The secret is Nourished Essentials' patented fermenting lids that allow gas to escape, but keep mold and bacteria out. The lids come with a built-in date dial that literally allows you to "set it and forget it." The kit includes three Easy Fermenter lids, one oxygen extractor pump and access to the Fermenting Club, which is chock full of recipes, detailed e-books and video guides that can make anyone a fermentation pro. The only thing is, your mom will have to provide her own jars, as they're not included. If you'd like to include some with your gift, we recommend Set of 12 Ball 32-Ounce Mason Jars.
Anova Culinary AN500-US00 Sous Vide Precision Cooker
Named the best overall sous vide cooker in The Best Sous Vide Machines in 2022, Anova Culinary's AN500-US00 model offers more power than the Nano model but is more affordable than the pricey Pro model. It's more compact than earlier versions and is controllable through the Anova app via Bluetooth, so if your mom's got a smartphone, she can easily check on its cooking progress from across the house. The app itself offers tons of sous vide recipes, so your mom can experiment with a variety of dishes. Bet you can't wait to be invited to dinner!
Yes, this is a candle that you can plant—once it's fully burned down. It's hand-poured and made from soy and a blend of palo santo, rock rose and cedar notes inspired by Japanese bathing. Once the candle has fully burned, your mom can take the culinary herb seed paper that's included and combine it with a soil pod and water inside the terrazzo candle vessel and watch her tiny herb garden grow.
patienceandgraceshop Personalized Garden Tools
For a mom who gets down and dirty in the garden, consider getting her these customized garden tools made from stainless steel and wood. The set comes with a trowel, a transplanter and a hand rake, and each tool features an easy-grip wooden handle that can be customized with up to 60 characters of engraved text at no additional cost. Some preset options you can choose from include "Plant Queen" and "Granny's Garden." The trowel has been marked in both millimeters and inches to make measuring depth extra easy, while the handle of each tool has a hole for hanging up.
If your mom spends a lot of time doing yard work, this green canvas utility apron can protect her clothes from getting dirty. Made from durable yet comfortable polyester, it includes multiple pockets for gardening gloves, small garden shears and other gardening tools. The apron comes in one size.
Floral Garden Weeding Gloves
Weeding is far from a glamorous job, but there's no reason your mom can't look fantastic as she does it. These imported, nylon and nitrile weeding gloves feature an intricate floral print and are available in three sizes. You can choose between short or long gloves for extra protection. They're a fun and functional accessory for home gardeners, rosarians and landscapers.
Sustainable Village Brass/Copper Plant Mister
Your mom can enhance the growth of her houseplants by providing them extra moisture and humidity using this elegant, brass-plated mister (also available in copper). The angled nozzle produces a fine mist that's especially well-suited for tropical plants like African violets, aloe, fuchsia and orchids, but really, it works for almost any plant. When not in use, it looks great as a decor piece, and it's stain-resistant, so your mom can even leave it outside.
PROPAD Thick Kneeling Pad for Garden or Bathroom
For when your mom gets down in the (garden) trenches, so to speak, consider getting her this super comfortable kneeler cushion—perfect for when she's planting new seeds or bulbs and needs to hunch over. Made from durable, high-density foam, it's 1 1/2 inches thick—thicker than most other kneeling pads on the market. There are two sizes: 18 inches long by 11 inches wide and 1 1/2 inches thick, and 24 inches long, 14 inches wide and 1 1/2 inches thick. It also has a built-in handle for portability, comes in various colors and includes a one-year warranty.
Katai Tin Seed Storage Organizer Box
If your mom's an avid gardener who plants a variety of flowers and produce, she could benefit from this seed packet organizer box. Made from powder-coated tin, the box comes with 20 seed packets, monthly divider cards and a pencil. It includes a tightly-closing lid with a handle (doesn't lock on, however) to keep seeds safe and dry.
Perfect for moms who grow their own produce, these colander baskets help shake away loose dirt when gathering home-grown fruits and veggies, minimizing any mess when bringing the harvest into the house. They also make it easy to rinse off produce before even taking it inside. Made from a semi-pliable, BPA-free plastic, each basket features two handles for easy carrying and a flat bottom to prevent tipping. It's available in two sizes and four vibrant different colors.
Gold Crane Embroidery Scissors
This elegant pair of old-fashioned embroidery scissors resembles a walking crane bird when in use. They're made in Italy and crafted from hardened tempered steel, with nickel-plated blades and handles plated with real 24-karat gold. For the sewing expert who appreciates luxury, this is a beautiful, functional gift.
Akola Luxe DIY Bead Jewelry Kit
This classy, DIY bead jewelry kit comes with everything your mom needs to make multiple necklaces or bracelets. Handcrafted in Uganda, the kit includes various charms, an assortment of Karatasi beads, nylon cords and more. Best of all, with every purchase, Akola reinvests 100% of the profits to empower women and families in poverty.
TexturesFactory Cyanotype Botanical Art Kit
If your mom's got a knack for nature photography, she'll love this cyanotype botanical art kit from TexturesFactory on Etsy. Whether she's familiar with the process or not, the kit comes with all the tools and materials, including solutions, negatives with images and photographs, acetate sheets, dried flowers, a video tutorial, illustrated instructions and more, so she can make striking cyan-blue art prints (also called blueprints) that will look amazing hung up on the wall.
Grace 45mm My Comfort Rotary Cutter
Thanks to its ergonomically-designed Comfort Curve grip, this rotary cutter prevents stress in your wrist, arms, shoulders and neck, as it requires less exertion while providing you greater cutting power. Its handle has been specially angled to be much more comfortable on your wrist than other rotary cutters, and the cutter is compatible with most brands of rotary blades. If your crafty mom suffers from arthritis or other joint pain, this handy tool can provide relief and allow her to continue doing what she does best.
CUSHYSTORE Purple on Black Floral Wrist Pincushion
For the avid seamstress, this super convenient pincushion can be worn around the wrist, thanks to its adjustable elastic strap that fits all wrist sizes. Featured in our Best Pincushions of 2022 list, this pumpkin-shaped pincushion is made from synthetic polyester fiber and features a stunning purple-on-black floral print. Now, your mom can keep her pins and needles close at hand (well, on-wrist), especially if she's doing needlework outdoors.
Craft It Up Complete Jewelry Resin Making Kit
Epoxy resin is all the rage right now, and this all-inclusive kit comes with everything your mom needs to make fun and funky jewelry and keychains, even if she's a beginner. The kit comes with enough materials to make or decorate 20 pendants, 20 necklaces, 20 jump rings, five keychains, four wooden coasters and more. It can get a little messy, but for the adventurous crafter, that's part of the fun.
MissLytton Sewing Kit Box Basket
This comprehensive sewing kit is ideal for sewing beginners and sewing experts alike. It includes scissors, thread in 24 colors, sewing needles, a seam ripper, buttons, needle threader tools, a thimble, measuring tape and more—it covers the basics and then some. Everything comes in a lovely wooden box that contains multiple compartments and spots for storing individual tools, plus features a locking lid for safekeeping.
Gifts for the Mom Who Has Everything
Wordle-Themed Mother's Day Card
This cute and clever handmade Mother's Day card from LettuceBuildaHouse on Etsy is themed to a Wordle puzzle. Printed on matte card stock, it comes in the standard A2 card size (4 1/4 inches by 5 1/2 inches) and includes an A2-size envelope in a seasonal color. The inside of the card is left blank so you can write your own personal message to your momma.
Barefoot Dreams Contrast Trim Thick Throw Blanket
If your mom can feel chilly no matter what the temperature outside is, why not get her this ultra-soft, warm throw blanket from Barefoot Dreams? Made from a plush, 100% polyester microfiber, it's insanely comfy, so your mom can use it to snuggle up regardless of the weather. It measures 60 inches long and 45 inches wide and offers the perfect amount of coverage without being too cumbersome. The blanket is available in eight different colors, most of which include a white contrast trim. It's machine-washable on a lower setting and better to air-dry it than stick it in the dryer.
Lovepop® Mother's Day Standalone Paper Flower Bouquet
As seen on the entrepreneur pitching show, "Shark Tank," the people at Lovepop® are masters at intricate, laser-cut paper cards and designs, and this special Mother's Day flower bouquet is no exception. Designed to stand on its own without any other support, this paper bouquet includes touches of purple, pink and peach and comes with a blank note for you to hand-write a personal message to your mom. From far away, it looks like the real deal!
Just Breathe Spa Gift Set
Treat your hardworking mom to a luxurious spa experience, right in her own home, with this spa gift set. Complete with an Herbivore Botanicals coconut soak, Baudelaire all-natural sea sponge, Paddywax urban concrete candle and more, the quality ingredients like organic coconut milk and vanilla are especially good for soothing inflammation and hydrating dry skin. If you can't send your mom on a tropical getaway, give her the next best thing.
Alder Creek Bloody Mary Gift Basket
If your mom likes her cocktails, she'll love this Bloody Mary gift basket that comes with nearly everything she needs to mix up the perfect cocktail (she'll have to provide her own vodka). Still, it includes green olives, chili-lime rimming salt, Bloody Mary seasoning, asparagus bites, premium cheese, Tuscan crackers and more. If you want to include a Bloody Mary mix to complete your gift, we recommend this Real Dill Bloody Mary Mix, available at Terrain.