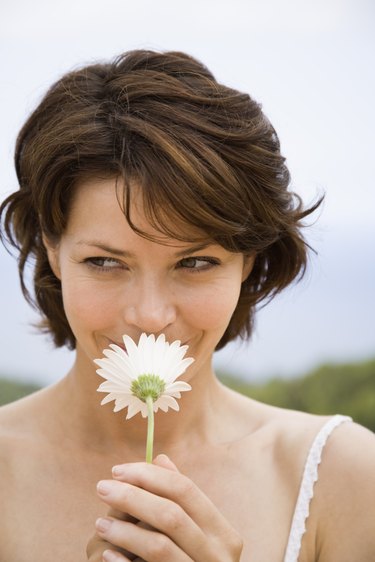 Planning a bridal shower can overwhelm well-meaning party planners who must remember all the rules of etiquette. Above everything else, the event should help prepare the bride-to-be for her special day and for the changes in her life after the wedding. Although there are specific guidelines that accompany the flowers used for weddings, corsages are not a mandatory part of a traditional or modern bridal shower.
Special Keepsake
Presenting the bride-to-be with a charming corsage as she arrives at her shower will help to make her feel special and prepare her for a few hours in the spotlight. But take care, if the maid of honor chooses to go this route, then the guest of honor should be the only guest who wears the floral arrangement. Although gifting them to other bridesmaids or the family of the bride may only prove to single them out and offend other well-meaning guests.
Cost
The maid of honor traditionally plans the bridal shower and covers most of the expenses. This includes choosing and purchasing the bride's corsage. It's up to the bridesmaid, but in some cases, the bride's family can help to choose the location of the party and help to send out invitations but asking for help with the cost is a no-no.
Choosing the Right Corsage
Make it meaningful. Don't go for the prom-style prototype simply because it looks pretty. Instead plan ahead and choose an elegantly-themed corsage that personifies the bride. Consider meeting with a florist ahead of time to discuss ideas using the bride's favorite blossom or flowers from the first bouquet her fiance gave her. A corsage can be made to be worn on the collar, the wrist or in the hair. Decide on one that best suits the bride and her tastes. An experienced florist can help to create something stylish yet appropriate.
Planning and Care
It's poor form to present the bride with a wilted or drab looking corsage. Time the corsage pick-up the night before or the morning of the shower, depending on the time of the party. Use proper care for the arrangement by keeping it in a shaded box for transport and then the refrigerator at home. Place a moistened cotton ball in with the corsage and keep handling to a minimum until giving it to the bride. Place corsages with orchids out of the fridge and in a glass of cool water instead.