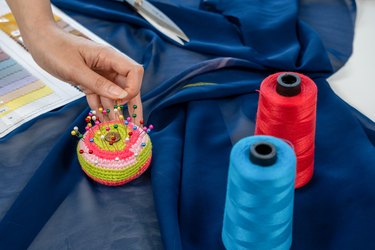 Oh, the humble pincushion. One of the simplest tools in the sewing basket, and definitely one of the most important. Pins are the glue, if we may, that holds everything together as you create needlework masterpieces. You might think a pincushion is only a place to store pins and needles but it can be so much more. You can find a charming pincushion to fit any decor, personality or project. Many people have even made collecting vintage and unusual handmade pincushions an art in itself. Well, let's get started because we know you've probably been waiting on pins and needles to find out our picks for the best pincushions.
What to Consider When Purchasing a Pincushion
​Design:​ There's no need to be boring when it comes to choosing a pincushion. As a matter of fact, here's your chance to have fun with one of the most important tools in your sewing toolbox. With so many fun pincushion designs available, you're sure to find one that fits your aesthetic and personality. From pretty fabrics, cuddly critters, prickly cactus, felt fruits to colorful unique designs, there's sure to be something to bring you joy in the sewing room.
A wrist pincushion fits around your wrist like a bracelet and will keep your pins within reach when taking measurements or draping fabric.
Magnetic pincushions provide a solid place to store pins and needles safe from spills. They are usually small enough to hold in the palm of your hand and will keep pins and needles handy. Plus, they are great for collecting and holding on to pins and needles from tabletops or floors.
Finger pincushions are small, lightweight and comfortable to wear. They are worn on your index finger to keep pins within reach while doing piecework or appliqué.
Pincushions with a wooden base and stuffed fabric tops are a stable way to keep your pins organized and handy.
Mason jar pincushions have become popular because they are not only convenient and useful, but you can store your unused pins in the jar beneath the cushion.
Tomato pincushions have been around for many years. This pincushion is probably the one that comes to most people's minds when they think of a pincushion. The attached strawberry was traditionally filled with Emery sand (a super fine sand) which would help to keep pins and needles sharp.
Tabletop pincushions come in many different forms including teacups, jars, plants and animals. The main thing to look for with a tabletop pincushion is stability.
Fine steel wool makes a good pincushion stuffing because each time you insert a pin or needle the steel wool will gently clean and sharpen the tips.
Emery sand filling will ensure your pincushion has weight and stability as well as sharpening qualities.
Some pincushions are filled with walnut shells, which are weighty and are good for sharpening, but those who have nut allergies will need to steer clear of this stuffing.
If you like the smell of lavender, you might look for a cushion filled with this aromatic dried flower. Check for other ingredients though, since oftentimes lavender-filled pincushions will have additional fillers.
If you're looking for a pincushion filled with recycled material, you might search for one filled with sawdust. Be sure to check and make sure that the sawdust didn't come from wood that was treated with chemicals that could be harmful to people or animals.
Some say organic wool is a wonderful filling for pincushions because the lanolin in the wool will keep your pins and needles shiny and new.
Many pincushions are filled with polyester fiber stuffing. It is lightweight, machine-washable, allergen-free, safe, durable and sanitary.
Rice makes a good heavy stuffing for pincushions, but can eventually break down, especially if it comes in contact with moisture. Even worse, since it is a food, it could potentially attract unwanted pests.
​Fabric:​ The fabric used for a pincushion should be able to withstand continuous pricking from pins and needles. A good lightweight, firm and crisp fabric like cotton or felt is ideal for pincushions.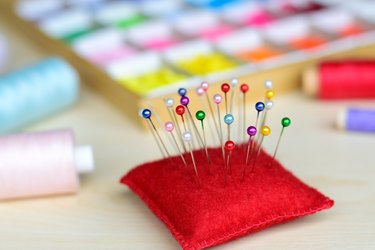 The Best Tomato Pincushion
For those of you who enjoy the traditional aspects of sewing, or have wonderful memories of parents and grandparents sewing with you, the Dritz Tomato Pincushion would add some nice nostalgia to your sewing studio. It is said the iconic tomato pincushion originated from the belief that placing a tomato on the hearth of a new home would bring prosperity and repel evil spirits. If tomatoes were out of season, new homeowners would improvise by making a tomato out of fabric or felt and filling them with sand or sawdust to place on the mantle. Eventually, they became the place where pins and needles were stored. Later, a strawberry filled with fine emery sand was attached to sharpen the pins and needles. Hence, the tomato pincushion tradition was born. The classic 2 3/4 inch Dritz Tomato Pincushion is sticking with tradition by including an attached emery-filled strawberry. It is an affordable, practical and convenient way to keep your pins and needles close at hand while working on your sewing projects.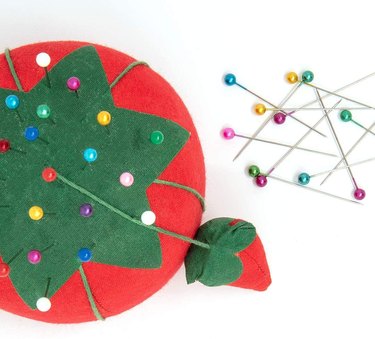 The Best Wrist Pincushion
Cushystore Wrist Pincushion
To keep your pins and needles close by and free up your hands while doing needlework, a wrist pincushion is the ticket. When wearing a wrist pincushion, your pins will be accessible while measuring and draping. The Cushystore wrist pincushion is easy to carry at a light weight of 0.634 ounces. It won't get in your way since it's only 3.2 inches in width and 1.4 inches in height. The elastic wrist band can be adjusted to fit your wrist. This pincushion comes in six different designs: purple floral, pink floral, blue floral, purple polka dot, orange polka dot and green polka dot.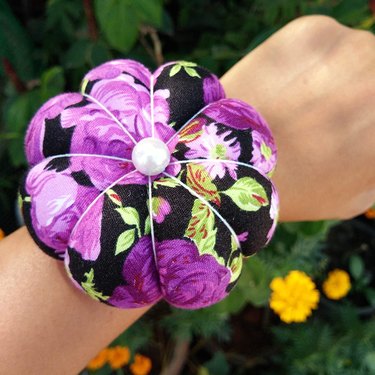 The Best Wooden Base Pincushion
Sometimes, a solid, wooden base pincushion on the table next to your sewing machine is the best way to keep your pins and needles handy and safe. The Rolybag pincushion comes in two patterns: A retro Japanese floral design and a carrot pattern. The cotton fabric allows the pins to slide in and out easily. Since it is 2.6 inches wide and 1.57 inches tall, it is just deep enough to hold pins and needles nicely without it being possible for them to go all the way in and get lost. The Rolybag pincushion weighs 1.13 ounces, which is a little heavier than regular pincushions but the extra weight helps it stay upright and stable on your sewing table.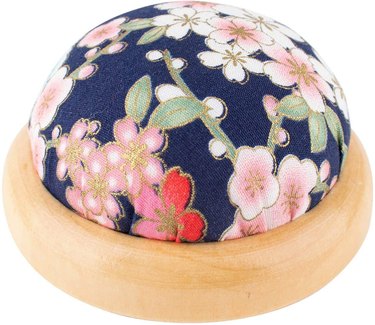 The Best Magnetic Pincushion
Grabbit Magnetic Pincushion
If efficiency while sewing is important to you, then the Grabbit magnetic pincushion is for you. There is no need to stop work to push the pin into the cushion, all you have to do is place the pin near the cushion and the strong magnet will automatically sweep it up and place it into an organized pile in the bowl. This pincushion includes 50 plastic-head, easy-to-grasp straight pins. It is 1 5/16 inches tall and 4 1/4 inches in diameter.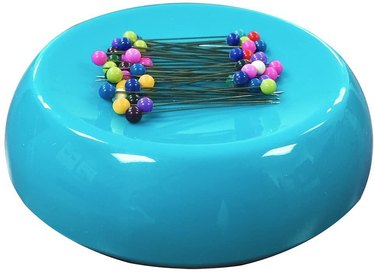 The Best Finger Pincushion
Baubles and Balls Mini Pincushion and Finger Pincushion Set
These cute little wool gems are seriously too adorable to pass up. They come in a pair. The 1.25-inch wide by 2-inch tall mini pincushion is just right to set next to your sewing machine and the 3/4-inch wide by 1-inch tall pincushion fits onto your finger with a braided elastic band. The lanolin in the 100% wool will keep those tiny appliqué pins clean and smooth. If you'd rather attach these delightful little pincushions to your machine, you can do so with a simple Command Strip.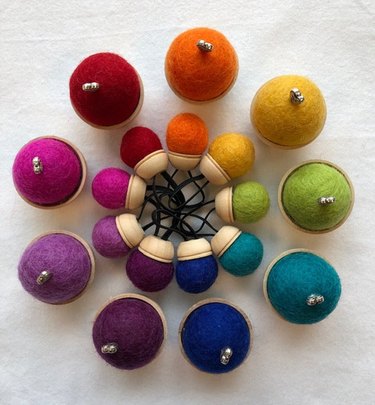 The Best Cuddly Critter Pincushion
Coenii Hedgehog Pincushion
Add to the fun of sewing with this charming little hedgehog pincushion. One hundred straight butterfly pins come with the hedgehog pincushion, which makes it a great gift for someone who collects pincushions or a child who wants to begin sewing. Your pins and needles will be safe and happy in this 4.72-inch tall and 3.35-inch wide pincushion.