Needle felting is a beginner-friendly craft with endless sculpting possibilities. All you need to get started in this popular, DIY, wool-shaping hobby is some natural wool and a few needle felting supplies. For those of you just getting started in this relaxing pastime, a needle felting starter kit is the way to go. It will come with everything you need to get going: wool, needle felting supplies, detailed instructions (most wool felting kits include photo instructions, too), and a foam pad. Let's check out what this fun fad is all about and look at a few of the needle felting craft kits that will be worth your time and money.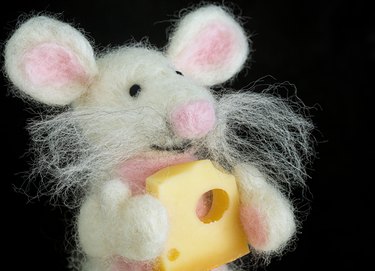 What to Consider When Purchasing a Needle Felting Kit
​Needle Felting Versus Wet Felting:​ Needle felting uses barbed needles to interlock the wool fibers together by repeatedly stabbing the wool to stiffen it. Three-dimensional figures, beads, mobiles, ornaments, pictures, writing on pillows, buttons, fabric and other felting projects can be created using needle felting. Wet felting is a process that uses hot water, soap and agitation to lock the wool fibers together to create felting projects like dryer balls, coasters, pot holders, scarves, table runners, bowls, bags, hats and flowers.
​Needles:​ Needles are a basic needle felting tool that have barbs and notched tips that pick up the fibers of the natural wool and pull them into the center of the wool to create a rigid felt. The more you poke the wool with the felting needle, the thicker it becomes. Small straight movements are crucial to keep the needle from breaking. There are four different types of barbed needles used for needle felting:
A spiral needle features a twisted blade with barbs that wrap around the needle to help felt the wool quickly and create a neat finish.
A triangular needle is a coarse needle felting tool for fast felting and is good for attaching felted pieces together.
A reverse felting needle is used as a finishing tool and allows you to pull fiber tufts out of the shaped wool.
A cone needle has three sides and is used for creating texture.
​Needle Gauges:​ A needle gauge refers to how thick the needle is. There are five needle gauges: 32, 34, 36, 38, 40 and 42. Basically the higher the number, the thinner the needle felting tool. Thicker needles have more barbs, are stronger, and are used when felting with thicker wool. Thinner needles are used for finish work and for thin fibers.
​Needle Pen:​ A needle pen has a wooden handle that holds several barbed needles at once to help with grip and make felting faster and more efficient.
​Wool:​ Not all wool is good needle felting wool. Most people who love DIY needle felting projects choose to use coarse wool from sheep, which comes in varying types with different characteristics.
New Zealand wool has a medium to coarse texture and is a wonderful choice for needle felting projects.
Corriedale wool is also a medium to coarse natural wool that can actually be used for both needle felting projects and wet felting projects.
Another good medium to coarse natural wool is Norwegian wool because it is more coarse than most other wools.
Merino wool has a fine, soft texture, is easy to find and is best for wet felting.
​Needle Felting Foam:​ You'll need some sort of felting mat or felting pad to help keep your felting projects stable while working. A good needle felting foam will also protect your felting surface and fingers from damage caused by needle felting tools. A dense piece of needle felting foam that is several inches thick will work best. You can purchase needle felting foam or use something like thick, leftover packaging foam.
​Wool Roving Versus Wool Batting:​ Wool roving is a natural wool fiber that has been processed by carding to make all the fibers run in the same direction. Wool batts are thick pieces of natural wool that have been partially carded and the wool fibers are running in different directions.
Now that we've gone over the basics, here are seven of the best needle felting kits for beginners.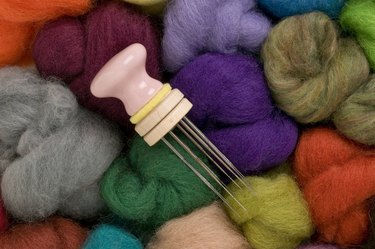 1. Felted Sky Easter Egg Needle Felting Kit
These cute little spring decorations will not only delight the children in your life on Easter morning, but felting these wool eggs is a wonderful way to get started on needle felting projects. This starter needle felting kit includes a beginner's guide to needle felting, step-by-step instructions, a link to a video tutorial, four felting needles and three types of felting wool. The foam pad will need to be purchased separately if you don't have some leftover packaging foam available.
2. Grey Fox Felting Fox Needle Felting Kit
This super clever needle felting kit is sure to be a hit with beginning felters. You can be successful without any prior needle felting knowledge. It comes with complete step-by-step photo instructions, an extra needle felting tip booklet, three color-coded felting needles (size 36, 38 and 40), a high-quality felting pad, and all the wool you need to create this adorable fox.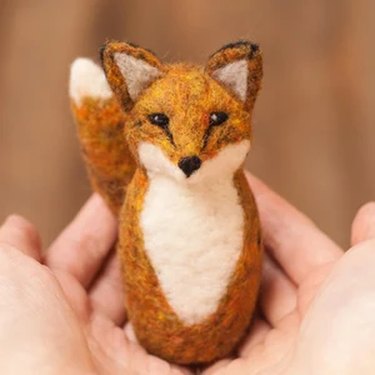 3. Woolly Pets Country Mouse with Cheese Felting Kit
This cute mouse felting craft kit will have you squeaking with delight. When you proudly finish felting this little guy, ask him to say "cheese" as you pose him for an Instagram-worthy photo to share with all your friends. The complete kit—to make the mouse, cheese and cookie—comes with one high-quality felting foam block; 100% soft and smooth wool in white, gray, peach and black; two glass eyes; two 38-gauge felting needles; and a tutorial with detailed photo instructions.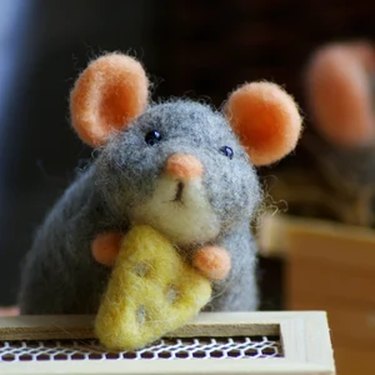 4. Felted Sky Succulents Needle Felting Kit
For a needle felting kit that will really grow on you, try out these felt succulents from FeltedSky. When you finish creating these cute succulents, just place them on your shelf and you'll never have to remember to water them. Each plant will take about three hours to complete because there are many little leaves to make but it's totally worth the time. Included in this kit is a Beginner's Guide to Needle Felting pamphlet, a detailed instruction sheet with pictures of every step, a link to a video tutorial, a leaf template, four color-coded felting needles, enough felting wool to complete each plant and three wooden pots.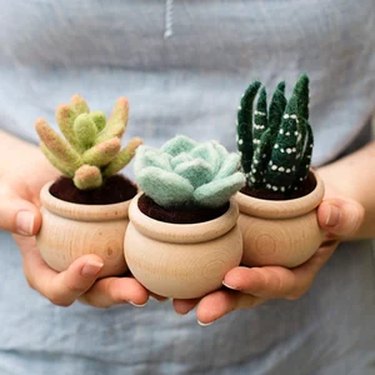 5. Felted Sky Pumpkin Needle Felting Kit
Oh my gourd, these felt pumpkins are so charming. If you want to "squash" your needle felting goals, try sculpting these bright and cheery pumpkins. They'll be the perfect addition to your fall decor. This kit comes complete with a Beginner's Guide to Needle Felting pamphlet, a detailed instruction sheet with pictures of every step, a link to a video tutorial, four color-coded felting needles, and two types of felting wool. The only thing that isn't included is the needle felting foam. This will need to be purchased separately if you don't already have some.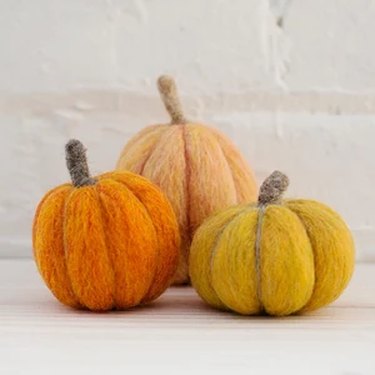 6. Bear Creek Felting Snowman Needle Felting Kit
Goodness "snows" this is a great felting craft kit to bring a little frosty fun to your winter decor. This needle felting starter kit includes enough wool to make a 5-inch-tall snowman, wire for stick arms, black wool for coal eyes and buttons, orange wool for a carrot nose, red wool for a scarf, two felting needles, a felting cushion, and step-by-step photo instructions on how to make the snowman and scarf. We promise you won't have a meltdown when sculpting this felt snowman!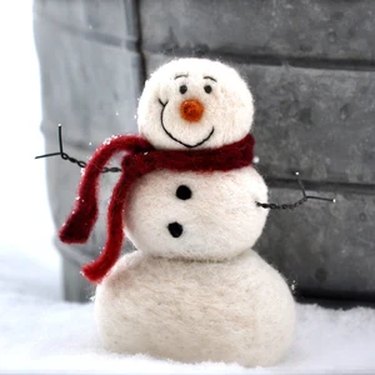 7. Bear Creek Felting Gnome Needle Felting Kit
These cute guardians of the garden will look just as great on your holiday shelf as they do amongst the flowers. Create a gnome sweet gnome without any previous felting experience. The finished gnomes will measure three inches tall and take about three hours to complete. Each kit comes with wool from the designer's farm in North Dakota, glass eyes, two felting needles, a felting cushion and detailed instructions with photographs of each step. You just need to supply the needle and thread to sew on the eyes and you'll be hangin' with your "gnomies" in no time.