A cowl, a looped scarf with the ends stitched together to form one large circle, is one of the most versatile knitting projects you can do. It's appropriate for any level, from beginner to advanced. Customize yours to the fit you want by taking measurements and knitting a gauge swatch before you begin.
Things You'll Need
Measuring tape

Yarn, any weight

16-inch or longer circular knitting needles that correspond to the yarn weight
Step 1
Wrap the measuring tape around your neck and choose a circumference for the cowl. Most cowls have a circumference similar to that of a hat (22 to 23 inches), but you can make yours longer if you wish. You can wrap a longer cowl around your neck more than once, but a shorter cowl slips over your head one time to fit snugly against your neck.
Tip
If you're not sure how long you'd like your cowl, measure the circumference of a cowl you already own and use that as your measurement.
Step 2
Determine the length of the cowl. Some yarns have more drape than others; yarns with less drape are stiff and less likely to fold over.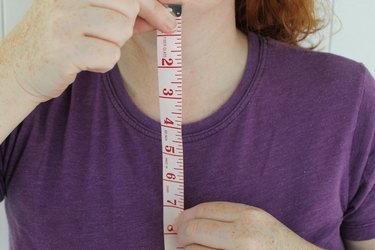 Tip
To measure from the chin to the collar, use a mirror or ask a friend to help find the final measurement.
Step 3
Choose the stitch pattern you'd like to use for the cowl. If you're a beginner, choose a simple stitch, such as stockinette or garter stitch. Using your choice of yarn and recommended knitting needles, knit a swatch that is at least 5 inches wide by 5 inches tall. You will use the swatch to measure the gauge and determine how many stitches to cast on.
Step 4
Wash and block your swatch according to the yarn's care instructions.
Tip
This is your opportunity to make changes to the swatch if you are unhappy with the results. You may want to use a larger knitting needle to add some drape to the swatch. If you do not like how the yarn feels after you block it, test a different yarn.
Step 5
Lay the swatch on a flat surface. Position the measuring tape horizontally across one row of stitches near the middle of the swatch. Count the number of stitches within a 4-inch increment. Write down this number.
The sample cowl has 6 stitches in a 4-inch increment of the gauge swatch.
Step 6
Divide the number of stitches from Step 5 by 4 to find out how many stitches you used per inch for your gauge. Write down this number.
If the stitch number is uneven, simply round it to the nearest whole number. For example, if you have 1.75 stitches per inch, round to 2 stitches per inch.
Step 7
To find out how many stitches to cast on, multiply the stitches per inch by the desired width of the cowl.
For example, if your gauge is 2 stitches per inch and you would like your cowl to be 23 inches wide, then multiply 2 by 23 to get a total of 46 stitches to cast on.
Step 8
Cast on for the cowl using the same yarn and needles from the gauge swatch. As you knit, be sure to check the gauge every few rows to ensure the cowl will be the correct width. Knit until the cowl measures your desired length; then bind off.