Oh no! You reached for your favorite wool sweater and realized with heartache that the moths have gotten to it, and now there are holes. Maybe your treasured alpaca wool sweater has been unraveling, and you've been wondering what to do with it. Even worse, maybe you didn't realize that your wool sweater wasn't machine washable, and it shrunk. What do you do now? No worries — we're here to help. Instead of throwing it away or donating it to the thrift store, try using the wool to make mittens, quilts, home decor or even wool dryer balls.
Wool dryer balls are a wonderful way to make use of the natural fibers of wool from old sweaters. Replacing disposable dryer sheets with reusable felted wool dryer balls can help reduce waste and save money. Plus, dryer sheets have been getting a bad rap lately. It's been said that they are bad for your dryer and contain chemicals that can wreak havoc on sensitive skin or even cause other health issues. Yikes! We're here to help make your laundry room a healthier place, show you how to make wool dryer balls from an old wool sweater, describe the felting process and explain how dryer balls work.
DIY wool dryer balls can be made several ways. You can use wool roving yarn, a skein of yarn, an old wool blanket or preloved wool clothing. They are about the size of a tennis ball, and when thrown into the dryer with a load of laundry, they reduce static cling, fluff up your clothes and keep your clothes wrinkle-free. You can even add a few drops of your favorite essential oil to your wool dryer ball to make your laundry smell fresh and clean.
Things You'll Need
A preloved, 100 percent wool sweater

Sharp scissors

Crochet hook (optional)

Dish soap

Nylon knee-high sock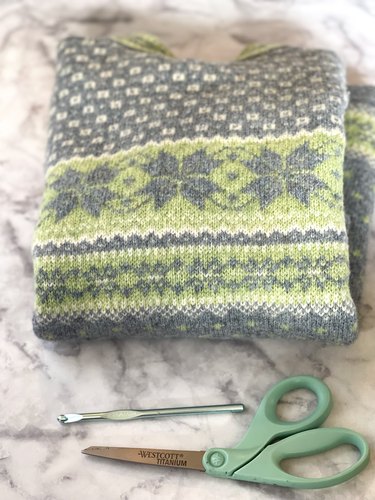 Tip
Be sure to use only sweaters or other clothing items that are 100 percent wool for this project. Only 100 percent wool fibers will felt, which means that when the fibers are exposed to hot water and friction, the little scales in the threads lift up and lock down on nearby fibers, causing the wool to become tighter and tighter to form felt. If the wool is mixed with other threads, like acrylic yarn, it won't go through the same process, and it won't turn into felt.
Step 1
To start, use a sharp pair of scissors to cut 1-inch strips from the bottom of the 100 percent wool clothing item. If you've been using wool sweaters to make mittens, you will most likely have plenty of wool scraps that you can use up to make your own DIY wool dryer balls.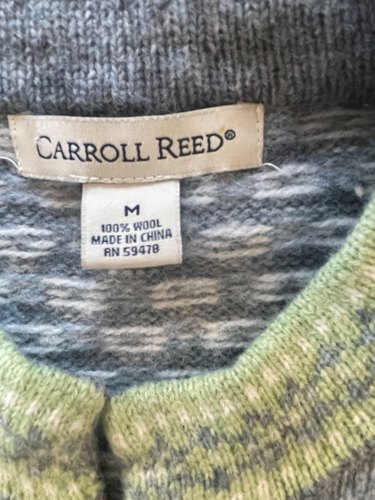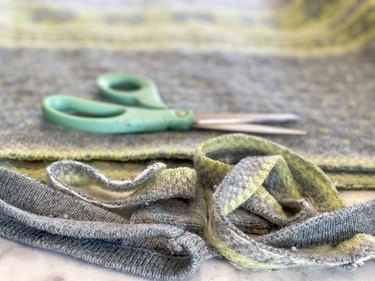 Step 2
Take the strips of wool and wind them into a very tight ball. You might need to use a crochet hook to secure the ends underneath the other strips of wool. Continue wrapping until you have a ball about the size of a tennis ball. If you'd rather use yarn, you can also unravel the sweater and wrap yarn to make the wool dryer ball. Just be sure to secure the end of the yarn so your wool dryer ball won't unravel during the felting process.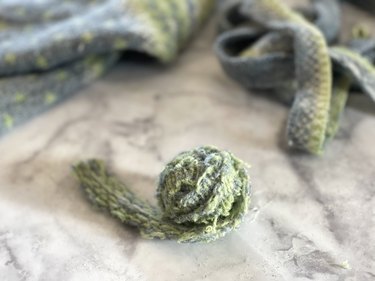 Step 3
Once the ball of wool is the size you'd like, submerge it in hot water until it is completely saturated. Then, squirt some dish soap onto the outside of the ball and massage the soap into the wool. Continue to rub until the ball begins to feel smooth. Kneading the fibers will help to lock them together and start the felting process.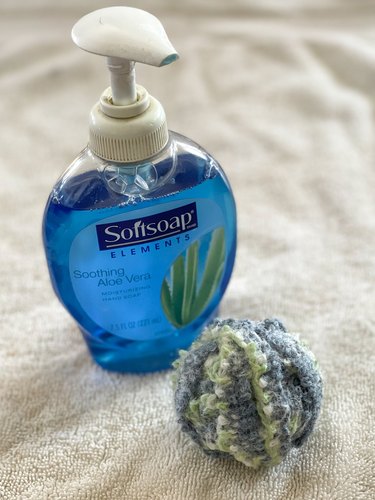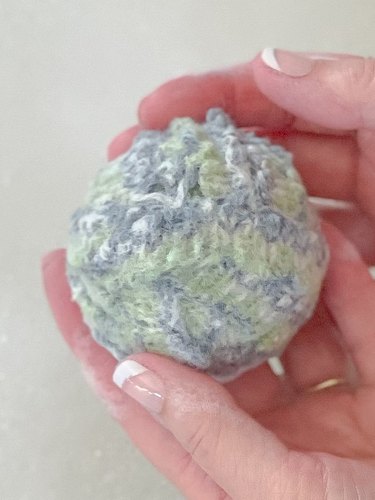 Step 4
Next, rinse the soap from the wool ball, squeeze out the excess water and place it into the toe of a knee-high nylon sock or an old pair of pantyhose. Tie a tight knot next to the ball to keep it in place. Add as many wool balls as you'd like; just make sure to tie a knot between each one.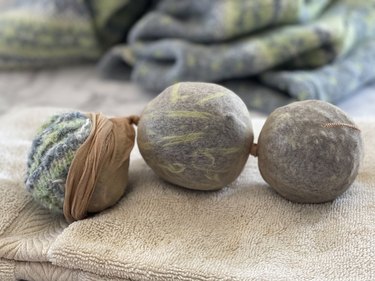 Step 5
Bring a large pan of water to a boil. Submerge the wrapped wool dryer balls into the boiling water for a hot wash and remove the pan from the heat. Let them sit in the hot water for 30 minutes.
Step 6
Remove the wool dryer balls from the pan of water and squeeze out as much of the water as possible to reduce the drying time. Keep them secured inside the nylon sock and place them into a dryer load of dry towels. Run the dryer on the hottest setting until the wool dryer balls are dry. The longer you dry them, the more felted they will be when you take them out of the dryer.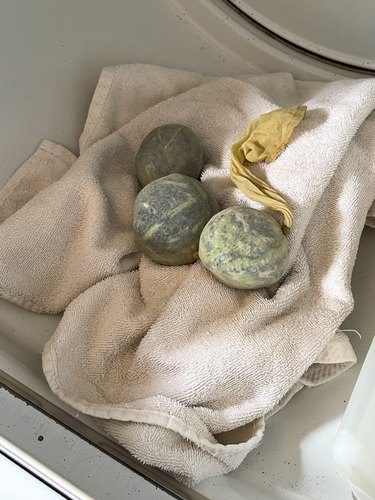 Step 7
When they feel dry to the touch, remove them from the dryer and use sharp scissors to cut them out of the nylon knee-high sock. They should now be felted enough to throw them into a dryer load of laundry to reduce static cling and replace your dryer sheets. If you liked using dryer sheets to make your laundry smell good, add a few drops of essential oil to your wool yarn ball before throwing it in with your laundry for some great-smelling, clean clothes.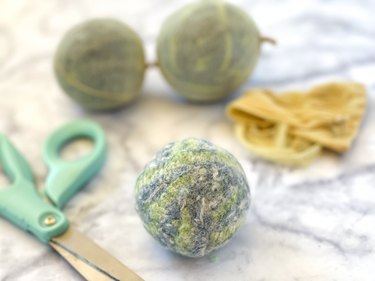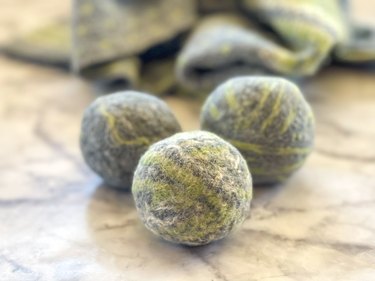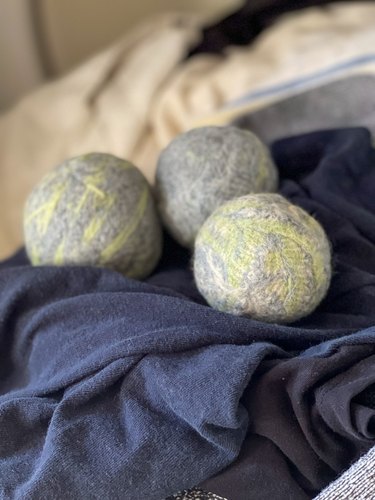 Now that you know the basics of making wool dryer balls, if you know how to do needle felting and create beautiful designs with wool felt, you could take this tutorial and turn it into some extra cash by selling your own wool dryer balls on Etsy.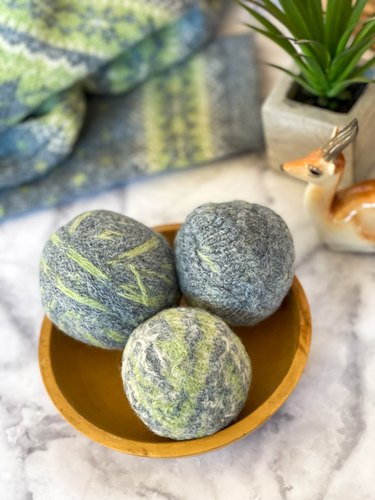 Here's wishing you happy and healthy laundry days!