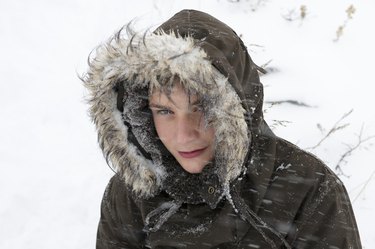 A good parka is a cold-weather stalwart you'll want to take care of so you can wear it for years. "Parka" refers to any type of heavier hip-length coat with a hood. How you clean it depends on the materials used for both its outer layer and its lining. First step: Check the label and follow the care instructions.
Wash and Wear
Many parkas for cool or rainy weather are made of microfiber that just needs regular machine washing and drying with your usual detergent. A fleece lining also might be wash and wear; some coats have removable wool linings, though, that need to be dry cleaned.
Down Takes More Care
Heavier winter coats with down linings need special attention for cleaning. Turn your parka inside out. Use a down cleaner or similar non-detergent product and wash it in cold water in the machine on a gentle setting; some instructions recommend that you use only a front-loading machine and a large commercial dryer because home dryers don't have room for the garment to tumble. If you do use the dryer, "Real Simple" says to tumble dry on low with three clean tennis balls to resettle all the feathers. Cornell Laundry says not to dry the parka in the sun, which would damage the nylon.