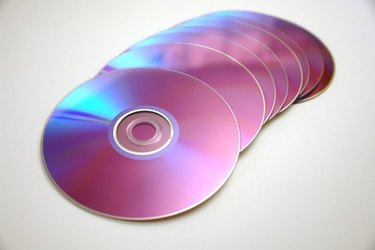 Yes, people still listen to CDs: even though streaming dominates the music industry, CDs and vinyl had high sales in 2021. Clean CDs sound better too, and if you own any, you will want to know the best ways to keep them clean. They should also be appropriately stored to prevent damage. You can use the same tactics for keeping DVDs clean and in good working order.
You probably have a dedicated place for CDs in your house, car and heart for your collection, but you might not be vigilant about taking care of them. A clean CD will play just fine, and you won't notice any skips or gaps in the music. Dirty discs have telltale symptoms that affect their playing capabilities.
Many people leave CDs out of their cases, leading to dust accumulation and scratches. How do you know when you need to clean a CD? The first sign is when it starts to skip. Ignore this symptom, and the next thing you know, it will shut down and stop playing.
Look at the CD and see if you see any streaks. If you can't make out any streaks, you may have to hold the CD at different angles under the light. Even if you don't see anything, it is probably time to clean it. No matter what method you try, preventing scratches is the priority, so use a light touch.
The best CD cleaner is rubbing alcohol, but you need to do a little prep work first. Hold your CD with your thumb inside the center hole and your fingers out on the rim. Using a compressed air can, hold the nozzle 6 inches away and use quick bursts of air to blow away the dust. Wipe the CD using a microfiber cloth to remove oils. Instead of wiping in a circular pattern around it, begin at the inside rim and wipe against the grain.
Mix 1:1 parts of water and rubbing alcohol into a small container, and dip in a cotton ball. Wipe over the CD in the same way that you used the cloth. You can rub very gently to remove any marks or stains. Rest the CD on the towel, let it dry for about 30 minutes and return it to its CD case. If you don't have a case for your CD, now is the time to get one, or craft something, even an envelope.
Some experts use hand soap instead of rubbing alcohol to clean CDs. To try this, add a tiny amount of gentle dish soap into a bowl large enough to hold a CD. Fill it with warm water, mix it and soak the CD for about a minute, keeping the whole thing covered. Rinse it under running warm water and wipe dry with a lint-free, microfiber cloth.
Some music lovers prefer CDs because they are hard to damage, don't warp like vinyl and perform more consistently than some other mediums. If you are able to keep them clean and in good working order, they are well worth the buy.
Not every artist releases their work on CDs, of course. The most prominent artists sell on streaming services, vinyl and CDs, but not all artists support CDs.
There's still quite a market for CDs, however. Adele's most recent album, ​30​, had sold 839,000 units at the end of November 2021, nudging Taylor Swift's release of ​Red (Taylor's Version)​ aside. Believe it or not, ​30​ sales were mainly on CD: 378,000 compared to 108,000 vinyl copies. Other 2021 best-selling albums include Morgan Wallen's ​Dangerous: The Double Album​, Olivia Rodrigo's ​Sour​, and Drake's ​Certified Lover Boy​.