If you love to spend time crafting and sewing, you've most likely accumulated mountains of supplies. Each of the items you've collected could represent a dream of some sort — a future project to do when the time is right. Hobbies are such an important part of our busy lives, and making time for them can be a challenge. Who wants to spend creative energy searching through piles of unorganized crafting and sewing supplies only to be exhausted once the item is found?
We're here to give you some crafting and sewing room organization ideas so you can get the most out of those crafting and sewing tutorials you've wanted to try. Let's get organized and get rid of the clutter to spark your creativity and help you be more productive.
One thing that can completely get out of hand in your craft room is yarn. Inspiration for a project gets lost if you first have to unsnarl a ball of yarn. Who knew that a great yarn organization idea was as close as your kitchen cupboard? Just grab an empty glass jar with a lid and you can unravel your mess of yarn in no time.
Whatever size your ball of yarn may be, there should be a glass jar just the right size to keep your yarn untangled, handy and organized. Simply place your ball of yarn inside a clear container, keeping the end at the top. Poke a hole in the lid, thread the end of the yarn through the hole and attach the lid to the jar. Your yarn will not only be accessible but will look beautiful on your craft-space shelf.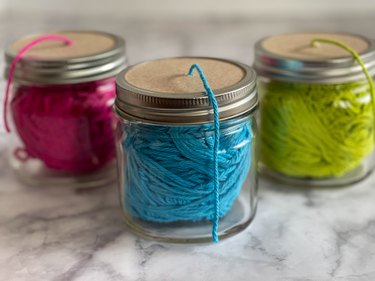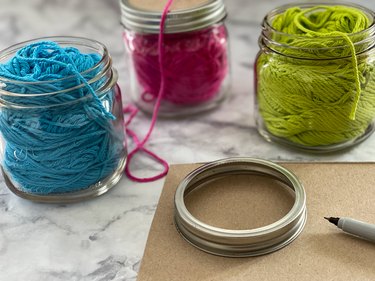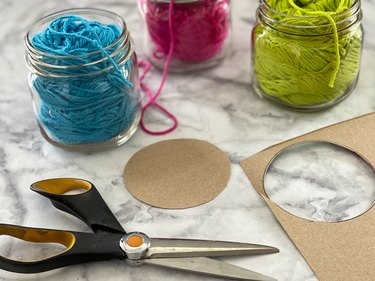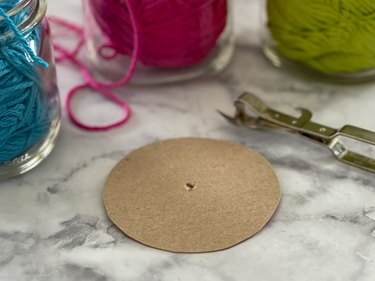 Thread is another supply that can become a tangled mess in your sewing room. If your thread is organized and available, your sewing projects will be much more fun and more successful. There are many ways to organize thread, like clear, plastic storage bins with small dividers for individual spools or special caddies with elastic holders to help keep thread organized, but the most beautiful thread storage idea for your sewing studio is a wooden thread rack. This type of pegboard will allow you to see at a glance what color thread you have available. Your thread can become a work of art in itself and part of your room decor.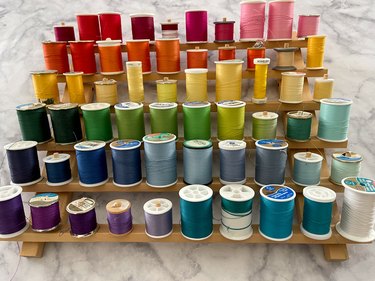 One of the most important sewing supplies is straight pins. Pins can become a mess on your sewing table in a hurry if they aren't stored correctly. Pin storage solutions can be beautiful as well as handy. You don't have to settle for a traditional pin cushion. Just head to your local thrift store and find a fun bowl or container that matches your sewing room decor. You might even find something that's been pushed to the back of your cupboard or a piece with which you've been gifted, but you didn't know what to do with it. You can have a reminder of your loved one every time you head to your sewing space.
Another great sewing room organizational idea is to store your sewing pins in a small Mason jar with a beautiful DIY pin cushion attached to the lid.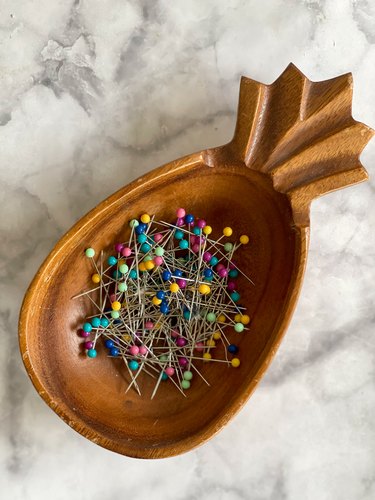 Do you want to make your sewing space as cute as a button and give your bucket of fasteners a makeover? Grab some small Mason jars, dump out your buttons, turn up some good tunes and start sorting by color. Make your sewing room storage pretty again by artfully placing these cute and colorful button-filled Mason jars all around your sewing storage space. Then, next time you need a button, you can find what you need instantly.
Fabric and fabric scraps have a way of taking over a small space in a hurry. Whether you're a beginner or more advanced, choosing fabric and sewing patterns is all part of the fun, plus the fabric looks so pretty when it's all organized. Being able to see the fabric you have available is an important part of getting your DIY project completed.
For easy fabric storage, you can purchase premade fabric boxes or fabric baskets to keep your fabric and fabric scraps organized. You can also simply roll up your fabric and place it in a dresser drawer. Not only will this fabric storage solution let you see what fabric you have available but it will keep the fabric out of damaging light that tends to make material fade, and it will keep your fabric clean and dust-free.
6. Organize and Store Ribbon
The key to creative inspiration is definitely having all of your craft supplies organized, including your colorful ribbon. If you're like most crafters, you have rolls and rolls of ribbon in all colors and designs. Ribbon can easily get lost and tangled when left to its own devices. To capture those miles and miles of ribbon you've collected over the years, grab a shoebox, poke some small holes through the sides with a knife, thread the ends of ribbon through each hole and you've made a handy-dandy ribbon dispenser.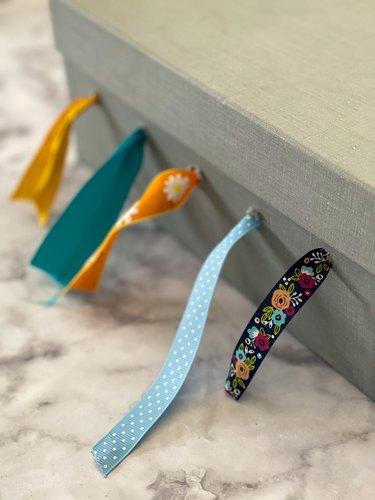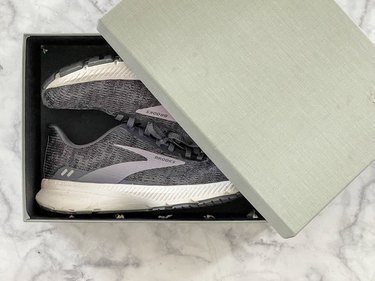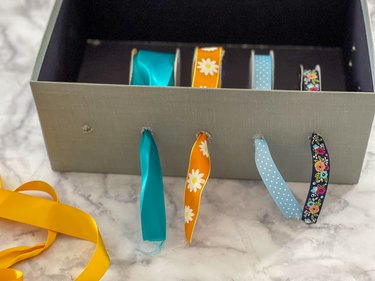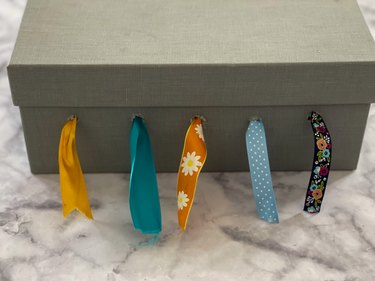 This next sewing storage idea will surely fit you to a tee — a golf tee, that is. Tame your tangle of bobbin threads by using a simple wooden golf tee. Just thread the tee through the center of the bobbin and then insert the tee into the center hole of the spool. Now, whenever you reach for a spool of thread, the matching bobbin will be close at hand.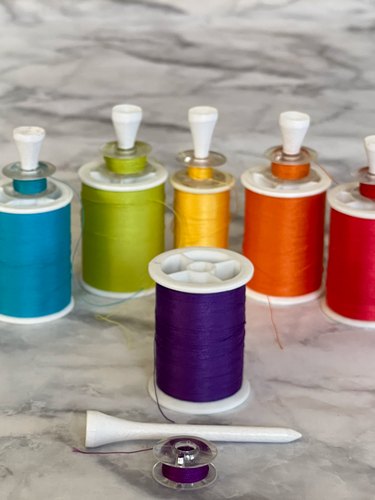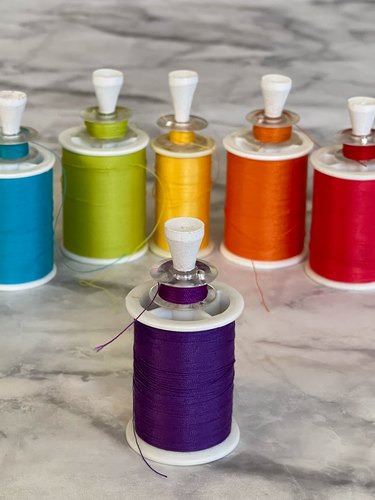 We know you've been sitting on pins and needles waiting for this next organization tip for your sewing tools. Ha! Seriously, though, all your sewing needles can be kept sharp and organized in this cute and convenient felt case. There are four layers of felt held together by one button. Each felt page can store up to 10 needles and can be made in any color to match your sewing room decor. Plus, it's small enough to fit in a drawer or a travel sewing bag.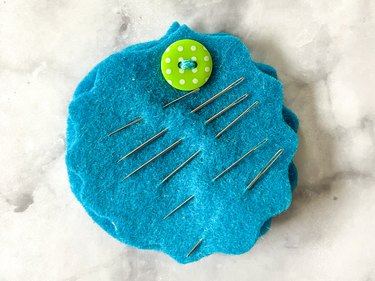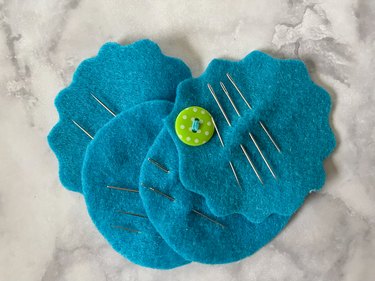 9. Another Bobbin Storage Idea
Bobbins are notorious for unwinding and rolling all over the place. They can easily become a tangled mess of threads if they're not stored properly. Look no further than the pedicure section of your local dollar store for this next ingenious way to tame your bobbins. Foam pedicure toe separators are perfect for storing your bobbins and keeping the thread from unraveling. Simply place the bobbins into each toe opening and wrap the foam around the thread. Voila — there are instantly tamed bobbins at your fingertips.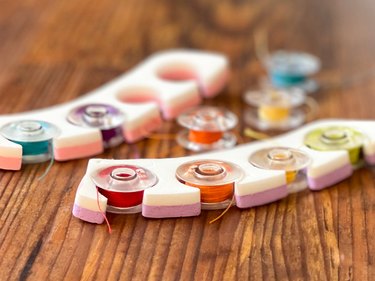 There's just something so beautiful about a zipper and all of the colors available, so it's no wonder our zipper collections seem to multiply before our very eyes. Why not bring your zippers out of the drawer and into the light and display them as the artwork they are? All it takes is an empty bulletin board and a few thumbtacks to create colorful zipper art and have your zippers organized and accessible.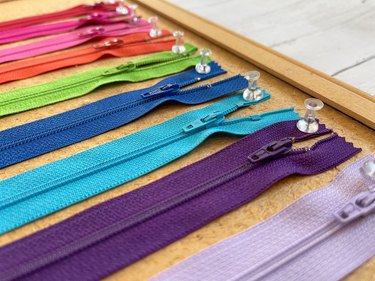 We hope these organization tips will help you get your sewing stash in order and give you more time to do the sewing you love to do.