The key to achieving a professional look when sewing is not only about sewing skills, it is a combination of skill and the notions you choose to use. Everyone knows the most delicious recipes are created by choosing the freshest ingredients for the best taste. In sewing, you must also choose the best ingredients, such as the right fabrics, sewing needles and sewing thread for the best results. Because not all sewing threads are created equal, let's take a closer look at what sewers and quilters need to know before purchasing the right type of thread for their sewing projects.
What to Consider When Purchasing Sewing Thread
Beginner sewists tend to choose thread based on color alone, but that is only one of the many characteristics to consider when buying sewing thread because each thread serves its own purpose. There are so many different types of threads available so let's take a look at some of them and what they're used for.
​Fibers:​ There are six different types of fibers that manufacturers use when creating thread—cotton, polyester, silk, rayon, nylon and wool.
Cotton thread is a natural thread with average strength and a matte appearance. It's mercerized, which means it has a coating to help take the dye when colorizing. Cotton thread is used in both hand sewing and as sewing machine thread in decorative stitching, patchwork, quilting and embroidery. It does not have any give, or stretch, so it isn't used on stretchy fabrics.
Polyester sewing thread is strong, colorfast, and a smooth synthetic fiber. It has a low to high sheen and will slip through fabrics easily because it has a wax or silicone finish. It has excellent give, so it's good to use with woven synthetic, knit and other stretch fabrics. You can use it for construction and decorative stitching.
Silk thread is made from the cocoons of the silkworm larvae. It's a very fine, natural, strong and flexible thread. Silk thread has a high sheen and comes in beautiful colors because it takes dye well. It is ideal to use when tailoring, basting, quilting, decorative stitching and applying appliques. Silk thread is also perfect to use when sewing delicate items, silk and wool. It is, however, very costly.
Rayon is a synthetic fiber made from wood pulp. It has a high sheen and comes in many colors. Rayon thread is not very strong, so it's used mostly for quilting, topstitching and embroidery rather than construction.
Nylon thread is a strong, smooth, synthetic fiber. It's a fine thread used for sewing texture or invisible sewing on light- to medium-weight synthetic fabrics.
Wool thread is a natural fiber that's used for decorative stitching and creating the blanket stitch on blankets. It's best used on very thick fabrics such as wool, denim and canvas.
All-purpose cotton thread is the most readily available and a best seller. It's medium thickness and suitable for basic sewing projects using cotton, linen and rayon fabrics.
Stranded cotton thread has six strands woven together and is the best thread used in decorative stitching such as topstitching and embroidery.
Tatting thread is tightly twisted, very firm and smooth, and is used when tatting.
Flower thread is soft and has a matte sheen. It's also used for decorative stitching like embroidery and topstitching.
Quilting thread is a coated, all-cotton thread that moves easily through fabric and batting so it's ideal for quilting. It's usually a little thicker than all-purpose sewing thread. Hand quilting thread is used when piecing a quilt top and has a coating on it to make it thicker and more durable. Machine quilting thread is used to assemble the backing, batting and quilt top together. It doesn't usually have a coating on it because the coating tends to create build-up in your sewing machine.
Machine embroidery thread is used to create designs or logos on shirts, jackets, hats or bags. This type of thread is usually rayon because of the high sheen.
Heavy-duty thread is usually a heavy-weight polyester thread, cotton-wrapped polyester thread or cotton thread. It's used to sew with thicker fabrics like denim and canvas for projects such as jeans, coats, draperies and home decor. It's strong, durable and holds up well.
Upholstery thread is very similar to heavy-duty thread but it is coated in wax to make it more durable for furniture upholstery projects.
All-purpose cotton-wrapped polyester thread is one of the most common threads used for sewing. Because it's inexpensive, strong and has a low sheen, it's suitable for most fabrics. It's not usually used for embroidery.
Silk floss or Japanese silk has a high sheen, is untwisted and is used in decorative stitching or on silk projects.
Twisted silk is ideal for decorative stitching, embroidery and topstitching.
Stranded silk has a very high sparkling sheen and is wonderful to use when embroidering.
Metallic thread is a delicate thread wrapped in a thin metal. It comes in gold, copper and silver. Metallic thread is used for embellishments, decorative stitching, and topstitching when you want details to stand out.
Serger thread is usually a cotton or cotton blend thread. It's thinner than all-purpose thread because, on a serger, you work with multiple spools, seam allowances and finishes. It's typically found wrapped on large cones, which are much bigger than a standard spool of thread.
Embroidery thread is only used for hand embroidery and not for use in sewing machines. It can be used with felt and is always meant to be part of the design so it comes in many different colors.
Variegated threads are dyed in different shades that change throughout the length of the spool. It's used in embroidery and other colorful sewing projects. Ombré is considered variegated.
Elastic thread is spooled onto the bobbin and used as the bobbin thread with standard thread in the top of your sewing machine. You can create a shirred or smocked finish on your sewing projects with elastic thread.
​Purpose:​ Before purchasing thread, you'll need to match the thread to the task. Identify which type of sewing you will be doing. If you're quilting, consider whether you'll be piecing, doing stitch in the ditch, texture, or assembly before purchasing thread. If you are sewing, consider whether you'll be darning, hand sewing, using a pattern, constructing, basting, overlocking or topstitching before purchasing thread.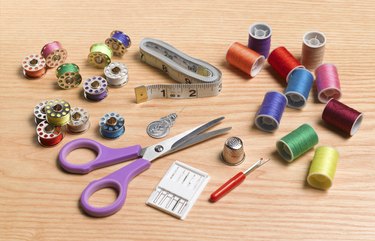 The Best All-Purpose Thread
Coats & Clark All-Purpose Thread Kit
No one has time to run to the store and buy thread when they're in the middle of a sewing project. The Coats & Clark all-purpose polyester thread kit comes in a package of fifty 1-1/2 by 1-inch spools in all the most popular colors, so you're sure to find what you need. There are 125 yards of thread on each spool so they last a long time. Coats & Clark has been creating thread for over 200 years and their thread is strong, smooth and sews perfectly on all machines, both new and old. The thread is packaged in a reusable cardboard box with a resealable flip lid and a clear plastic window for easy access.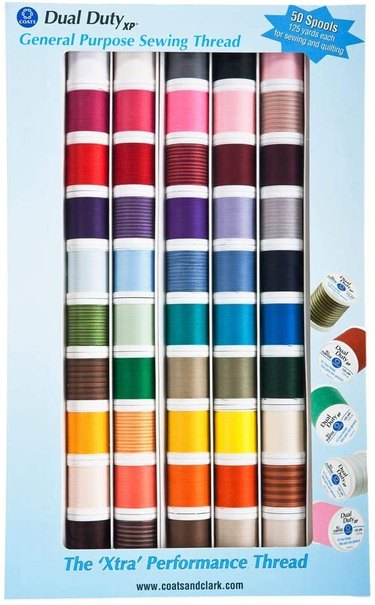 Gutermann Cotton Thread Set
The Gutermann cotton thread set comes with twenty spools of multi-colored mercerized cotton thread. Each spool holds 100 meters of high-quality Egyptian cotton thread. It's soft and supple, tear- and abrasion-resistant, and colorfast. You can use this thread for lock and step seams, buttonholes, sewing on buttons, ornamental stitching and decorative seams.
The Best Embroidery Machine Thread
Thread Nanny Embroidery Thread Kit
The Thread Nanny Embroidery Thread Kit contains 63 different colors of 40-weight polyester thread. There are 550 yards on each spool cone. There's plenty of thread to get creative while embroidering designs on hats, t-shirts, bags, aprons and more. It even comes with a color chart with the numbers printed on both the top and bottom of the cones for easy reference. This thread is colorfast and will withstand many washings. The Thread Nanny embroidery thread is a high-quality, consistent thread that eliminates breaking and puckering and makes for smooth, strong stitches. This thread is also compatible with Brother, Babylock, Janome, Singer, Pfaff, and Husqvarna & Bernina embroidery thread machines.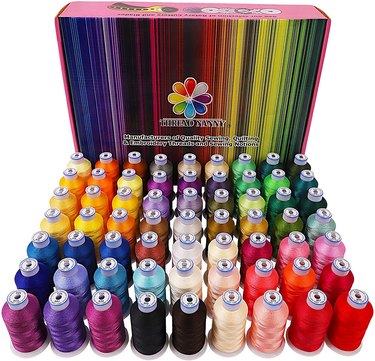 The Best Heavy-Duty Thread
Coats & Clark Heavy Duty Thread
The Coats & Clark high-quality, heavy-duty thread is 20 weight and requires a 16 or 18 size sewing machine needle. It is not for all-purpose sewing. The Coats & Clark heavy-duty thread is polyester core wrapped in cotton for strength and softness. Use this thread with heavy, dense fabrics when sewing projects like draperies, home decor, jeans, sewing buttons on coats, or anything made with canvas like tents and awnings.