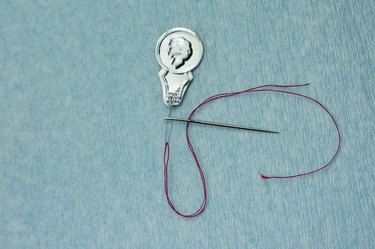 Sewing and needlework are supposed to be fun and relaxing hobbies, but when threading a needle turns into a challenge, sewing can become anything but a pleasurable pastime. There are many tricks and tips to help save your sanity and get that thread through the tiny eye of a needle. Some examples include stiffening the end of the thread using hairspray and lip balm or even rubbing the needle and thread on the palm of your hand.
Another fail-safe option to get the end of your thread through the eye of a needle is to use a good, handheld needle threader. To use a needle threader, you first insert the wire loop through the eye of the needle. Then place the end of the thread through the wire loop. Pull the wire back through the needle eye and the thread will come with it, subsequently pulling the thread through the eye. Voila! Your needle and thread are now ready for whatever needlecraft you desire.
Although a needle threader will be one of the smallest tools in your sewing kit, it will end up as one of the mightiest. A reliable needle threader is sure to make your crafting life a breeze and will most likely become one of your best friends. Let's look at some of the best needle threader options available to help you make the best choice.
What to Consider When Purchasing a Needle Threader
A basic needle threader has a diamond-shaped wire to push through the eye of a needle that is attached to some sort of a handle.
Tapestry, or yarn, needle threaders are made for thicker threads and yarns and usually have a flat piece of metal with a hole through the end piece.
With a desk threader, you insert the thread in a groove, set the needle into a slot and press a button. The needle is pushed through the eye of the needle with a thin piece of metal.
Machine threaders are attached to sewing machines and sergers and usually work with the touch of a button.
Some needle threaders even come with an LED light for threading needles in low-light areas.
‌Versatility:‌ Most needle threaders are made to help push thread through a needle for hand sewing or on a sewing machine. But you might need the threader for other uses such as threading loopers on a serger, making jewelry, cross-stitch, embroidery, pulling back snags in sweaters, or finishing the ends on the back of knitting or crocheting.
‌Size:‌ The basic design of a needle threader is a plastic body with a soft and flexible stainless steel wire. The wire ranges in size from extra-fine wire, fine wire and regular wire to accommodate different types of thread and needle sizes. You can also get needle threaders with regular and large hooks for yarn, bulky threads and hemp cords.
‌Number of Threaders:‌ You could just buy one large needle threader to place in your sewing kit or on your sewing table. However, if you plan on doing different types of needlework, you will most likely need several different sizes and kinds of needle threaders. Buying a set of threaders might be the most cost-effective option for you.
‌Storage Options:‌ Since most needle threaders are small and could become lost in the bottom of your sewing basket very easily, it would be good to look for a needle threader that comes with its own storage box.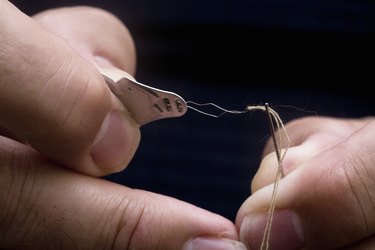 The Best Plastic Needle Threaders
The Phinus needle threaders come in a set of 30. That's enough to last you a lifetime—place one in every nook and cranny of your hobby room or give one to every sewer you know. Each threader is 1.97 inches long, 0.63 inches wide and 0.12 inches thick. They are simple to use: Just slide the wire loop through the eye of your needle, insert your thread through the wire loop, and then pull the wire loop back through the needle eye and you're ready to go. It fits through even the tiniest of needle eyes and continues to hold its shape. Use it to thread silk, cotton, metallic, polyester, blends, and even thick embroidery thread. The gourd-shaped handles come in four different colors: green, yellow, blue and red. To keep the wire loops safe and protect them from breakage, the set comes with a transparent, plastic storage box.
This fun little number could be the unique tool you've been looking for. The Clover yarn threader would make the perfect gift for your favorite knitter or maybe even the unusual yarn threader you've been wanting to add to your own knitting basket. It's even pretty enough to hang around your neck for easy access while knitting or crocheting. It works just like a regular needle threader. Put the small metal piece through the eye of the needle, loop the end of the thread through the eye of the needle threader, gently back the threader up and you're ready to sew.
The Best Desktop Needle Threader
If you have the luxury of a designated space for sewing and don't need to put things away after each sewing endeavor, a Clover desk needle threader is a good option for you. At only 5.67 inches wide and 4.17 inches tall, it won't take up too much space on the table, but it's large enough to not get lost in your sewing basket or under a pile of fabric. Simply place the needle in the threader, rest your thread in the slot, press the button and you will have your pre-threaded needle. This works well for medium and large needles but not for petite quilting needles. Most threads work well in this threader including metallic and floss threads. It's available in 10 different colors so you're sure to find one to match your sewing room decor.
The Best Needle Threader With LED Light
If your eyesight isn't what it used to be or if the lighting in your sewing area isn't the best, the Dritz 202 LED Needle Threader is a good option for you. The LED light turns on automatically when the retractable wire loop is exposed. Since the wire loop is retractable, it will help to save the battery on the LED light and keep the wire safe from breakage. This versatile threader can also be used for threading embroidery and machine needles. There is even a lanyard hole at the bottom for threading cord and string. The finger grips on the side make it easy to maneuver. As an added bonus, it also includes a thread cutter to cut your thread to whatever length you desire.
The Best Looped Needle Threader
The Dritz looped needle threader comes in a package of six threaders used for hand, machine and serger sewing. These are straightforward, easy-to-use threaders that will thread medium and large needles. The pointed end of the threader is inserted through the eye of the needle, the thread is then passed through the loop. When the threader is pulled the rest of the way through the needle, the thread will automatically be pulled through the eye and your needle will be ready for business. Storing this needle threader is a snap since it is magnetic and can be kept safe on a magnet. The Dritz looped needle threader is flexible and versatile. It not only helps to thread regular needles but, it can also be used to string beads when making jewelry, thread the loopers on a serger sewing machine, and works for threading yarn.
The Best Design-Forward Needle Threader
There's something to be said about surrounding yourself with beautiful things. Beauty can lift your spirits and help you become more creative. Even though needle threaders are a useful and basic tool in your sewing basket, there's no reason they can't be pretty, too. The PRETYZOOM needle threaders have an intricate design and come in a rose gold color that might even get mistaken for jewelry. Since they come in a pack of three, you can give a couple as gifts and keep one for yourself. They work the same as most needle threaders do—slip the metal loop through the eye of your needle, run the end of your thread through the loop and pull back through the needle eye. Threading a needle has never looked so elegant!